cyberbarf
WE ARE THE MADNESS! COMMENTARY
Historians often have said that all civilizations collapse from within. In the last few years, it has become obvious that the American Way of Life is no longer the dominant global ideal as the Way has been undermined by the very institutions that upheld its values.
What do we value these days? Our own home? Younger generations would rather stay in their parents basement than pay rent or get their own mortgage. Own a car? It was the symbol of independence and freedom - - - Detroit horsepower. But today, kids are not interested in cars let alone driving one. More and more high schoolers do not even take driver's education or get a license. It's all Uber, baby. A college degree? Education used to be a paramount importance in family life. A degree was essential to getting a good paying, middle class job. But after the pandemic, about one million students never returned to American classrooms in elementary and secondary schools. College admissions have also sharply declined. Gen Z is all about experiences over work. Hop to hop from job to job is no big deal. No one expects to work at one company for their work life like their father once did when you can become a gamer or an influencer. There is a high unemployment rate despite the fact that there are millions of unfilled jobs, especially in manufacturing and trade sectors.
What about American freedoms like religion and free speech? Those rights have been severely eroded by the people who were in charge of protecting them. Church attendance in urban areas is way down; brought down by leadership scandals and the lack of spirituality in YOLO culture. Politics appears to be the New Religion, as politicians like Donald Trump are like cult leaders to mindless sheep supporters. Forty years ago, a simple affair rumor would sink a candidate. Today, a man with a civil judgment for sexual assault and four criminal indictments is leading the GOP polls. Why no challenge to this strange status quo? Because free speech has been put on life support by the very people who should be protecting it - - - the publishers and owners of national and local newspapers and media. It has been estimated that more than 80 percent of all media advertising has been sucked up by Google, facebook and social media platforms leaving mere crumbs for traditional media outlets. The free internet left print, radio, TV and cable with ad dollar crumbs. It was mostly those old media leaders that gave away content for free because consultants said you had to stake a claim in the wild west of the early Internet instead of a subscription model. This failure was more like industry suicide. As local papers were consolidated by national chains, local reporting of hard news got squeezed out with staff cuts. When national chains got into financial trouble, it was the hedge funds that came in to bleed the papers dry. Some say a newspaper is no longer worth the paper it is printed on. Most have gone digital but in a very limited news being reported on a daily basis.
Without a vigilant free press and respected clergy teaching values, America has turned into the inmates running the asylum system. There is no longer any check and balances. Social media comments are not even close to a verified and fact-checked news story on any topic. But that is where most people are getting their information: from unworthy sources (including crazed, off-the-wall, stupid politicians). This misinformation does affect people's opinions, beliefs and value structures. The Internet is a great place for idiots to find like-idiots to create a loud chorus of nonsense.
"WHEN THE GOING GETS WEIRD, THE WEIRD TURN PRO." -- Hunter S. Thompson.
Yes, we live in weird times. A decade ago, the average middle class American thought Europe was going to hell in a hand basket. But after the pandemic, the USA has basically turned into a socialistic, extremely high debt welfare state and toothless tiger in international affairs. Arab oil states can effectively buy anything. Draconian tyrants can start wars and slaughter tens of thousands without any accountability. Random acts of violence are now common place.
The number of random daily shootings in American cities is staggering. It is so common place, the public is numb to it. Two women were shot while watching from the bleachers a White Sox game. A man two rows behind said he did not hear a bullet, but merely saw the women began to bleed before security suddenly swooped in and took the victims to another section. Police do not know if the shot(s) were fired inside or outside the stadium. It seems the value of a human life has sunk to be on par with a fighting rooster.
How do you take it all back? No one wants to be a politician and run themselves and family through the sleaze machine of current elections. The loony people have roosted in the Capitol for so long they can no longer be displaced except by old age. But even then, they still want to run for president.
Perhaps a de-industrialization will re-set the clock back. When young people become their own entrepreneurs, running their own businesses, and finding out about payrolls, rents, taxes and insurance costs they will become more engaged in the local bread and butter issues of economic survival. But there may not be enough of them around. Western industrial country birthrates have fallen to record lows (and the under-reported high US infant mortality rate is another cause). When the world's retirement plans are all based upon a pyramid scheme of the younger generation paying for the older one, what happens when the younger generation is never born? And there lies the madness before our open eyes.
cyberbarf

OUR PUBLISHER'S OBSERVATIONS
GOOD
As I look upon my homestead, I found that I do not buy new technology as much as did in the past. Every three years or so I used to buy a new desktop computer. Or maybe a laptop. But most of the machines I have at home are several generations old. But they still function fine. So what is the point of spending money for a potential downgrade (bloated operating systems and software cloud license BS.)
BAD
I now watch more YouTube videos than regular TV. It was a slow move over because cable TV is so horrible now since everyone (again a common refrain this month) has rushed to start streaming platforms with their new content. Oh, joy, a la carte crapfest. But I am not alone. A recent Nielsen survey shows for the first time streaming has more viewers than traditional TV: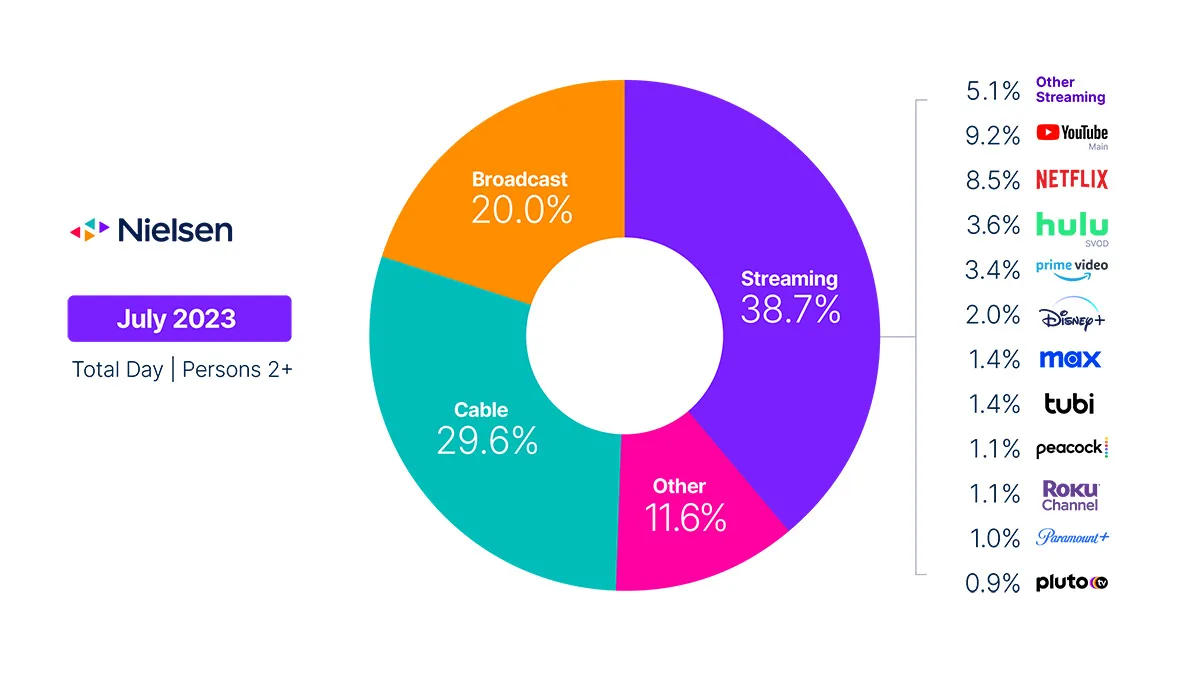 MAYBE
There is a cottage industry of fake AI model pictures that pop up in social media feeds. People use A.I. image generators to basically clone a 3D anime girl in various poses and backgrounds. Maybe it is a substitute for baseball trading cards for tween boys. I mean it is the same face in most of the pictures. I don't use AI image generators on purpose (as an artist and a copyright proponent).
BAD
Recently, I have seen thumbnails of bizarre and badly photoshopped giant animal stories. Pythons as big as highway tunnels. It is like someone saw an old rubber suit Godzilla movie and said "I can to that!" Well, you cannot. Well. But apparently people click on those videos often so stupidity can be monetized in our current Internet world.
cyberbarf
FOUND BUT NOT LOST ON THE INTERNET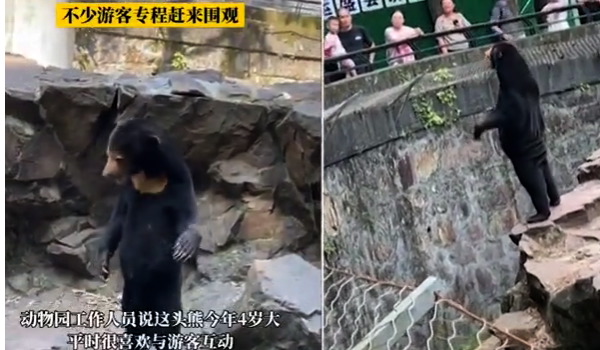 This picture has made the rounds several times over. It is the Chinese zoo bear that most people believe is a man in a bear costume. It became a local sensation through social media posts. Speculation was that the zoo could not afford to keep REAL animals so using staff as mascots would be cheaper. Ironically, there was a Korean movie with this exact same premise: The Secret Zoo (2020). But experts said that this is not fake but a Malaysian sun bear. But that did not stop the rampant speculative stories.
Source: NY Post
A former Playboy model, now 52 years old, decided to create a virtual 28-year old model of herself. And it worked. Her AI image is now getting magazine covers and attention. A lot of attention (cough, cough). But this does raise an important question: by taking this cover shot, AI has taken away a human model's job. Is this the wave of the future?
Source: Daily Mail (UK)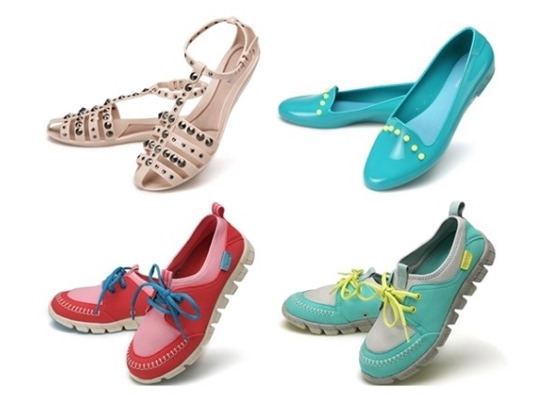 There has been so much rain in Asia this summer that there is a worry that traditional canvas or leather shoes will lead to foot rot. In Korea, there has been a run on jelly shoes. Jelly shoes are plastic which are made to withstand typhoon storm water. But is this news? Croc's is so yesterday, right? At least these shoes are more stylish.
Source: Chosun Ilbo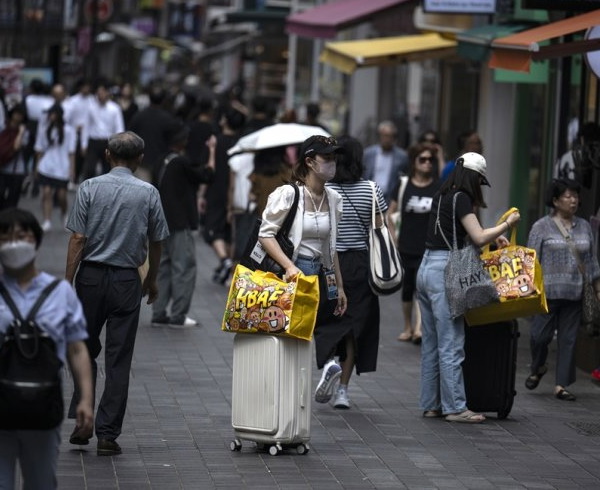 China's economy is bad. Recession bad. But their leadership will not admit it. It clamped down during the pandemic so hard that factory production took a nose dive. Recovery has been slow. The instant middle class found themselves with high debt burdens and squeezed wage growth. But things may be turning around diplomatically. China has lifted the overseas ban on travel to South Korea. Korea's economy is also slogging along - - in need of tourism as an economic boost. Chinese tour groups have now started appear in numbers - - - and the number one thing they like to do is shop. As the photo shows, they bring empty luggage to fill up in market districts.
Source: Korea Times
iToons