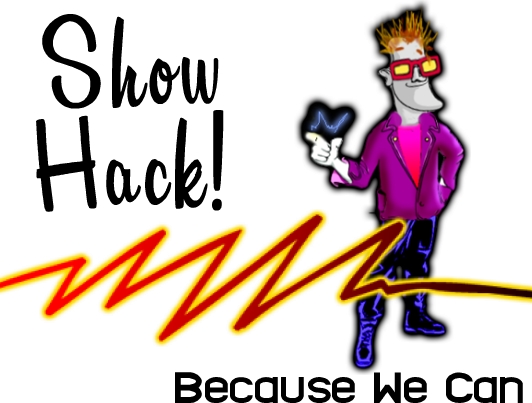 NEW EPISODES
THE SECOND HUNDRED (?)
Crisp gets burned by an awards show and Cal gets Myron FaceSlapped.
Alli interviews Flo and Iris to beat Cal to the punch.
The cast plays a guessing game then I.Hams it up!
Alli has a word fit, Ken gets Kut, Skimpy has show news and Myron gets I.HAMed.
McLaren goes on a Love Hunt and Cal has the Anime Girls.
Anime Girls return and Skimpy has a fashion fit.
Can the Show Hackers get out of The Escape Room?!
The cast snipes at each other in another team chemistry exercise.
The unspecial year ender dissolves into snark.
Skimpy is charge of The Real News with some old friends and colleagues.
Show Hack is back (in the studio, sort of) with a new sponsor.
The show gets a new producer-director and Skimpy gets too revealing.
Alli gets high, Calvin gets an audience relevation and Skimpy preaches to her choir.
Delights, Camera, finally some Action!
Exciting Real News, McLaren game report and Skimpy gets a proposal.
Skimpy hosts her own Dating Show.
Fallout from Skimpy's Dating Show, and Ken wallows in his own pity.
Halloween Special with lots of 'gasms, yes, 'gasms!
Are in-show sponsors taking over the show?
When Alli is away, a French animator comes to play.
An old friend returns with some resolutions.
The crew is prompted to play an on-line game.
BTS on the Show (not the k-pop band we could never afford).
Another game day and this one turns into a mess.
An old friend returns and a nurse gets assaulted?
An arresting show about the rewards of friendship.
Cal has gripes and Skimpy has a new friend.
Artificial Intelligence gets Hacked.
Skimpy has Real News, a guest singer and a real hard swinger!
Breaking bad news and Alli and Skimpy host actress JoJo Journey.
No Halloween Show? Worst. Show. Ever.
Cal is Back! with some scandalous news.

©2013-2024 Ski/pindermedia.com