cyberbarf
TWENTY YEARS AGO TODAY CYBERSAFARI
It was twenty years ago today,
Sergeant Pepper taught the band to play.
Actually, it was 56 years ago.
Sgt. Pepper was a breakthrough album by the Beatles. The title came about on an airline flight when Paul McCartney saw the salt and pepper shakers were labeled S and P. The album broke new ground since it was not a traditional rock album. It contained new ideas, new approaches to song construction, new sounds and innovative new approach to music production.
What was happening twenty years ago on this humble site?
In 2003, there were a lot of things that were bugging us:
1. Bait and Switch web sites were growing. News and entertainment sites were labeled as free but in reality users were data mined like dairy cows. This generally hidden business model helped fund the site but made larger profits for the marketing companies who would use technology to strip away personal privacy and turn individuals into commodities. Today, nothing has changed - - - sites still openly data mine their users.
2. Squatter Popover Ads were becoming a menace. Pop-up ads were an annoyance. But a new variation would pop up to cover most of your screen but there was no way to close it. It froze your page view so you had to look at it. Today, those type of pop-ups have been replaced by push advertising on social media accounts.
3. Do Not Call List was a federal solution to a great annoyance: the automatic marketing dialer bombarding your phone with spam, schemes and advertising. The DNC list was a solution since some people's phone plans charged the receiver for the unwanted calls. Even without an expense, the spam calls were burdensome and tiresome (even though lawmakers made many exceptions, including their own campaign calls.) Today, the law has sunset so telemarketers are free to spam us.
4. Bad cellphone connections were a hassle and a problem. It was no longer just poor reception, but calls would just suddenly drop. This was happening just as social media was about to data hog cellphone bandwidth. Telephone technology could not keep up with the demand. Today, cellphone coverage can be spotty at times; and smartphones continue to butt call businesses.
5. A California woman sued claiming touch screen voting machines violated her constitutional rights to vote. Her claim was that there was no paper record or verified tabulation of her vote. She believed that her votes may not have counted. Today, the Trump screed of a stolen election and manipulated voting machines still rings true for some of his steadfast followers, eventhough Trump and his cronies were indicted for election interference with their claims.
6. The Non-Search Search Result. People naively thought that plugging in a search request would yield the best information at their fingertips. But alas, turning over the search rock led to people finding out about SEO, the business model where businesses paid to have their web pages show up at the top of result lists. At the time, it was the number one source of revenue for Google. Today, data manipulation and SEO are standard business practices as Google itself is currently on trial for anti-trust allegations.
7. The FCC seemed to have its clutches still on traditional television interests when the industry was surging through de-regulation and changing consumer dynamics. The editorial cartoon from that issue: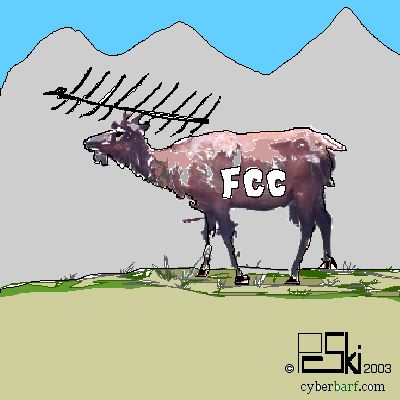 Looking back twenty years ago on the above issues, it is clear that NOTHING MUCH HAS CHANGED.
Also twenty years ago on this site, we had this feature:
The Theory of 17
There is a theory that a person's habits, personal preferences, likes, dislikes, are fully developed by the age of 17. The type of marriage candidate, opposite sex, type of music, tastes in food and drink, turn-ons, turn-offs, hobbies, interests, intellectual pursuits. Environmental and social imprints onto one's brain and soul.

People growing up in a depression are generally misers, keeping money close to the vest, a risky investment would be widow and orphan stocks like dividend paying utilities. A person growing up in boom times are generally spendthrifts, with high debt loads and materialistic habitual spending since the good times will never end.

By age 17, family moral and ethical guidance begins to wane toward the society and cultural peer attitudes. If your brain is the ultimate hard drive, receiving and processing data over and over again through cycles of likes, dislikes and experiences, by age 17 one has developed clear patterns of behavior and acquired tastes. That may be why retailers target this segment of the consuming public with the most direct advertising. In college, a local beer rep told me that it was critical to his business to have college students try and like his products because beer brand loyalty is very strong throughout a person's lifetime.

Take a quick test. Write down your favorite:

Actor/Actress

Musician

Car brand

Movie

Comfort food

Opposite sex body type

Album

Beverage

Game

Sport

Hobby/Recreational activity

Determine what year(s) of influence from the list. Then compare it with other things happening around that time period, going back from age 17 year by year you to see if they are other similar answers that re-enforces your selections.

You are backtracking to when you first remembered hearing, listening, seeing or tasting your favorite lists. Try to navigate back to your youth and see if you can correlate your current favorites to what was happening when you were 16 or 17. Have your favorites changed? Have they stayed the same? Have the evolved but on closer inspection have the same base line elements or style? Then go google the calendar year when you were 17 to find what were the top movies, albums, top models, stars, etc. at that time. Does your answers contain a revealing pattern? Are you teleported back to that year? Does it explain your current list?

Then the final self-examination: does the Theory of 17 hold water?

In an age of self-indulgence, there needs to be time for self-introspection.
cyberbarf

OUR PUBLISHER'S OBSERVATIONS
GOOD
The travel industry seems to have recovered to its pre-pandemic loads, abet with staff shortages and computer problems from time to time. The on-line booking experience for flights and hotel reservations is so common place that that travel agents are nearly and extinct species.
BAD
TSA and airport security time waits have been maddening for many. Weather is often the scapegoat but in reality these checkpoints are the bottleneck for least enjoyment for travelers. Recently, several TSA workers were arrested for stealing hundreds of thousands of dollars from passengers who were caught back up during the screening process. The actions were caught on CCTV.
MAYBE
A new variant of COVID is making the global rounds. At first blush, a few governments began to ramp up the old lockdown principles but gladly, especially for foreign travelers, no one went back to the draconian regulations that made travel a nightmare. The last Asian countries to suspend all COVID restrictions earlier this year now treat COVID variations like the regular flu. One unspoken reason is that tourism is sorely needed to bring back their economies.
iToons