cyberbarf
IDOLS IN THE STREAMS CYBERCULTURE
When one begins to crunch the numbers, one could conclude that the internet is winning the empty hours entertainment viewership race.
YouTubers and streamers have gone from being cult idols into mainstream celebrities.
Mr. Beast (Jimmy Donaldson) was the first person to actually figure out the YT analytics to make real money posting video content. He was a master marketer of the clickbait title. He grew his channel into its own web exosphere where he does not need other content creators to boost his numbers or followers. His channel boasts more than 130 million subscribers. He has amassed more than 10 billion views. He has grown so large that he has major sponsorships to fund his over-the-top largeness videos (like giving away an island, cars or hundreds of thousands of dollars in cash). It has been estimated that he earns $54 million annually, and at least $3 million per month from YouTube advertising alone. But to his credit, he does give back to his community through what is rarely seen in regular media circles: in a recent video he paid for 1,000 blind persons to have corrective surgery to see again. He did it really just to film the reaction of the people when they regain their sight. It was heartwarming and charitable.
This area of the web may be on the excessive side of Americana, like the mecca of American excess consumption - - the Barrett-Jackson automobile auction where hundreds of thousands to millions of dollars are spent on one collectable vehicle. It is matter of creating a sustainable brand and leveraging it.
100 Thieves is a "lifestyle and gaming" brand of e-sports players (and teams) and content streamers. It has reached a point where angel investors have showered millions upon the founders for a piece of the action. And the action seems to be good. The organization fields competitive game teams for at least five major e-sports (Apex Legends, Call of Duty, Fortnight, League of Legends, and Valorant.) It has competed in more than 250 pro tournaments capturing many five figure prizes. But e-sports is still a niche spectator sport still supported many by game developers. That is why 100 Thieves have expanded their focus to include general content creation such as casual game play among friends (Among Us) to collaborations, parties to becoming roommates (like a weekly sit-com). It has more than 1.5 million YouTube subscribers and 250 million views. It has 99 thousand Twitch followers where their streamers grind through 5 plus hour sessions for a live audience in the 12 thousand range. It has been estimated that this brand generates $38 million annually in revenue from e-sports, streaming, content creation, advertising and endorsement deals.
It is interesting to note that in the past three years, their main group has had the highest rated, most popular female gamer on the net. But with popularity comes burnout. Pokimane has decided that she will pull back from grinding game streams to try new things like cooking and travel shows (her vacation to South Korea was very well received by fans). There comes a point when a person starts their video journey as a teenager then works full time for years to gain some reasonable income to make a career out of being radiated by a computer screen. But by the time one gets to their late 20s or 30, their perspective on life changes: there are more outside their computer room than just game play.
And that is what other general YT channels have found that works well: diverse content. The Try Guys, Good Mythical Morning and others have their own little niche segments but overall going different activities is more engagement than repetitive game play. But it still all about getting views so the bigger content creators have opened more channels with staff to drive numbers. The easiest growth potential is starting video podcasts (everyone seems to be doing it). It is easy, simple set-up and the hosts can shoot the breeze at ease. Fans get to know them better. For in one major respect, YouTube stars are the high school friends you never had.
But for every content creator superstar, the average specialty channel can turn maybe $25,000 a year in advertising and affiliate sales if they hit on a repeatable formula of videos that people want to watch or try on their own. That is why art channels (instruction and creative memes) are increasing in popularity. Golf content creators have grown dramatically due to the pandemic lockdowns allowed only outdoor activities to continue on. Good Good Golf is a major golf content brand that created a following by doing fun to strange golf contests on a course among their group. GG just recently signed a partnership deal with Callaway Golf for club and sponsorship deals. Normally, a major golf manufacturer would invest endorsement money on a new professional tour player but none of the current GG roster is a PGA professional. But when major brands find value in video content creators, more of them will have at least an opportunity to have a viable, money making channel.
There are communities within Internet specific communities that are competitors but also collaborators. It is probably best reasoned as a common experience of trying to climb the internet mountain to popularity. But with popularity comes stress to succeed and personal sacrifice. It is not a 9-to-5 job but a 24/7 self-made business of creation, filming, editing and selling oneself to digital algorithms.
cyberbarf
PHILOSOPHICAL HANKS THINKING CELEBRITY
It is actually rare to find a Hollywood celebrity who can have a wide ranging conversation on life, death and everything in-between.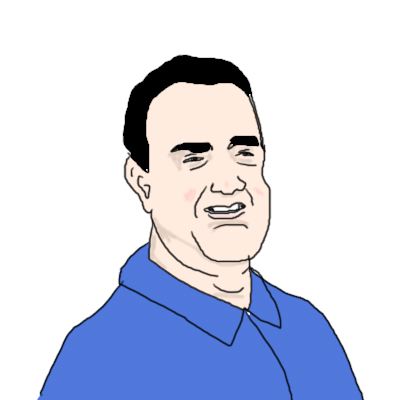 TOM HANKS is one of the rare Hollywood celebrity who can hold a conversation with anyone, including ironically, Josh from Mythical Kitchen's LAST MEAL show. Hanks is promoting his new movie, but very few Hollywood stars would venture into the world of You Tube channels in order to pitch a project. But maybe the savvy ones have come to realize the power of YT viewer numbers is better than a morning news-talk segment on a major TV network.
Hanks does not ponder death, but he does wax philosophical on a wide range of topics.
"Between the age of zero and seven have their own personality," he said, "but everyone has been exposed to something beyond their personality greater than themselves. There is some aspect of being comfortable when one is just listening that might not be in their comfort zone for a lot of people. There is an epidemic of loneliness particularly in the last 20 years or so . . . and all these technological tools are at our disposal to be part of something bigger than ourselves."
He agreed with the statement that technology brings people together who have similar interests with no need for proximity. He also agreed that for some people a digital connection is not a real connection between people.
He tempered the following statement stating he grew up in white neighborhoods: " It is relatively easy to follow the rules and if you follow the rules you know life is a little bit better."
In 2013, he said that he approached his acting roles in one question: "What is the truth that I am seeking (in the character)?"
He also said the only secret to happiness is honesty.
iToons