cyberbarf
GHOSTRADAMUS CYBERCULTURE
Nostradamus is the world's most famous seer of future events. He lived in France from 1503 to 1566. Though he had no medical training, he became famous for his own plague treatment in 1546-1547. Afterward, he began creating prophecy books containing rhyming quatrains. Some have speculated that he wrote his visions under the influence of drugs since he was an apothecary-physician. A few scholars believe that his vague writings were vicious commentary about the world, the government and social order. In this time, to criticize the king or his court was a death sentence. Once some of his predictions came true, he gained a great deal of followers including the French Royal family for which he became their personal horoscope giver.
People claim that he correctly foretold the 18th century French revolution, World War I, the rise of Hitler and nazism, World War II and other major historical events.
The internet is filled with conspirators, philosophers, astrologers and fringe thinkers. There are also regular people who pick up on coincidence as a pattern. Recently, a new seer was being touted on the webs.
We have written in the past about the Swedish metal group GHOST. In the past 5 years, the occult rock band has risen to a charting theatrical religion among fans (even though it really is a metaphor mocking it.) It has been said that lead singer and songwriter Tobias forge could be the next Nostradamus.
Why? In an interview in October 2021, Forge announced that the concept of Ghost's next album would be based on "the rise and fall of empires." When their fifth studio album, Impera, was released in March 2022, Russia had not yet invaded Ukraine with the blitz to recapture the glory of the old Soviet Union. Putin's pretext for invading Ukraine was nonsense. Russia made its move on its weak neighbor because the rest of the world was perceived as not having the will to fight an aging superpower. Forge could have clearly saw the cycle in history of great empires crumbling under its own hubris, corruption and economic turmoil. Russia has all those decaying elements at work; a sick, corrupt dictator wanting to embellish his legacy by force. The last song on the album references the opinion that if a country cannot protect its people, it is strong signal of its pending collapse. The song is about the unsolved jack the Ripper crimes in London. What happens if jack the Ripper returns as a megalomaniac world leader with a vast army and an arsenal of nuclear weapons?
Then people began to back track the band's work. On April 13, 2018, Ghost released a new single, titled "Rats " along with an epic music video. The album, Prequelle, was about the Plague that nearly wiped out Europe in the Middle Ages. It was only about 18 months later that the world was strangled by the COVID-19 pandemic. However, it was written at the time the LP's reference to the plague was symbolic of organized religion as being a modern plague since it teaches love and faith but causes so much war, discrimination, and bloodshed (especially in the Middle East.) Ironically, the pandemic kept people in their homes and tied to the Internet for information and social activity. It was this lockdown that helped spread the word of Ghost's unique rock image. One could make the argument that governments have now taken the form of all-powerful, all-knowing, faithless demigods since the pandemic powers asserted under the mantle of public health destroyed many personal liberties.
If one goes back further to the previous album, Meliora, which was released in August, 2015, one can read in another great prophecy. This album's theme was the coming of the anti-christ. It foretold a time with shysters, con men, and grifters would claim a large swath of disenfranchised people into their cult-like community. It was clear Forge was expanding his notion of organized religion to the evangelical madmen like Jimmy Jones who killed their flock as a test of salvation. One could make the argument that in 1016, the rise of Donald Trump in American politics was the antichrist to democracy. He did a hostile take-over of the Republican party. Moderates were bullied and cast aside as his vicious rhetoric and attack without substance style made him a popular candidate. He ran his election and White House like it was a second season of the Apprentice, a bad TV reality show. He never wanted to govern, or how to lead a nation; he was in it for the attention, the fame, the royal treatment and the money benefits.
So is Forge a new minstrel fortune teller? He continues to improve on each record with a more complex church symbolism to convey deep allegorical references to modern institutions.
However, as Variety magazine noted, the Fox TV animated show The Simpsons has for 30 times successfully predicted future events from Super Bowl winners to Trump's presidency.
cyberbarf
AS THE TWIT TURNS NEWS-COMMENTARY
Who knows what goes through the mind of a billionaire idealist with too much money and time on his hands. Elon Musk decided to buy Twitter for $44 billion but immediately got buyer's remorse. He tried to tear down the platform's credibility and business model claiming that it was bot driven smoke-and-mirrors. His defense failed and he was forced to buy a company he tried to destroy in the media. So bad was his immediate tenure of firing all existing senior management, most of his investors sold their stakes at a 40 percent loss.
But that was only a start. As Yahoo Finance reported, Musk decided to lay off half the employees of the company. There was no rhyme or reason to the decision. There would be immediate issues: many employees were owed thousands of dollars from the company with no idea when they will be reimbursed for their expenses; there were allegations of federal WARN violations; and the engineers who maintained the platform had no back-up plan to administer the site. But Musk double downed in an email ultimatum delivered to his remaining employees demanding they work harder. That led to a mass exodus and even fewer workers to manage operations at the company.
Musk's only vision was to un-moderate lunatic accounts blocked by the previous management group. He really did not wrap his decision around the First Amendment or having all sides have a place to discuss important issues. He wanted to get controversial people back on the platform to drive traffic.
But as Ars Technica reported, advertisers quickly pulled out of Twitter as the platform remains unstable under Musk's leadership. Major brands pausing advertising include Audi of America, United Airlines, General Mills, General Motors, Volkswagen, Modelez International (which makes popular products like Oreos), and Omnicon (which manages advertising for brands like McDonalds and Apple). But Musk had another revenue idea: sell verification checkmarks on Twitter using accounts showing that they were not fake accounts. But that led to a backlash including many people making fake accounts blasting Musk. Beyond the damage of brand impersonations through the Twitter Blue paid verification scandal, groups have pointed to increases in hate speech on the platform and cuts to Twitter support staff as most worrying advertisers. As Musk continues with layoffs of Twitter staff, advertisers and the public were also concerned about cybersecurity issues and lack of Twitter support, realizing that there is likely fewer employees looking after common advertiser issues. Bad actors like foreign governments and criminal hackers are absolutely looking to capitalize on the fact that one of the biggest technology companies in the world potentially target Twitter clients credit card information on Twitter.
Engadget reported that mass employee departures raise new questions about whether the remaining Twitter engineers will be able to reliably keep the service up and running. Current and former employees are already speculating that the latest exodus could further put Twitter's ability to function at risk, especially with the start of the World Cup. Twitter no longer has communications staff, but Musk tweeted that "the best people are staying, so I'm not super worried."
But the rest of the financial world is worried. Musk's personal fortune has nose-dived approximately $100 billion since his Twitter purchase disaster. Many see Musk having not enough time to juggle many different businesses like Tesla (which faces increasing lawsuits n its driver technology problems) to Boring (the hole digger that is living in its own black hole). Whether it is lack of sleep, booster drinks or ego-fumed tantrums, Musk continues to puzzle the world. Two weeks after taking command of Twitter, he told his staff the company could go bankrupt. Twitter faces billions in losses (mostly caused by Musk's own actions). Musk's brutal honesty about a potential Twitter bankruptcy has increased doubts that the platform will survive Musk's leadership style. In addition to dipping Twitter into debt by $13 billion when he bought it, then losing $4 million a day in ad revenue, Musk now has to deal with interest payments that Reuters reported will total close to $1.2 billion in the next 12 months.
So Musk flashed another wild idea. He would turn Twitter into a bank. He has millions of people on the platform. He could herd them into a on-line banking app and presto, he would have all the fat bank and service fees of big retail banks. But the problem is that Musk does not own his Twitter users. They are not sheep that can be pushed into becoming cash cows. The Internet is filled with examples of hot platforms folding when a new one pops up (cough, cough Facebook to IG to TikTok.)
Musk continues to put out his own fires. He says that he will eliminate bots, trolls and bad content on Twitter. But at the same time he is reaching out to get the Trumpsters back into the fold by changing the moderation policies. He is going to rely on crowd-sourcing fact checking on the site because why not . . . and it is probably free. Let the users police themselves is defense when mob action gets out of hand.
Twitter will probably remain the social media place where celebrities and athletes put their collective feet in their mouths; to make dumb and career ending comments.
We are surprised that no one has starting street protests with the sign ELON MUSK GO.
iToons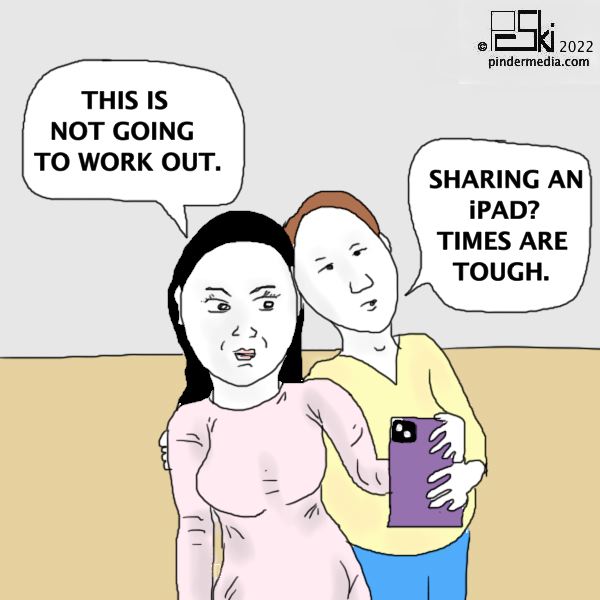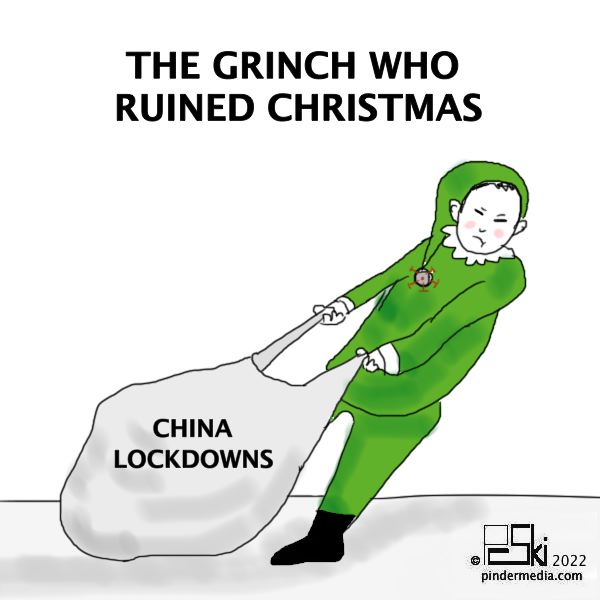 cyberbarf
FOUND BUT NOT LOST ON THE INTERNET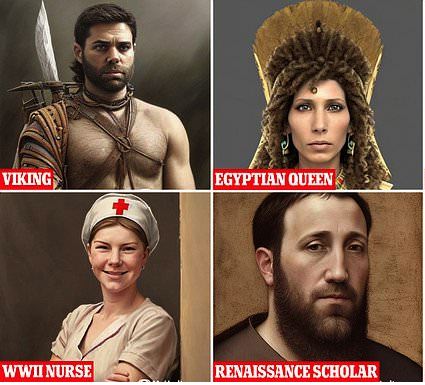 Time Machine AI program can take your photograph and render a realistic portrait of you in history. This latest AI photo/art manipulation strains current copyright and privacy laws as to the ownership and distribution rights of these creations. The program has to reference materials in order to generate a final image. Artists, photo bureaus, stock photography companies and media concerns are still upset with their images being used as a free data base for AI generators.
Source: Daily Mail (UK)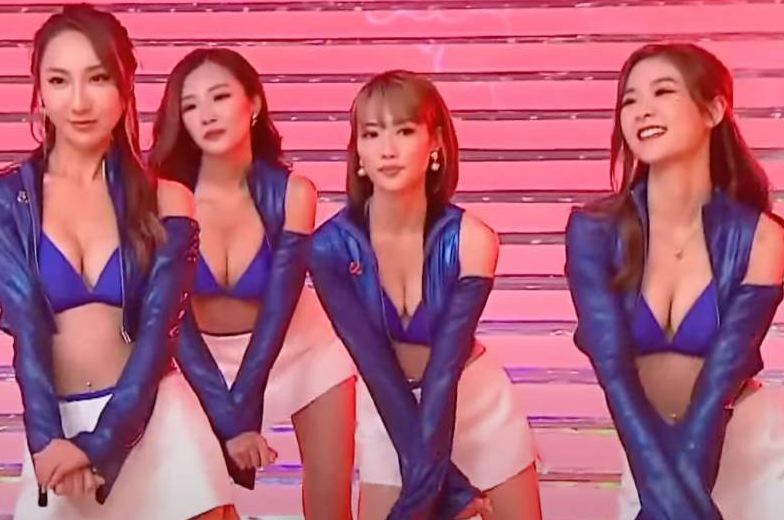 Very pretty ladies were caught up in controversy in Hong Kong television appearance. More than a dozen new actresses performed on the TVB Anniversary Gala Show. Multiple starlets took to the stage to perform a dance, all while in skimpy outfits. In a recording of the performance uploaded to YouTube, 20 actresses dressed in blue jackets and white miniskirts danced on stage to the Cantonese song Beauty and the Beat. However, commentators said the actresses looked more like beer ladies -- women who sell beer and alcohol to customers - - would wear. There clearly is still sexism in Asia because it is strange actresses need to perform like they are at a VIP businessman bar. How that helps their careers is unknown.
Source: Asia One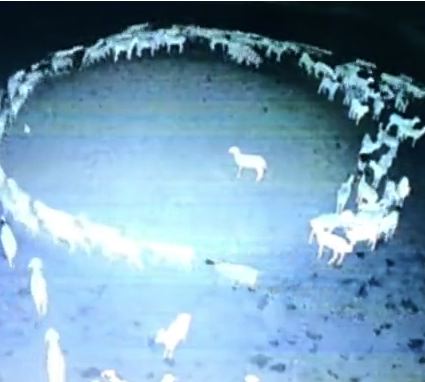 Northern China sheep can be seen ambling around in a continuous clockwise motion for twelve (12) days inside their pen in camera footage taken in early November. The perplexing spectacle has left people shocked and confused as they try to make sense of the behavior. It is unknown what caused the sheep to behave this way and produce this display. There is a disease that causes some animals to appear disorientated and start circling. Listeriosis can infect one side of the brain and cause the sheep to behave in an odd way. Other places have shown this animal circling events. Animal senses are different than humans so the reasons can vary greatly from our perspective. Perhaps it was a defensive posture from a threat, or some electromagnetic interference caused by weather or solar flares, or conspirators would claim space aliens.
Source: Daily Mail (UK)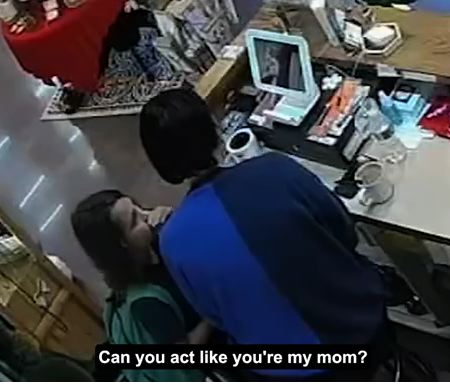 A 10 year-old boy from Pennsylvania was being followed home by a woman. He ducked into a convenience store and asked the 17 year-old cashier to pretend to be his mother so the woman would stop following him. The teen called police who detained the allegedly mentally ill woman. It is another example of educating kids to the dangers that lurk everywhere. It also shows the quick thinking in pressure situations by youth.
Source: Daily Mail (UK)