cyberbarf
I HEARD A GHOST REACTION VIDS
When a band hits, it hits. When a band clicks, it clicks. It is rare when a band clicks with critics and is a hit with fans and fellow musicians.
What has taken the internet by storm for the past two years is the band GHOST. Its popularity stems from live show word-of-mouth reviews from small clubs and its film noir quality music videos. GHOST is a theatric band: fronted by a lead singer in a prosthetic skull mask with nameless Ghouls in masks playing instruments. It does not have a signature sound but a signature vibe: it uses symbolism of Catholic church in its dark metal roots.
GHOST was formed in Sweden in 2006. It defies one genre: it has been classified at times as hard rock, heavy metal, doom metal, pop rock, progressive rock, psychedelic rock, occult rock, Satanic metal and candy pop. In 2010, they released a three-track demo followed by a 7-inch vinyl titled "Elizabeth," and later their debut full-length album Opus Eponymous. The song "Ritual"" was chosen by Kerrang! as one of "The 50 Most Evil Songs Ever."Its second album and major label debut, Infestissumam, was released in 2013, debuted at number one in Sweden, and won the Grammis Award for Best Hard Rock/Metal Album. The band released their third studio album, Meliora, in 2015, reaching number one in their home country of Sweden, and number eight in the United States. Its lead single, "Cirice," earned them the 2016 Grammy Award for Best Metal Performance. The music video for this song was a middle school talent show where a group of kids made up as the band members (painted skull lead singer and masked ghouls) freaking out the parents with their evil song but captivate one school girl to the dark side. The song, "He Is," is a hymn that could be sung in any Deep South church if you changed the reference of Lucifer to God. The band released their fourth studio album, Prequelle, in 2018. This album was about the Plague. Its major hit single and great music video for the song "Rats" captivated both rock radio stations and YouTube video streams. When this album's tour ended, a real plague happened: the COVID pandemic shut down the world. The band released their fifth studio album, Impera, in 2022.
GHOST's songs have very simple, short lyrical threads. Some claim that it relies heavily on thesaurus references to different words for Satan. But it is universally agreed that a GHOST song is composed to near perfection. Reaction videos are where people film themselves reacting to someone else's video. During the pandemic, unemployed singers, songwriters and musicians began to listen to and post their thoughts on other artists. Most never heard of GHOST. It was only when suggested by their own fans to check them out, did professionals come to know and admire the works of GHOST.
Most marvel at the production quality of the songs. Some have remarked that the base riff changes to melodies that suddenly pivot in keys and instrumentation in unexpected (but good) ways. One reviewer could not get over how one snare beat was perfectly placed again and again throughout the song as a emphasis point to a lyric. No one can really define its style, but they all say it works. A few note that GHOST songs are catchy, so much so that the Satanic lyrics get lost. Touring bands like Halestorm have said that GHOST is their favorite group.
With popularity comes friction. GHOST was unmasked in a lawsuit. A Group of Nameless Ghouls filed a 2017 lawsuit claiming that lead singer, Tobias Forge, failed to properly compensate them for royalties from album and concert profits. In this litigation, the veil of the band was lifted revealing that Forge was himself GHOST. The court found for Forge's position that the nameless Ghouls were merely hired musicians to play live concerts. Forge's operation was unique and clever: he would write and compose music on his own. He would hire session musicians to record his albums. He would then hire touring musicians to practice and play the songs. His pattern was simple: he would take 6 months to write and record songs, then take six months to go on tour, then repeat the process. After the lawsuit, Forge did several interviews outside his GHOST character. He looks like a normal office worker, elementary school math teacher or high school music teacher. He is married with two children living in Stockholm.
One of the interesting things about GHOST is that it has created its own mythology. Glitter, glam and face painted rock bands like KISS used costumes and make up for stage presence during live shows. GHOST goes beyond that create a backstory for Tobais' character. He obscures his identity behind the character "Papa Emeritus." The character, which consists of Forge in a prosthetic mask and makeup, can be best described as a demonic anti-pope. The Papa Emeritus character has gone through five incarnations: I, II, III, Nihil, and IV. From the release of the 2018 album Prequelle and subsequent world tour, Forge portrayed a character known as "Cardinal Copia," who is described as being unrelated to any of the Papa Emeritus characters and whose costume consists of either cardinal vestments or a black or white tuxedo alongside a prosthetic mask with black eye makeup and the multicolored eyes which had been present in each Papa character. In March 2020, at the final show of A Pale Tour Named Death, Forge once again assumed the mantle of Papa Emeritus. GHOST has its own YouTube channel that plays a dozen short films that vaguely show the history of the bands, the mysterious clergy members, and the inner power struggles for fame and power. Some are funny, some are dark and some do not make a lot of sense on their own.
Forge rarely if ever plays an instrument during live shows. The band captures the studio sounds very well, as the three guitar plays riff consistently tight solo battles. The only difference is that Forge must sing under a heavy plastic mask which at time dulls his performance. He has a unique voice but limited vocal range (by choice) but in some songs he does press his range for melodramatic effect. You can tell how popular a band is when the crowd eagerly sings the chorus of multiple songs. Many fans dress up in costume wearing upside crosses or painted skull faces. Forge does not call live performances concerts but rituals. The band has a history of changing Papa characters in concert during an elaborate stage skit.
Some may be wary of the messages being conveyed by the band's songs. But like most GHOST songs, you have to dig deeper to find the true meaning. Yes, there is plenty of occult vibes and Satanic lyrics, but it could be said Forge is merely bringing out the hypocrisy in society and its institutions. The song "Rats" was about the Plague that wiped out Europe. But if you dig deeper into the song, "Rats" is about religion in general as being the real Plague. Religion has been and continues to be a flash point of violence between sects, different churches and nations.
The latest album seems to go beyond satire of Catholic church symbolism as Forge's latest character seems to have a more Jimmy Jones cult leader image. A charismatic snake charmer who feeds off the naive souls of the lost. The hypocrisy can be said as follows: the ones who come to save you will ultimately hurt you.
It is highly recommended to you to go on to YouTube and search GHOST reaction videos. If not for the music, many are excellent videos on how modern music is constructed, composition, progressions, how to write a good song and unexpected surprises that make a difference in the listening experience.
It is a band without a set sound like AC/DC (which Dennis DeYoung once said was only a three-chord band on every one of their songs). Forge has stated that his influences range from the 1960s to the present; that he does not want to be cornered into one genre or style of music. In that way, his art is more interesting . . . even though some loyal fans may think he is selling out (which happens frequently when a cult band goes mainstream). What Forge has accomplished that many other bands have not even tried is that he has created a community that is interested in his character - - his origins, iterations, motivations and changes.
iToons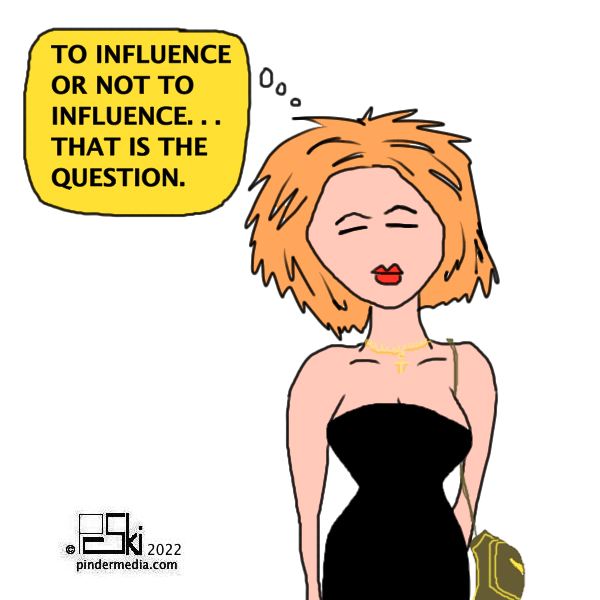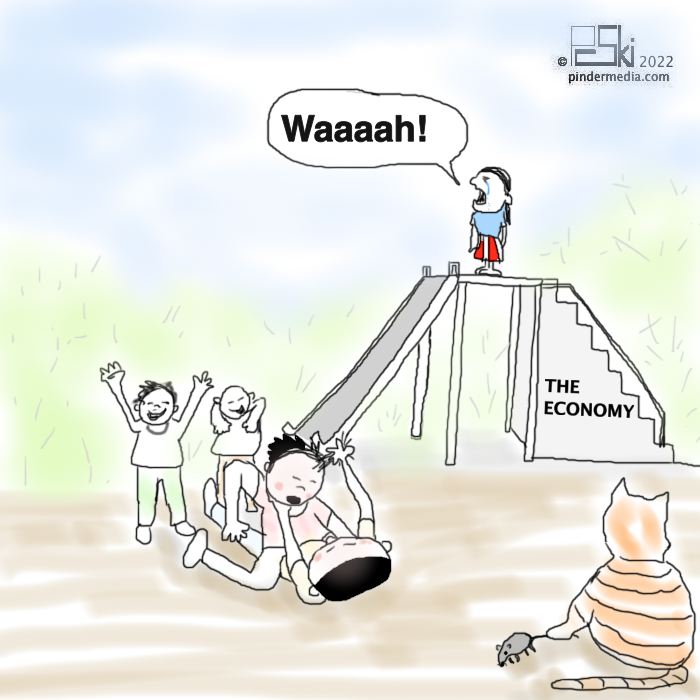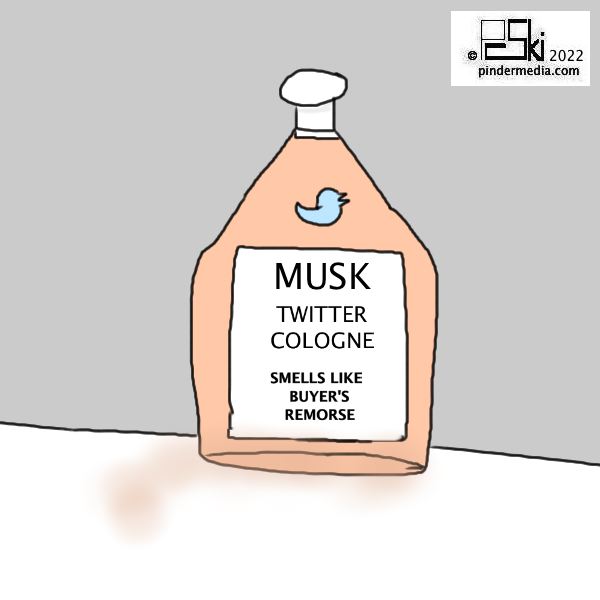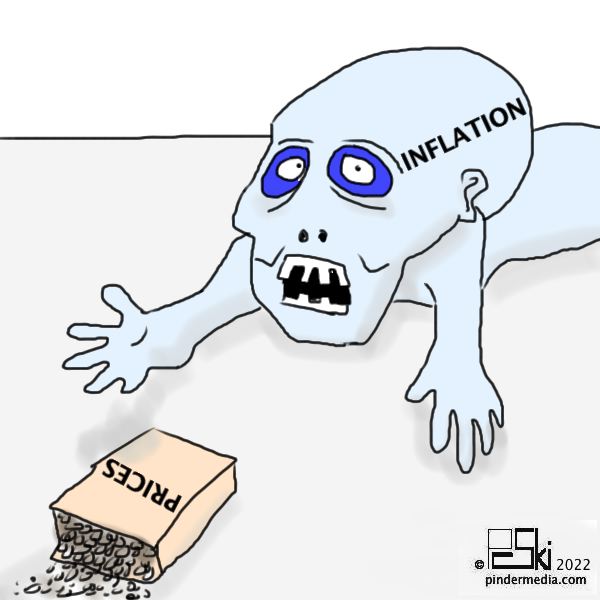 cyberbarf
FOLLOW THE MONEY SPORTS
At the 150th British Open, at the home of Golf, St. Andrews, the talk was about rivals and not the purity of the sport. PGA players and golf's gatekeepers were livid about the LIV Tour and what it represents. At issue is what the LIV Tour represents: an obscene amount of blood sport money for global public relations.
There are 24 LIV Golf players competing in The Open, including former major champions Phil Mickelson, Brooks Koepka, Bryson DeChambeau, Dustin Johnson and Louis Oosthuizen. Some of them were lured to the new breakaway circuit, which is being financed by Saudi Arabia's Public Investment Fund, by signing bonuses reportedly worth more than $100 million and $25 million purses per event. The league started only with 48 members - - playing a tournament with no cuts and the last place finisher getting several hundred thousand dollars. The Saudi prince, accused of terrorism, assassination of a New York Times journalist and human rights violations, is the mastermind of this new pro golf tour fronted by former champion Greg Norman. Norman for decades has been actively trying to put together a rival golf tour to the PGA. Currently, there is the top dog, the US PGA tour which has the the greatest event purses, tradition and membership. Second, the European Tour which members who have gained a good competitive and well paying tour. Smaller tours in Asia are much like the minor leagues in baseball; players look to play up into a major tour. The DP, or Dubai Tour, was one of those oil money start-ups that paid million dollar appearance fees to PGA and European players for matches to promote Dubai tourism and business status. After more than a decade of events, Dubai started its own limited tour events. It did not seek to dethrone the established major tours. It has won some acceptance by the governing organizations.
But the LIV tour does want to upset the apple cart. By luring away tour members with generational guaranteed signing bonuses, the LIV tour is upsetting one of the key aspects of professional golf: merit. On the major tours, your performance is directly tied to earnings. In a 154 man field, if you do not make the Friday cut, you don't get paid. The four day tournaments are a test of skill, endurance and patience. The LIV tour has no-cut, three round events with payments to everyone in the field. You do not have to play well to earn a Top 20 purse on the regular tours. Tiger Woods was vocal about the integrity of the game being diminished by guaranteed purses and huge signing bonuses. However, Woods in the past did not pass up on Dubai appearance fees.
Phil Mickelson said he respects Tiger Woods' opinion on LIV Golf after the 15 time major champion said those who joined the breakaway series had "turned their back on what has allowed them to get to this position." "I certainly respect his opinion," Mickelson said at the Open. "I have a lot of respect for him. I respect his opinion. I think everybody's going to have strong emotions and opinions about it, and I certainly respect his." Michelson, 50, is in the twilight of his career. He is not as competitive as he used to be; it is hard to keep up with young, long hitters. Clearly, he took the money (reportedly more than $200 million over 3 years to join LIV). "I made the right decision for me," Mickelson said. "And I'm excited about, like I say, having the opportunity to play competitive golf and have it in my life in a more moderate scale to where I can do some things outside of that too. I freed up a lot of other time as well. I couldn't be happier."
The LIV event format is different. The Saudi government has committed more than $500 million to establish this limited tour with the hopes of expanding it to rival the 35 plus events US pro tour. To become a PGA tour player, one has to earn their card. They have to finish at the top of the qualifying school or play their way in exemption earnings. The PGA is a private organization; the players are the club members. The club has strict rules: members have to play in a major of tour events or lose their privileges. There are exemptions for health, injuries and personal circumstances (such as failed drug tests) but the guiding principle is that you have to earn the right to maintain your membership. The LIV tour grants membership by buying players. As a result, the PGA tour suspended the members who bolted to the rival tour.
Sovereign money is no match to corporate sponsorships on the US or European tours. But LIV's sponsor does want to get a return on its massive investment. LIV is arranged into teams. Currently there are 48 players in pods of 4 players each. These pods are merely placeholders for the future. The Saudi's want to sell franchises into the LIV tour just as racing teams in Formula 1 or the Premier League in soccer. The idea that LIV players would be on a sponsoring team like Nike, Rolex, Coca-Cola, playing both individually and as a team member is unique. How the purse would be split is up in the air. If it is like racing, the team gets the prize money and the driver gets a set salary and bonus money. It could work as a hybrid model: there could be two purses--- an individual and a team purse. The individual players are paid like now no matter how they finish, and the teams would get the team pool based on team overall performance. The Saudi's would franchise a team for a number of years; the team would then sign golfers to play for them. This system would perpetuate a money grab cycle between the tour, the teams and the players.
The PGA Tour is worried that the obscene amount of money will lure away the best players making their fields less interesting to sponsors and TV networks. CNBC reported for last year, the PGA Tour has been speaking behind the scenes with White House officials and congressional lawmakers about its concerns with LIV Golf, a rival league funded by Saudi Arabia. As plans for LIV Golf were coming together, the PGA Tour quietly started reaching out to the White House and lawmakers from both sides of the aisle in the second quarter of 2021, according to lobbying disclosure reports and people familiar with the matter. Since last year, the PGA Tour has paid $360,000 to a law firm to lobby lawmakers on their behalf for multiple topics, including the Saudi golf league The PGA Tour shelled out $120,000 in the second quarter of 2022, which spans from April to June 30, according to the most recent filing. What the PGA Tour is trying do is pen to debate. If there is a concern that Saudi money is trying to monopolize the sport, that is a Department of Justice issue to resolve. But rival leagues have a history in American sports: the NFL and AFL were rivals before the merger.
Golf is a sport about honor, sportsmanship, tradition and exacting rules. The major tours believe that LIV is making a mockery of the sport.
Time will tell. After the first LIV event in England, the net two events did not get the press or coverage (the league is being shown on YouTube). The PGA tour still can claim some weekend drama when players are on the back nine trying to earn a title under pressure.
The pressure is on for college athletics. The NCAA landscape for intense rulemaking and enforcement has been blown a part by court rulings on behalf of student-athletes being able to earn money from their likeness and endorsements. Overnight, college athletes went from rules to no rules. The big football conferences have now lead the way to grow bigger, stronger and profitable away from the NCAA regulators.
The NCAA is an umbrella organization whose members are US universities who put together a body to organize and run tournaments and championship events in all college sports. The NCAA grew into a rulemaking and competitive enforcer of student-athletes, from how a coach can recruit a student to incentives to sign letters of intent. Schools were stripped of titles and banned from competition for rules violations. Some of the bigger and arrogant alumni bases found the NCAA dictatorship annoying. With the unlimited transfer rules and the ability for college athletes to earn money without jeopardizing their playing status, schools are finding the NCAA irrelevant.
The big conferences can cut their own massive TV network deals. The big conferences can run their own championship tournaments. The big conferences could join together to run their own national championships. And that puts tradition and equal playing field considerations out the window.
It began when Texas and Oklahoma left their conference (Big 12) to join the SEC. Next, in a more shocking move, USC and UCLA joined the Big Ten (a misnomer because the conference has 14 schools) to create the first coast to coast conference. The reason for consolidation is simple: the money. The bigger conference the bigger the revenue. USC and UCLA will join the Big Ten effective summer 2024. It is a huge change because Los Angeles is not anywhere near the Midwest, which is where most Big Ten institutions are (aside from Rutgers and Maryland on the East Coast). The two Los Angeles schools have shared leagues with each other and other major California and West Coast programs for more than 100 years. Television rights revenue over the next decade is the reason. Most big college programs make a big part of their revenue from their TV rights broadcasters pay to televise their games. Most conferences have a chance to renegotiate their deals either now or in the very near future and thereีs some college sports industry projections about what schools will be making by 2029. The industry consensus is that schools in the Big Ten and the SEC will will make significantly more money than everybody else. Projections of $30 million a year per team more than anybody else! So for schools like USC or Washington or Clemson --- bigger, branded programs outside of one of these two leagues --- that means a Mississippi State or Rutgers or Purdue will be pulling in $35 million a year or more on television revenue than them. That money that can be used for coaches, for facilities, or in preparation for some future time in the maybe near future where athletes are labeled employees and schools have to directly pay them in some capacity. (We have reported that athletes will never become employees because of the inherit cost and regulatory liabilities such as worker compensation would bankrupt most schools.)
Both professional and amateur sports are being driven by dollars. Major dollars. Billion dollar decisions in a Wild West atmosphere. Colleges may turn into professional football franchises (and rival the NFL?) Student athletes 4 -year college careers could match the average pro career and possibly be earn more while in school. Professional golfers can make generational wealth by joining a suspect organization and taking what some believe is blood money. It is hard to argue about not taking the money when the money is too good to pass up. But there is a price to pay - - - someone (fans, viewers, etc.) will have to ultimately support these luxury business models with their own hard earned cash. The gold rush mentality to chase the big money could be just like any other investment bubble just before it bursts.
cyberbarf
BARF BAGS COMMENTARY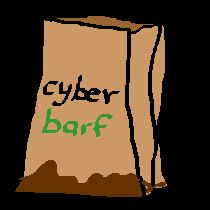 Krafton's popular PlayerUnknown BattleGrounds has been banned in India. The reason is politics. The Indian government is at odds with China, but the South Korean game gets caught up in it. PUBG mobile was distributed in India by Chinese conglomerate Tencent. India started banning Chinese products and tech (for fear of dating mining as even the US has said in the past). The old vision of the Internet being free and clear of regulations and obstacles is more increasing hit with toll booths and razor wire preventing access.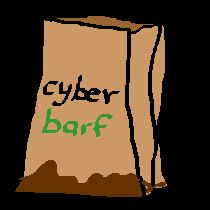 Choco Taco parent company Klondike confirmed the news after fans learned that chocolate-waffle taco treat would be disappearing. Klondike, which is owned by Unilever, cited a need to "ensure availability of our full portfolio nationwide" as the reason for pulling the product. While the company did not name specific items that could be positively impacted by the Choco Taco's demise, Klondike ice cream bars have experienced an increase in demand in recent years. The Choco Taco was invented in 1983 by Alan Drazen, who was then working for ice cream vendor Jack & Jill in Philadelphia. Drazen told Eater in 2016 he was incentivized to create a taco-based ice cream treat owing to an American fixation on Mexican-themed food. One thing a corporate giant can do is anger its customer base. Taco Bell took away its Mexican pizza. After an outrage on social media, the pizza was brought back for a limited time (but quickly sold out). Is Klondike going down the same push-pull PR game?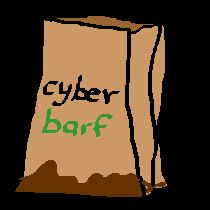 Skynet is here! Or so it seems. A chess robot accidentally broke the finger of its seven year old opponent during an exhibition in Moscow. It was claimed that the boy moved his piece too quickly and the robot arm grabbed it. Adults rushed to the table to try to release the grasp but it was too late. The push for robotic everything - - - from fast food chefs, kiosk cashiers, medical tech support, etc. is as fine as its limits of its programming. It cannot literally grasp the humanity of not hurting someone by distinguishing between a chess piece and a human finger.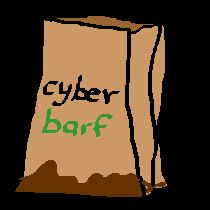 San Diego Comic Con re-opened to the public after three years. The event was heralded as a return of cosplay fandom to comic-artist-film-hype machine universe. It was deemed successful but the crowds were not as great as the heydays prepandemic. Movie studios and game developers did announce some new titles. There were various panel discussions about that state of movie franchise and comic universes. It really is just another milestone towards normalcy as the latest COVID strain hits its peak infection rates.
cyberbarf
FOUND BUT NOT LOST ON THE INTERNET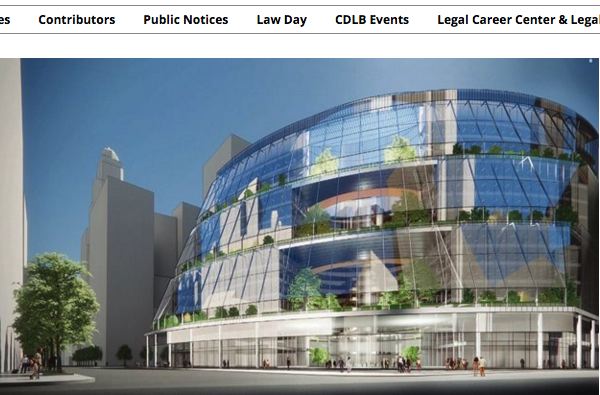 The Thompson Center in downtown Chicago has been the State of Illinois' white elephant office building since it was built. The modern glass and open steel frame construction made architecture groupies happy but it was an awful office tower. Half of the building was wasted space as the lobby atrium went to the roof. The glass allowed sunlight to enter the round shape of the building to create an oven inside the building. Workers roasted at their desks. While most of the trendy tech office space is in the West Loop, across the river towards Greektown, Google decided to buy the Thompson Center for its office. It is connected directly to the subway lines. But since the pandemic, office space in the Loop as well in most major cities, is in steep decline. It is a counter-intuitive risk against the surging tide of commercial real estate market.
Source: Chicago Law Bulletin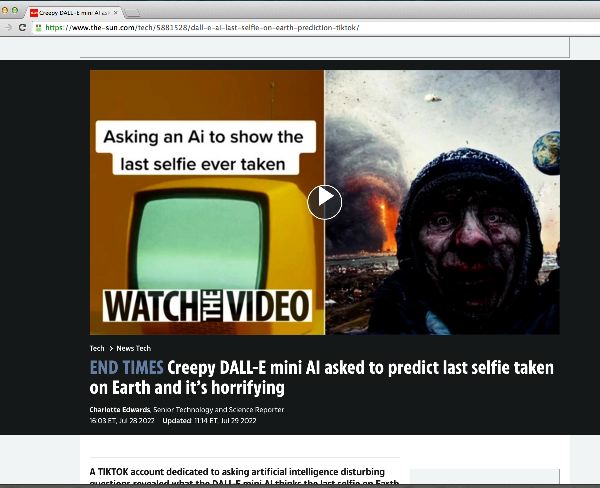 DALL-E is a artificial intelligence program that uses word prompts to create AI generated art works. It uses a large data base of images to create composite pictures. Many YouTube artists and programs have dabbled with the program (it has not been released to the general public for fears of deep fake/privacy/defamation issues). You can input words like unicorn fairies and it will spit out crude to pretty good representation of the idea. Traditional artists cringe at AI taking away their professional jobs. But some artists think of DALL-E just as another tool in an artist's work place. AI is everywhere . . . from your customer center call tree to your YouTube art hack channels.
Source: The Sun (UK)