cyberbarf
NO, MR. BOND . . . OBSERVATIONS
"No, Mr. Bond, I expect you to DIET!"
The real villain to everyman and everywoman is Weight. Now that summer is fast approaching, the four letter word is back into the trending posts and feature articles. It is a sea of conflicting information.
There is one camp that believes carbs are the cause. Carbohydrates turn into sugar which allows weight gain by turning into fat (energy storage). This group wants people on a full meat/protein diet. There are various testimonials of quick weight loss if one consumes only meat while eliminating all process foods, flour and snacks.
There is another camp that is anti-sugar. Any kind of sugar: natural, processed, corn syrups . . . those found in processed foods, carbonated drinks and some fruits. Sugar is the quickest absorption glucose maker. Some believe that too much sugar causes insulin resistance which causes the body to shut down fat burning even if you exercise.
There is another camp that says weight loss is all about the Burn. You have to be a gym rat. You got to do high cardio exercises. You have to burn calories to get to those fat storage layers. A claim that you turn fat into muscle, thus making you more attractive to the opposite sex, is appealing for those shopping for beach swimwear.
There is another camp that states that it is all about balance: a balanced diet full of nutrition, vitamins and essential minerals along with moderate activities. It goes back to the cave man analogy: early man were omnivores eating plants and animals to survive. They were hunter gathers so they were active during the day burning calories naturally while building up mass.
There is another camp that says weight loss is just simple math. Eat less calories than you are supposed to. If your average calorie intact should be 2,200, then only eat 1,100. This means in the normal course of the day, your body is an 1,100 calorie deficit so it will have to burn fat to balance the body's needs. If one adds intermittent fasting (12 hours between meals), it is said that you can get better results.
But throughout the various studies, no matter the course to lose weight, the average person will only shed one to two pounds a week. If one does not get immediate results, depression could set in (and eating is one of those psychological pulls to cause pleasure). That is why so many people yo-yo between losing weight then gaining it back. You may hit a plateau in weight loss, but you cannot starve yourself any further without serious complications.
You could jog five miles a day, but that may only burn 300-500 calories (one small apple tart for dessert). You can count calories along with the number of jumping jacks but in the end of the day what works? If there was a clear winner, everyone would be doing it. And some sedentary folk are looking for a pharma answer---- a pill that can magically erase the pounds. But that seems a pipe dream.
Your body is a chemical factory that processes energy (food and drinks) into elements that drive your organs and mind. There is a saying, garbage in, garbage out, which in some ways reflects the junk food, high saturated fat world of industrialized obesity.
It is more getting into good habits that jumping from one weight loss or exercise guru to another.
cyberbarf
SPORTS HIDE & SEEK . . . PAVLOV DOG TRAINING
To follow your local sports team is like trying to find Waldo on large building mural. Friday night baseball games are now exclusively on Apple TV. But there are other games that do not show up on your local RSN since the league has sold packages to other streaming services. Gone are the days where you knew the home of your sports telecast. And there is a reason why it is getting harder and harder to find single game contests on TV. Money.
The NBA had a contract with YouTube TV to live broadcast a play-off game. Technical difficulties dropped the last four minutes of the broadcast. To say, fans were unhappy was an understatement. But the leagues continue to march forward.
The NFL also appears confident about where live sports are heading. Its deal with YouTube, which is owned by Google parent Alphabet, is just one part of the league's everwidening streaming portfolio and another example of Big Tech company's increased footprint in live sports. After hammering out a seven year deal in December, YouTube TV will pay the NFL roughly $2 billion annually for the Sunday Ticket package of out-of-market games that DirecTV controlled for nearly three decades. This move follows the NFL kicking off an 11 year partnership with Amazon, which is reportedly paying around $1 billion annually to be the home of Thursday Night Football. And the league announced that Peacock, NBC's streaming service, will have exclusive rights to a primetime playoff game in January, 2024. The license fee was reportedly $110 million.
Vanity Fair magazine reported that the NFL is doing this in order to train its fans to find its games on streaming platforms. Local TV and cable channels are at the breaking point of losing subscribers who refuse to pay larger and larger sports fees per month for channels they do not watch. ESPN commands the highest rate per cable subscriber at around $9 per month. You might not think that is not much, but sports channels also include Fox, regional RSN and specialty channels that all get monthly fees. That is why basic cable bills now exceed $100 per month.
Consumers always wanted a-la-cart cable programming choices. They now have it: they can cut the cord and sign up for streaming services or a platform like Hulu. But only after a few years, these cord cutters have begun to realize they are now paying more for the multiple streaming sites than they did for cable.
ESPN itself cannot afford the pro league license fees as it is competing against Amazon and Apple, companies with hundred billion dollar war chests to purchase programming for their platforms. Disney, which owns ESPN, itself is contemplating cutting the cable cord and move its sports channels to its streaming platform Disney + or a new one. The Wall Street Journal reported that Disney was actively preparing to make the channel a stand-alone streaming service, available only to subscribers. This seismic move would untether ESPN from the cable model that it has, in many ways, been propping up for years. In an on-demand world, live sports, along with award shows and coverage of breaking news events, have been one of the few salvations of the cable world, the rare television genre that needs to be watched in real time. In theory, ESPN could capture more gross revenue carrying games on its own platform (network streamers have been boosting monthly fees to $10-20.) Netflix, which has avoided live sports programs, is trying to adjust its subscription model to have a cheaper monthly but advertising supplement service in order to retain subscribers.
The leagues themselves have toyed with the prospect of keeping broadcasting all in-house. The NFL Network was launched originally to gain extra fan dollars for a weekly Thursday night game. But it learned quickly that producing live sports is an expensive and complicated event. After allegedly losing money, the NFL Network bloc went up for bid.
But this may not stop sports teams themselves from starting their own streaming services for their local TV rights. Many teams started their own RSN channel but with pretty poor results. RSNs were tied to local cable operators who balked at higher fees. Viewership on cable is in decline so advertising revenue dropped significantly. It seems local sports broadcasting is nearing a dead end street.
The problem is that leagues and teams are trying to catch zig-zag butterflies of the youth market. Kids only need an internet connection or hot spot to be entertained by TikTok shorts or YT videos. Collectively, they do not have the attention span to sit for 2 1/2 hours to watch a regular sporting event. They have been trained to accept this viewing habit as being normal.
The NFL and other leagues are trying to train their loyal and paying adult fan bases to follow them to richer distribution channels. But there will be a drop off of followers who don't like the technology, don't like the additional cost or don't like chasing a broadcast time and place. But there will come a point when the deep pocket Tech giants will stop losing money and stop paying outrageous fees. Then the leagues, teams and fans will all be left on the sidelines in an empty stadium.
cyberbarf
LIGHT ON THE DARKSIDE OF AI COMMENTARY
NBC News reported a dark secret behind the rise of Artificial Intelligence (AI) generators: low paid, gig workers.
The report shows that OpenAI trains its computer models by having humans do the grunt work of meta or hashtagging photographs in the platform's data base. Workers label photographs and write predictions to help the AI find things to respond to prompts. Without labels, AI cannot function.
The machine is not learning how to draw a cat, a sunset or medieval knight on horseback. The program is merely searching for key words to combine images or text into an output. As we have discussed in prior issues, the crux of the AI generators defense to infringement claims is that program is creating new art learned from existing examples. Unlike a human artist that learns from master's paintings to put pen, brush and ink to paper with their own hand, AI programs do no such thing - - - it is not taking elements of an image, learning art techniques then independently creating an output image.
AI generators are claiming they are transforming prompts (which in reality are hashtags on existing images) into new creative pieces. But AI generators should take pause as their defenses have been undermined by a recent US Supreme Court case.
The Supreme Court ruled in Andy Warhol Foundation for the Visual Arts, Inc. v. Goldsmith, that original copyright holders have a broad claim to derivative works based on their copyrighted materials. Goldsmith, a photographer, took an iconic portrait of the singer Prince. Vanity Fair magazine commissioned Warhol to make a cover of Prince for a special issue. It paid Goldsmith a one-time license fee for the use of the photograph. Using a 1981 black- white photo as a reference, Warhol created a silkscreen portrait of just the singer's face, cropped, flattened, and colored with heavily saturated purple. After completing the image, Warhol created 15 variations of the same image in different colors and styles, akin to his previous series of different-colored Marilyn Monroe prints. Warhol held onto the so-called Prince Series until his death in 1987, at which point the prints became property of the Andy Warhol Foundation for the Visual Arts (AWF). After Prince died in 2016, Vanity Fair prepared a special issue to commemorate his life. For the cover of the magazine, it licensed a Warhol variation from the Prince Series, Orange Prince, from the AWF for $10,000, without involving Goldsmith. Goldsmith says she first became aware of the Prince Series with the release of the commemorative issue. When Goldsmith told the AWF that Orange Prince infringed on her intellectual property and she was considering legal action, the AWF sued her first, seeking a declaratory judgment that the image was "fair use" and did not constitute infringement.
Fair use is a legal doctrine that provides for the unlicensed use of copyrighted material under certain conditions. In this case, the crux of the argument on each side involved whether Warhol's changes to the source photo were sufficiently "transformative," which the Supreme Court has previously determined means that it "adds something new, with a further purpose or different character, altering the first with new expression, meaning, or message." The Court ruled for Goldsmith by a 7-2 margin, holding that since both Goldsmith's photograph and Orange Prince "share substantially the same commercial purpose," the latter image was not "sufficiently distinct from the original."
Copyright law protects both the original and copies of an artist's work. Copies include variations of the original done by the artist or others (this is a derivative work). In the Warhol case, the original photograph remained the same but Warhol merely added bright colors to it. It left the same commercial impression, the court concluded, and it was used in the same context as the original photograph (in a magazine article showing the artist).
To be transformative, the original work has to be changed to convey a new meaning, new impact or different commercial appeal. Warhol was famous for his stylized colorization of a series of Campbell's soup cans. At the time, critics fawned over the painting as it represented the idea of consumer culture of mass production of basic products. At the time, the pop art movement used iconic symbols and famous people to make commentary on the state of society.
No such argument can be made for AI. The Copyright Office has already ruled that machine generated art is not copyrightable. Only human work is protected. And since the AI is not even creating its own work but relying solely on existing content, it is hard to say that AI generated work is not derivative of the originals.
cyberbarf
BARF BAGS COMMENTARY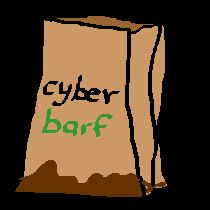 Car manufacturers wanted to eliminate AM radio in their new models. Car makers said it was because no one really listens to AM radio when their are bluetooth audio alternatives or satellite services. But if you have ever driven long distance across the Midwest, there is vast wasteland of static on the radio bands but mostly AM radio stations fill the gaps. Those AM stations are still home to local news, sports, weather and talk shows. Quick public lobbying pressure made Congress raise its ire to keep AM radio in vehicles. Its reason was more simple: the national emergency broadcast system's foundation is on the AM dial.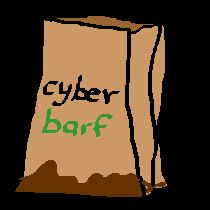 Variety magazine lamented the fact that the Cannes Film Festival looked like a nursing home jail break more than a glamorous Hollywood affair. It felt that in the old days, Hollywood had real stars. Today, very few actors are stars (more like Marvel franchise characters). Part of the problem is hat old Hollywood was about the glamour, the richness and illusion of star power over the public. Today, many generations do not see actors as stars on a pedestal to worship and swoon over. They have more connection to reality TV stars or SNS influencers than who is leading an HBO drama series or an Oscar winning movie.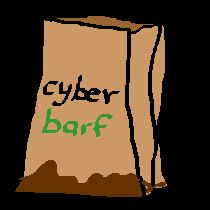 Since we had to know, Mesopotamians kissed - - and scientists are finally telling. The New York Post reported new research suggests humans kissed each other on the lips 1,000 years earlier than previously thought. Researchers at Oxford University and the University of Copenhagen in Denmark recently analyzed written sources from early Mesopotamian societies, which led them to propose humanity's earliest recorded kiss took place 4,500 years ago n a clay tablet. Still unclear is why humans began to kiss in the first place.
cyberbarf
FOUND BUT NOT LOST ON THE INTERNET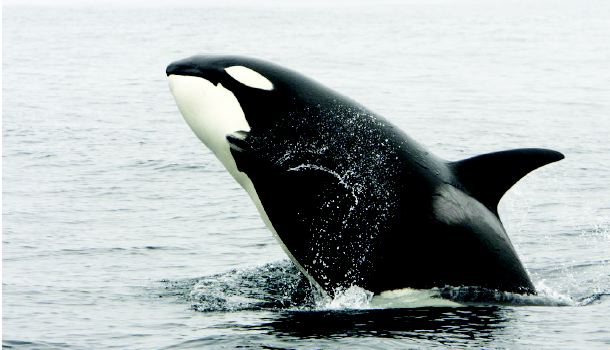 Several killer whales (orca) have been attacking boats in the Atlantic Ocean. Scientists were puzzled by the attacks. One theory is that a female orca was hit by a boat propeller. As a result, she began to train other orca to attack boats. This group of whales have allegedly attacked several boats, causing extensive damage but no serious injuries. It is interesting if true that one whale determined that surface boats posed a real hazard to her to teach her pod members to seek out and kill a potential predator when themselves are an apex predator in the ocean.
Source: AOL News and various sources
iToons