cyberbarf
EXTREMES ESSAY
We live in an era of Extremes. The internet has given an unfiltered, unchecked, biased platform of information, misinformation and extremism. Speculation has taken the place of verified fact. Opinion is more important than truth. Divisions are getting stronger while the gap is getting larger.
Human history begins with the concept of tribal support. It was the only means to survive in a harsh, subsistent environment. Hunter-gatherers did just that . . . they had to learn by failing, becoming one with nature, and to adapt to the elements. An individual was part of a collective unit whose survival depended on everyone doing their fair share of work for the common good.
The idea of banding together like minded people continued throughout history. Once animals and plants were domesticated, people began to settle in specific territories. They became rooted to the soil just like the plants they harvested for food. They began to be associated with their place. Ethnic groups were formed to continue their collective culture and to grow its population.
When there were enough tribes banded together for common defense, nation-states were born. Nationalism solidified the differences between different people. In areas where resources were lax, the distribution of them would lead to conflict. Warrior races used any method to conquer the weak. Thus a circle of generational violence, retribution, revenge and hatred were weaved into the fabrics of opposite societies. Today, there are more civil wars on the planet than in any time in recorded history.
Was mankind bred to hate each other? Is it a basic instinct to take from someone else in order feed, shelter or protect your family unit or village? Is modern civilization with volumes of laws, orders, codes and morals merely a mask to cover up the genetic savagery that is encoded in each person's DNA?
As we know, you can find anything on the Internet Search engine keywords can land multiple sites that share one's point of view on just about any topic.
The Internet, as a tool, can put all the information of the world on your computer screen. Yet, the Internet, as an authoritative resource, is still lacking a true foundation of truth. Since anyone can publish anything, there is no vetting of the information. Traditional gatekeepers, such as journalists, are slowly being replaced with "content providers." Content is just new information thrown at viewers to grab their seven-second attention span. It is the junk food of the mind --- meaningless fodder to kill time.
Even though we have access to more information than we can handle, comprehension of the information is faltering rapidly.
For example, climate change. One side says it is scientific fact that the Earth's warming trend is a man made issue. The other side says that the climate warming crowd is using junk science to make up the issue in order to transfer wealth (via carbon taxation of rich, industrial countries) to the developing world. But neither side looks at the issue with any basic understanding or historical fact.
We used to learn in elementary school that the Earth was round. It rotates on its axis, but the planet wobbles and tilts as it navigates around the sun. The angle of the sun to the center point of the Earth defines the climate zones. In history, we know from fossilized dinosaur bones and ancient plants that Montana used to have a tropical climate. We also know that the Great Lakes were carved from receding glaciers after an Ice Age. None of those extreme climate conditions were caused by industrial mankind. One large volcanic eruption spreads more dangerous gases and pollutants than the United States in a year.
So even if the climate change people are correct in saying the Earth's temperature is rising, their reason may be totally wrong. No one factors in the angle of the planet to the sun. No one factors in the activity of the sun (solar flares). No one factors in the change in distance the Earth may be in relation to the orbit of the sun.
There is a general rule that has been forgotten. Nature seeks balance. As man and animals exhale carbon dioxide, it is plants that absorb carbon dioxide to create its energy. Plants then exhale oxygen, which man and animals need in order to breathe. The planet is a large, complex, organic system that may be going through natural cycles that the extremists on both sides of the argument fail to consider.
The truth on climate change is not the end for either side. Their opinions are their truth. Nothing can change it because their are other individuals who will endorse their positions. If you get enough people to believe your theory, it becomes reality. Or, your reality.
If you have a large enough group claim that the moon is made of cheese, it will be written that the moon is made of cheese. And if NASA does not waste its time to rebut it, a negative becomes evidence of positive reinforcement of the speculative opinion. And if no one takes a rocket to the moon with a box of crackers to "test" the theory, the theory stands (in some minds) unrebutted.
Yes, unchecked extremes do put nonsense is a priority position in society.
It is no more evident than in American politics. The Twitter-in-Chief rambles on with crude and strange remarks on wandering topics. His opponents play arm chair psychologist to label him a mad man. The back and forth sound bites of whining children turn off the vast majority of citizens who now acknowledge in polls that they don't trust their elected representatives. The irony is that they have to keep electing officials who are the problem and not the solution to the country's issues. In order to get elected, politicians must cater to extremists to get special interest votes. Any hot button issue (gun control, border security, education, illegal drugs, illegal immigration) has special interest groups willing to vote for a candidate who agrees with their position. Politicians use special interest groups like casino chips to gather enough support to go "all in" on election day.
Extremists are slowly becoming the new Normalists. The level headed center in American economics, politics and ethics is being drowned out by the Internet static and social media trending waves of screaming personal positions. People are no longer taught to think independently; the group think mentality is spreading wide and far across college campuses. People are no longer taught how to research authoritative texts, historical documents or gather first-hand information in order to find coherent facts to solve a problem. Lazy intellectualism breeds lazy societal sheep ready to be slaughtered by ruthless wolves willing to exploit weakness like warrior clans did against weaker tribes in ancient times.
This will become magnified since our world now values information as much as material goods (including food and clean water). Information technology is the new protoreligion. Coding language is the new scripture. But less people know what is behind the technology because it quickly morphed into a utilitarian appliance. Those who control the information are destined to control the world. That is why traditional nation-states are going after the major tech companies like Amazon, Google and Facebook because those tech giants are perceived as the warrior clans in the next generation of tribal warfare. It may be an extreme view of tech corporate capitalism, but leaders look at extremes as their guide posts for their self-serving actions.
cyberbarf
ELECTIONS ARTICLE
Facebook admits that 126 million users may have seen Russian ads targeted to influence the last U.S. presidential election.
Facebook, Google and Twitter have been called to Capitol Hill to answer questions on Russian meddling in US elections. Previous reports have speculated that Russian agents have hacked into state voter rolls, targeted voters with stealth advertisements, and may have funded campaigns (which is a direct violation of the law). A few politicians, including Hillary Clinton, believes that the Russian meddling in the election process is a new Cold War.
Congress is looking into these allegations as part of a new "truth in advertising" bill which targets political advertising. However, critics call the bill overbroad and an attempt by incumbent politicians to unconstitutional regulate political speech.
Special Prosecutor Robert Mueller's Russian probe has charged three men. All three were former Trump campaign aids. However, the indictment of Paul Manafort and his colleague was for conspiracy, money laundering and tax invasion while as an unregistered foreign agent lobbying for a foreign nation. None of these allegations directly ties to any campaign activities. The third man charged was for obstructing justice by allegedly lying to FBI agents during their probe of campaign meetings with Russian nationals.
Foreign influence in national elections is not new. A California businessman was convicted of money bundling Chinese national money into Democratic campaign donations during the Clinton era.
Congress wants to limit on social media content that is not labeled political ads. But the US Supreme Court has ruled that government officials do not have the authority to restrict or limit political speech, especially in elections. The Court recently found that corporations and individuals have free speech rights to comment on public issues - - - without any spending limits. This ruling has hurt many politicians who used to rely upon small and large political donors. Now, donors can use their own money to create their own campaign issue ads without any ties to any one politician. What hurts politicians is that they no longer control political speech during election cycles or the hoarding of cash contributions for political purposes such as transfers of funds to other politicians in their elections.
The Congressional hearings on social media advertising may not yield any results. But officials want to continue the story that somehow the last election was somehow fraudulent - - - that the Russians have elected a puppet president. But that is a simplistic view of a complex story. A complex story that may change directions quickly, as reports indicate that the Mueller investigation team is looking into Democratic ties to Russian agents in various international business deals during the Obama administration.
cyberbarf
FOUND BUT NOT LOST ON THE INTERNET
The NBA Oklahoma City basketball team had a bumpy flight to Chicago. Upon landing, the crew found a huge dent in the nose of the charter plane. The pilots are unsure what hit the plane. Experts have not found an actual cause for the damage as there appears to be no blood or animal residue from a bird strike.
Source: Deadspin and other news sites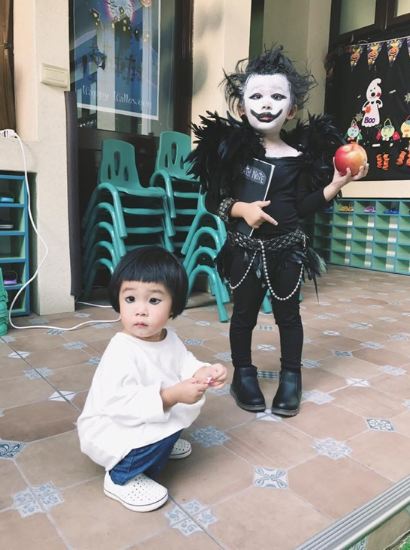 Japan does not celebrate Halloween as much as Americans do. There are a few exceptions. Toyko now has a festive Halloween train where riders dress in costume. Some parents dress of up their children in anime characters, such as Death Note above.
Source Dispatch
iToons