cyberbarf
EXAMINE THE NET WAY OF LIFE
cyberbarf
A BAD BUG ARTICLE
Volkswagen has been caught allegedly tampering with 11 million clean diesel emission systems. Instead of using current, standard pollution control devices for diesel engines, VW told the world that they had invented a new system to reduce emissions. It appears that solution was a special software cheat; the engine's computer system would sense an emission test so it would reconfigure the engine and data output in order to pass an emission inspection. But in reality, several reports stated that the computer would reset the engine back to normal running conditions which vented 40 times the allowable rate of NOx gases.
Diesel engines do not ignite the air fuel mixture with a spark. They squeeze the mixture (compression) until the air heats up and causes the fuel to explode. This process produces far more heat and pressure than is found in typical gasoline engines. By its chemical components, diesel fuel contains more energy than conventional gasoline. Engines can extract more energy from a gallon of diesel than gasoline. This makes diesel's more economical with higher gas mileage. But diesel exhaust contains more particulate matter and NOx gases. Air is composed of about 78 percent nitrogen. Under the kinds of extreme heat and pressures found inside diesel engines, this nitrogen combines with oxygen to form dangerous oxides of nitrogen -- NO and NO2, collectively referred to as NOx. NOx emissions contribute to smog, deplete oxygen in water and play a large role in the formation of acid rain.
The cleaning process is injecting a liquid urea solution into  the exhaust gas toreduces nitrous oxide (NOx) emissions. Urea is an organic compound commonly found in the urine of mammals. The compound controls nitrogen in the blood by bonding with the NOx molecule and rendering it harmless. Blended into hot exhaust gas, theurea releases ammonia, whichprovides the right chemistry to let the NOx be converted into nitrogen and water. In order to comply with pollution standards, car manufacturers use a two part pollution exhaust treatment system. Then this gas passes through a more conventional catalytic type converter to lower overall emissions.
The urea unit needs scheduled maintenance in order to continue working. At dealers, vehicles need to have gallons of the material installed every 10,000 miles at an average cost of $320 dollars. This is an expensive chore that non-diesel vehicles do not have in their maintenance.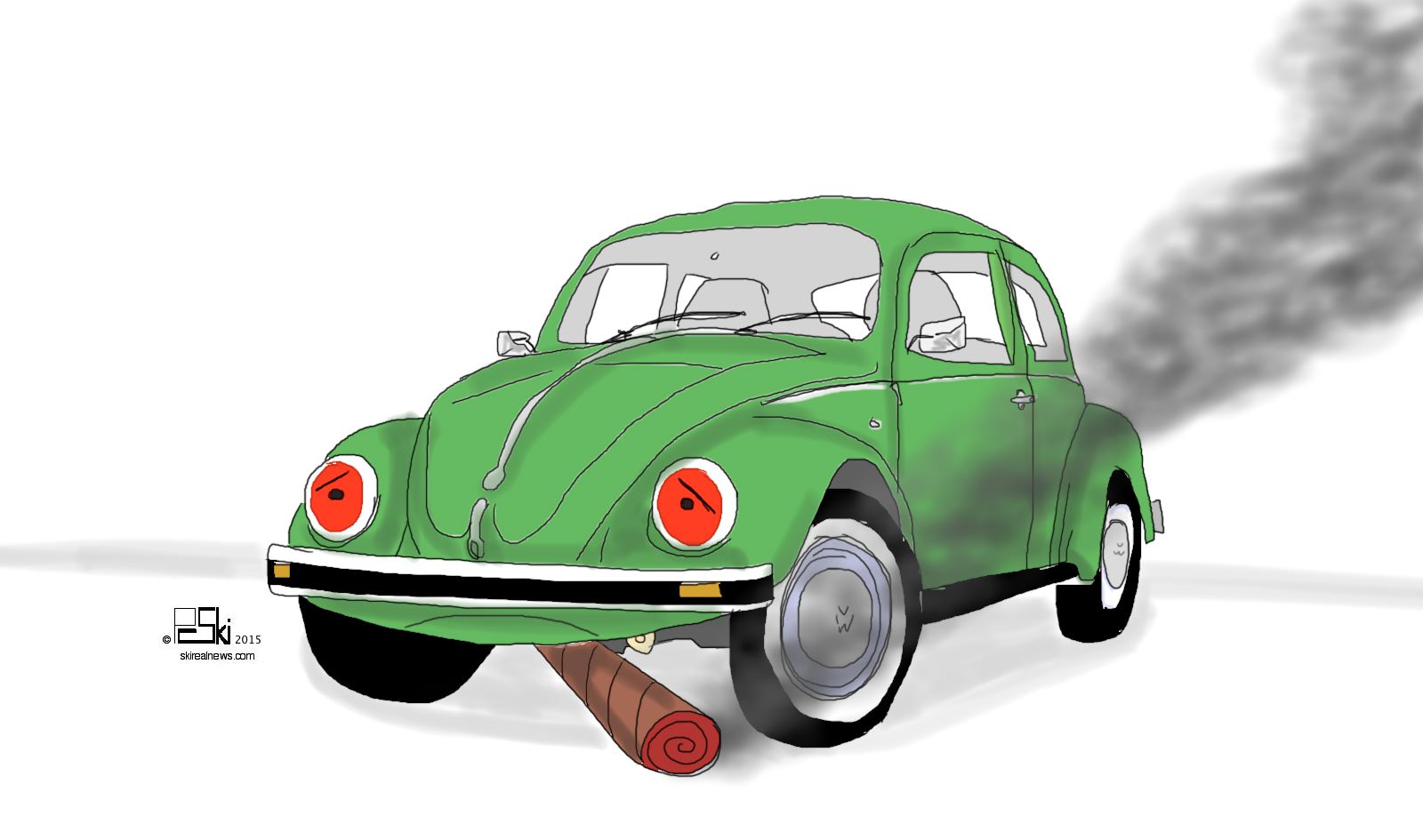 Volkswagen touted its new diesel technology as a cost saving, high mileage alternative to conventional petro engines. Now, some reports indicate that fuel efficiency will suffer when VW has to install a fix for the emission failure. Several states, including California, have deemed the vehicles in question illegal, meaning that they did not meet pollution control standards from the beginning so they are not allowed to be titled, registered or driven in the state. How other government agencies will react is still in progress; the U.S. EPA is looking into the matter and there has been a criminal inquiry started in VW's native Germany.
The New York Times reported that Martin Winterkorn, in his statement announcing his resignation as chief executive of Volkswagen, said he was "shocked" and "stunned" that the company had programmed some of its cars to cheat on emissions tests. But a few days before he gave up his post, he made a promise that Volkswagen would do "everything that must be done" to restore trust in it. Then, just for emphasis, he repeated that the company would do "everything necessary" to undo the damage the episode has caused all of the Jetta, Passat, Beetle, Golf and Audi A3 diesel owners. Other reports indicate, however, that VW executives were aware of this problem as early as 2007.
The problem was caught by researchers at the University of West Virginia, who received a small grant to test clean diesel engines. They found in their road tests, VW vehicles were not performing up to EPA standards. In fact, they were failing by wide margins. WVU research assistant professor Arvind Thiruvengadam and his colleagues test and experiment on cars and engines. He admits his is not the sexiest lab on campus, but he says he got superexcited when they won a grant in 2012 to test a few diesel cars. "Our happiness was, 'Wow, we are going to be the first guys to test diesel cars on the road,' "" he told NPR. "And then after that, when we were getting the data we were like ''OK, we're going to write a lot of journal papers, and we'll be happy if three people read these journal papers.' That's our happiness at that point."
The International Council on Clean Transportation is a nonprofit that tries to provide independent science to government agencies that regulate the environment. It hired the university to do a standard emissions tests on diesel cars in the US Volkswagen has been hyping diesel cars that are environmentally friendly and fuel efficient. Volkswagen had the boldest claims and the highest sales, but Thiruvengadam tested two VW cars and found that the claims of low emissions never panned out in the real world. "We were never seeing those low emissions during most part of our drives on the interstate. That part of the emissions program was interesting," he says. In none of their road tests could they get their two Volkswagen cars to meet the claims, even though a BMW they tested did fine. Very early on it was pretty clear to the scientists that something was wrong. He says the team kept double-checking its procedures. "And then, I mean, we did so much testing that we couldn't repeatedly be doing the same mistake again and again," he says.
The reason why this scandal has been swept under the rug for so long is that car manufacturers "self-certify" their emission results to government agencies. There is no actual road use testing in order to meet national pollution standards. So car manufacturers can rig their tests to get optimum results in a controlled laboratory setting. Also, officials and consumers have been lulled into believing that technology can fix any problem.
What will be done is highly debated. There have been several US class action lawsuits filed against VW. Many claim fraud. There are many remedies being discussed in the media, including repurchase of the vehicles, damages for less car value, and recall for replace and repair the emission systems.
There is a precedent from the 1970s where the government of Great Britain forced a car manufacturer to buy back, at full price, all its vehicles that had serious rust problems. It bankrupted that UK company, sending thousands of workers to the unemployment lines during a deep recession.
The Times asked Kelley Blue Book to run resale value numbers, and it estimated that Volkswagen would need about $7.3 billion to buy back all 482,000 of the tainted vehicles in the United States at the price one private party would pay another for the cars. Coincidentally, that is the same amount as the company has set aside for now to deal with the scandal, which is not limited to the United States.
The Christian Science Monitor reported if VW has to make software changes and retrofit an entire SCR system to the cars (other than the Passat TDI)--something that would likely cost it thousands of dollars per car performance would likely be unchanged, but interior volume might be reduced to accommodate a liquid-urea tank and associated plumbing. Other reports indicate that fuel mileage may go down from 2 to 5 miles per gallon with a new emissions system.
The Wall Street Journal reported that there will be indirect consumer damage resulting from this scandal. VW Credit, the financing arm of the company, may have to write down the value of its car leases or collateral on existing loans. VW Credit may also have to pay higher interest rates for its borrowing which could be passed on to potential VW auto buyers.
Volkswagen announced that it will set aside $6 billion to repair/recall the subject vehicles. This is most of the $7.3 billion the VW board has set aside to cover the costs of this scandal. However, this may be underestimating the severity of the cost. The $6 billion figure means that the repair will only cost VW approximately $545.50 per vehicle. This figure is at least 50 percent less than the most conservative repair estimates. Some experts believe the actual cost to retrofit vehicles could cost $3,000-5,000 per vehicle.
But these figures do not include government fines and civil damages. A more realistic expectation would be in the tens of billions of dollars. By comparison, the BP Gulf Oil Spill has cost that oil giant approximately $42 billion in fines, damages and clean up costs. Some of that money has gone through an inept and corrupt civil compensation board but this may be the blueprint to settle class actions lawsuits. The fall out does not include the damage to VW's reputation, its dramatic effect on the German stock market and drain on Europe's one truly growing economy.