cyberbarf
EXAMINE THE NET WAY OF LIFE
cyberbarf
AN APPLE A YEAR . . . CYBERCULTURE
" An apple a day, keeps the doctor away," is an old expression that is supposed to impart a healthy lifestyle on naive kids. In our modern society, the annual Big Apple Event Day keeps the old, dusty technology at bay. These shows do not have the buzz or showmanship of the late Steve Jobs, who continues to be the ghost in the back of auditorium, but it is the next stepping stone for crossing the river of expectations of the "next great thing."
Tim Cook, who continues to look more and more like The Stork in the elementary film strips about where babies comes from, is smart enough to share the stage with his technology and design team gurus. This last iPhone event marks the first real break from the Jobs legacy.
Jobs was against having a smartphone size more than 5 inches. He believed that any smartphone should be operated in one hand, like a normal telephone receiver. The interface has to be simple but transforming experience. But the market place, especially in Asia, thinks bigger is better - - - even for phones. The success of the iPad tablet showed that people are comfortable using two hands to interact with their cool gadgets.
The enigma is listening to Wall Street more than the Apple vision for the future. The constant article and column berating for Apple to have a smart wearable, a watch, that will be so unique and game changing that the stock price would shoot off like an Apollo rocket. There is alot of ground breaking technology in Apple's Watch, such as pressure sensitive display, lost in comparisons with existing Android devices. The initial reaction to the feature overload was confusion. Was this really different? And the rumored interface to HealthKit seem to be vaporware. And that fact that the watch would not be available until 2015 disappointed many observers.
It was not the actual products that hold the key to the future. Apple is still a dominating software company when it comes to the user experience. The most important takeaway from the event was Apple's foray into the electronic payment market. By using double encryption, the iPhone touch pad (fingerprint technology) and beacon wireless tech, Apple could securely displace the use of magnetic strip credit cards and personal data at retailer pay stations. In a world of weekly major data breaches, a system where neither personal credit information is held by retailer or the payment processor puts a whole new level of security in the e-commerce world. That could be the real game changer: enhanced security features.
The massive product launches also buys Apple some time. The real value will come when independent developers get a hold of the new iOS features, and the possible apps for the Watch (which contains sensors) that could kick start consumer demand for something "super cool" beyond just a fashion statement.
(Disclosure: Ski is a long term Apple shareholder, but is an independent reviewer who does not always agree with Apple announcements or policies.)
cyberbarf
BEND BUT DON'T BREAK ARTICLE
One of the first major complaints about the iPhone 6 is the viral videos of the new device bending when pressure is applied to it. In quick studies, testers claim that the new iPhone 6 will have its case bend at about 90 lbs/inch force while the large Samsung smartphones will bend at 150 lbs/inch force. The Samsung phones apparently will flex back due to its its plastic cases. Apple cases are thin aluminum shells which do not have the metal memory to flex back to normal position. Any phone when used in odd fashion will bend, but since Apple sets its own standard at excellent, this was a public relations faux pas until Apple stated that since selling 10 million new iPhones in the first weekend, only 9 customers complained about a phone bending issue. But critics still focus on the "design over function" mentality that describes recent Apple product launches.
People do want to tear down the Apple reputation or bust its bubble.
Several people have gone into Apple stores with the purpose of bending display phones. Then bragging about it, which in itself is dumb considering you would be admitting to criminal damage to property.
When celebrity nude photographs were hacked from iCloud accounts, the media quickly blamed Apple for lax security of its customer's private files. However, Apple's own investigation stated that its servers were not breached by a direct hack. The hackers used stolen information, password guess work and phishing schemes in order to go through the client account's front door to steal the images. Dark web discussion threads on how to crack cloud servers and steal unwitting victimsÕ compromising selfies was deleted after the story broke. According to Wired, those posts have been replaced with new ones from frustrated hackers lamenting that their sext-stealing hobby is over and the leak of photographs ruined theri hacking community's techniques that they had used for months or even years to silently download backups from smartphone owners.
When Apple released its new iOS 8 mobile software, it contained numerous bugs including fatal flaws such as dropping cell phone signals. Apple immediately pulled the release, then instructed users on how to reconstruct their phones prior to the patch. Apple says only 40,000 users were affected by the buggy release, but in Steve Jobs world that would have been considered a disaster. Product releases must work flawlessly in order to maintain the brand.
A new potential field of commerce was the HealthKit, which could collect personal medical, exercise, training and other information to track one's progress toward healthy lifestyle. As a centerpiece of a new lifestyle concept, HealthKit could be revolutionary. Instead, Apple had to pull the software back because of programming issues. There are much greater regulations and precision in order to sell a medical device than a consumer gadget.
Then Apple could not give its customers a "free" gift without getting flack. Apple released U2's new album, Songs of Innocence, to every iTunes customer, whether they wanted it or not. This saturation carpet music bombing was part of a new marketing alliance with Apple and the band. But users quickly found they could not delete the freebie from their accounts. And that got them mad as hornets; they did not want a gift that kept giving. Apple had to relent and announce a fix to deactivate the gift.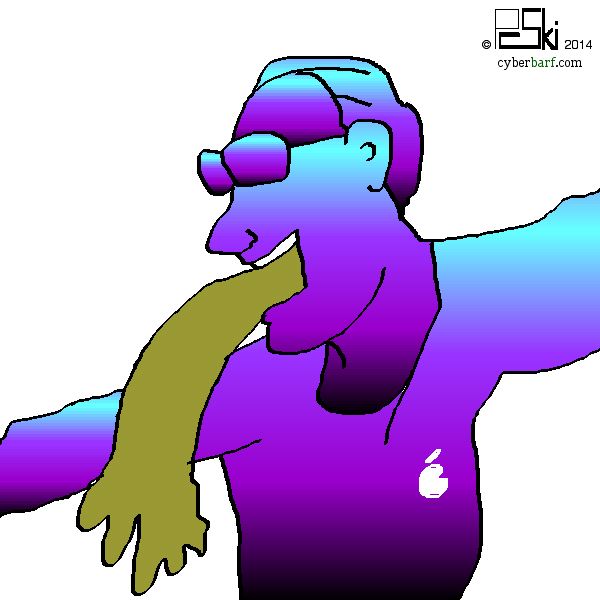 Even casual observers would think that Apple was stumbling toward the holiday sales season. But to be fair, Tim Cook had alot of plates spinning on the stage at one time: major phone release, a new product (watch), a new e-commerce platform, and major new software to cover the various integration issues. But since Wall Street had been harping for years about a missing watch, management bent to announce one before it was truly ready for mass release.
And that is how major tech companies are pushed to operate. Product updates, new products, sustained growth in saturated markets are the strong winds that bend boards of directors from innovation to acceptance of near perfection. Apple will have its new operating system, new retina display iMacs, and a refreshed iPad line by the end of the year. And then the production cycle of analysts and fanboys expectations and speculations begin to ramp up for more announcements by spring 2015.
cyberbarf
EXAMINE THE NET WAY OF LIFE
cyberbarf
barfette
A few people think we are running to jump down the deep dark well because it is a deep dark well. The rage of another tech bubble is a real problem is the elimination of common sense in the marketplace. It's replacement is a form of greedy gambling; pure speculation. Crowd funding projects which have no commercial basis or market have hit the satire saturation point as shown in the South Park Season 18 premiere. But the Alibaba IPO makes just amount the same sense. The highly touted IPO was for a Chinese company which thinks itself as the Asian demigod of Google, Yahoo, Amazon and Apple delivering all things tech to all things China. The problem for investors is that the stock purchased is actually not the Chinese company, since that government does not allow foreign ownership of national companies. Instead, the IPO floated shares in a Cayman Islands special interest entity that has no equity stake in the actual company, shareholders having no ownership control or say in the Chinese company and receive no dividends. It is only a speculative play of hot potato; the share price reflects what other people will pay for it; and not any corporate fundamentals like growth, earnings or profits.
barfette
One fall out to the celebrity photo hack of cloud server accounts is that the episode has shed light on a very dark side of the internet. The mainstream media is starting to sniff around the story of the Dark Web, an anonymous digital network where users buy, sell and trade stolen illicit property such as nude celebrity photos, personal credit card information and illegal drugs. This secret exchange is highly sophisticated and hard for law enforcement to crack. In fact, some users were quite upset that the celebrity photo story left the secrecy of their secret society because that led to increased security measures which quickly shut down their market peddling those photographs. Many people in the general public fail to realize that just about any vice can be transformed into a digital counterpart.
barfette
When a disgruntled contract employee allegedly set fire to the FAA's traffic control computers in Aurora, IL, the world learned just how vulnerable the air traffic control network is when O'Hare and Midway airports had to close down. Five other regional control towers had to handle air traffic arrivals and departures through the heart of the country. The FAA stated that it could take weeks for their Midwest control center to be restored to full function. It raises the question of why there was no back-up system to this vital control center.