cyberbarf
FOUND BUT NOT LOST ON THE INTERNET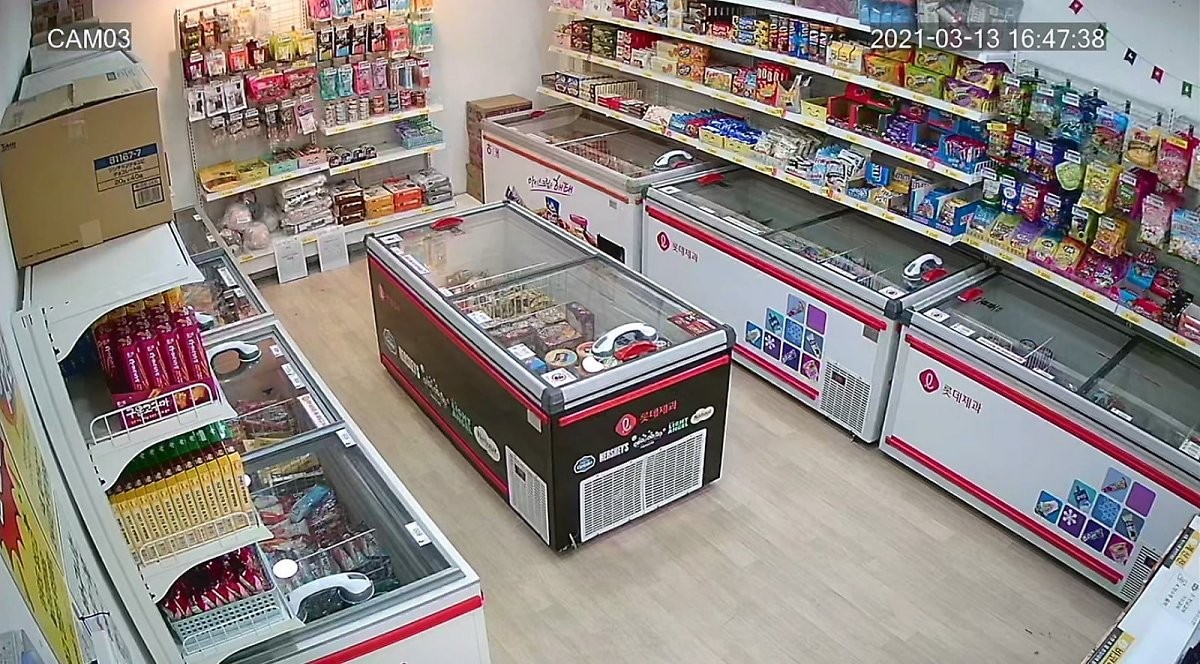 Due to social distancing and sudden spikes in Covid cases, a new business model has started because of necessity: the unmanned ice cream store. In Japan, the owner monitors CCTV cameras as his customers would come into his shop. The customers come in and pay without any contact with the store owner or employees. It seems that there needs to be a great deal of trust for this system to work.
Source: Mental Floss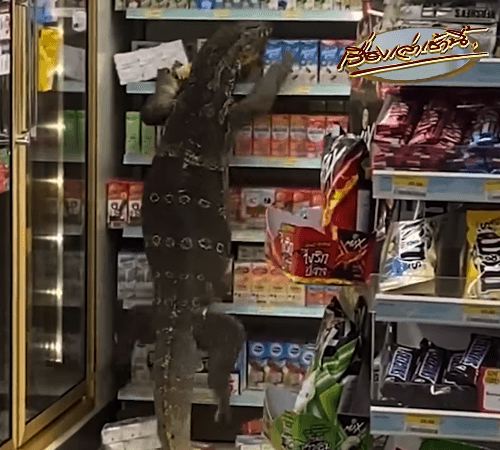 Meanwhile, a large monitor lizard was captured climbing the food racks in an Australian 7-11 convenience store. The large lizard is highly poisonous and aggressive. How and why it decided to enter a store is unknown. It climbed the rack to rest on the top. Animal control officials had to come to remove the land monster. No, it was not a cheap promotion for the new Godzilla film.
Source: Various
The original artwork above, and the vandalized marks on the bottom
An abstract artwork worth $450,000 was defaced by a couple. Alarmed by the defacement, the organizers of the Seoul exhibition called the police and reviewed surveillance footage to track down the couple, who said they mistook the setup as an invitation to collaborate. (It was not. The display of paint and brushes was a nod to the artist's creative process.) JonOne, who painted the graffiti-style piece, was initially shocked by what he thought was an act of vandalism but then realized how the couple could have been confused by the set-up. He thought it was cool that the couple was moved by his piece to decide to contribute to his art. No charges were filed against the couple.
Source: Vice magazine
cyberbarf
ISLANDS IN THE STREAMS COMMENTARY
Ken Burns' latest documentary series, Hemingway, was a disappointment.
He used modern author's opinions of his works, now almost forgotten in literature classes, instead of interviewing people who actually knew the wild and crazy author. The series was more about the social and psychological assumptions and presumptions of Ernest Hemingway's bravado lifestyle, his many marriages, his estrangements from family and friends fueled by rampant alcoholism and mood swings. The focus on his process, his writing blocs, his need to experience the story before he wrote it, were dry and academic compared to his real life.
There have been other, older documentaries, on Hemingway, that used interviews while he was alive as the basis of the portrait of a significant 20th century American writer. The current authors, for the most part, did not care for his blunt, simple and repetitive writing style which was new and brilliant in its day.
But the one thing the new series had going for it was that it was new. New content widely available on PBS channels on basic cable.
Cable television is becoming a vast wasteland of old UHF channel shows. Black and white shows from the 1050s and early 1960s. Billy Graham sermon reruns. Syndicated game shows from the 1970s. The only real time draws are sports programs which are now getting back to some form a normalcy after a disruptive 2020.
Cable channels have been disrupted by the cable channels themselves. The content providers have begun to meet the cable subscribers long held desire for a la carte programming choices. Cable content providers like Disney have started their own streaming channels. It is a way to bypass the cable operators carriage contracts. Viewers pay the streaming services directly; no middle man. First run shows that used to show up on cable channels are now being premiered on streaming sites. Even re-runs of new cable shows such as Discovery's BattleBots, quickly move to exclusive reruns on Discovery +, which is advertising more new shows only aired on the streaming service.
Steaming operators are now the new niche cable operators. They are programming their own content eco-systems. Netflix has shown that a subscription model can work if there is enough compelling content to drive revenue. Apple TV is a newcomer but is willing to match Netflix's large spending for new shows. Disney has a huge inventory of past shows that it is now self-syndicating on its streaming service. Even old cable standbys like HBO have turned into HBO Max streaming providers buying up show reruns to bolster its 24/7 program schedule.
The new streaming services still have some legacy channels on basic cable, but those days are probably numbered. A few new original shows pop up on cable, but it may be as a means of good faith performance on their existing carriage contracts. Pretty soon, cable, which is still an expensive, will fall to the realm of the over-the-air antenna services.
But do not feel sorry for the cable operators. They still own the pipe to the households. They have been selling broadband services required for people to link to their streaming sites.