cyberbarf
MAL WARE ARTICLE
The ease of technology and a global distribution platform is leading to evil darkness over mankind.
Last month, a Thai man filmed himself killing his 11-month-old daughter in two video clips posted on Facebook before committing suicide. The videos of the child's murder were broadcast for 24 hours on her father's Facebook page. "This is an appalling incident and our hearts go out to the family of the victim," a Singapore-based Facebook spokesman Reuters. "There is absolutely no place for content of this kind on Facebook and it has now been removed." Just before this incident, Facebook was taking heat for individuals using Facebook Live to glorify criminal conduct, including a multiple sexual assault case from Chicago.
Facebook's review of how it monitored violent footage and other objectionable material came after a posting shooting of a man in Cleveland, Ohio, was visible for two hours before being taken down. In that incident, a man went out to hunt a random man to shoot and kill. The murderer then went on a dash cam flight from justice until he was cornered by police after a citizen notified authorities about his whereabouts.
But the horrifying footage from Thailand has brought public pressure on technology companies to be more sensitive to both victims' families and the moral center of the general public. The video showed a 20 year-old man named Wuttisan Wongtalay tying a rope to his daughter's neck before dropping her of a deserted building in the Thai seaside town of Phuket. Wuttisan's suicide was not broadcast, but his lifeless body was found beside his daughter, said Jullaus Suvannin, a police spokesman. "He was having paranoia about his wife leaving him and not loving him," Jullaus told Reuters.
Thailand's Ministry of Digital Economy said it contacted Facebook about removing the videos, after request."We contacted Facebook today and Facebook removed the videos," ministry spokesman Somsak Khaosuwan told Reuters, government would take no action against the company. "We will not be able to press charges against Facebook, because Facebook is the service provider and they acted according protocol when we sent our request. They cooperated very well."
The mother of a Thai child killed by her husband on Facebook said her husband is the only person to blame and she bears no anger toward the social media site or the users who shared the horrific video. "I am not angry at Facebook or blaming them on this," Chiranut Trairat, 21, told The Associated Press. "I understand that people shared the video because they were outraged and saddened by what happened." She said her husband had been abusive in the past and spent two years in prison before they started dating.
Facebook has been trying to quell the backlash against its services. In damage control, Facebook's statement said "This is an appalling incident and our hearts go out to the family of the victim. There is absolutely no place for content of this kind on Facebook and it has now been removed." Facebook said in a statement on the Thai incident. Facebook founder Mark Zuckerberg said last week that his company has "a lot of work" to do on the problem.
In the past year, there have been many instances where technology has been used to promote the dark side of society. The augmented reality game, Pokemon Go!, was used by individuals to track game players to remote sites so they could rob them. Public free WI-fi hot spots are often used by hackers to intercept personal data from internet cafe patrons.
Social media platforms have been accused of promoting dangerous activities towards children. One was the cinnamon challenge where a person is pushed to eat an entire bottle of cinnamon - - - which can cause deadly adverse reactions. Recently, an alleged hoax has been making the rounds from Russian which is a suicide game called Blue Whale which is targeted at kids online.
After the Ferguson, Missouri protest/riots, social media took heat for making tense situations worse by fanning the flames against police officers. Some critics blamed the social media misinformation to give justification to individuals to attack, ambush or kill police officers. There have been many instances where children broadcast their suicide notes on the social media pages because they have been bullied at school.
Facebook has also vowed to help filter out fake news on their news feeds. But that begs the question on who actually will be the arbiter of what news or posts should be on the service. Facebook is not a newspaper whose job it is to find the truth, source information and publish verified news stories.
Sociologists will say that social media use is merely a public reflection of what has been happening in our country before the advent of technology. However, the use of a public medium can be empowering to weak individuals who want to act out their frustrations on other people. With more than a billion posts a day, it will be impossible for social media platforms to police content in real time. And those platforms do not want to become gatekeepers because they could lose their safe harbor liability protection under digital media laws.
Real News Komix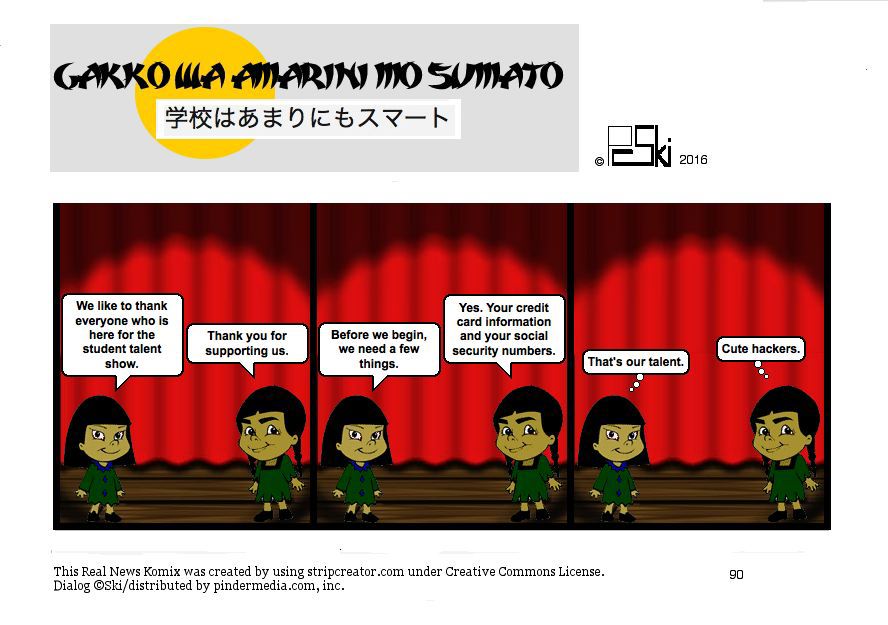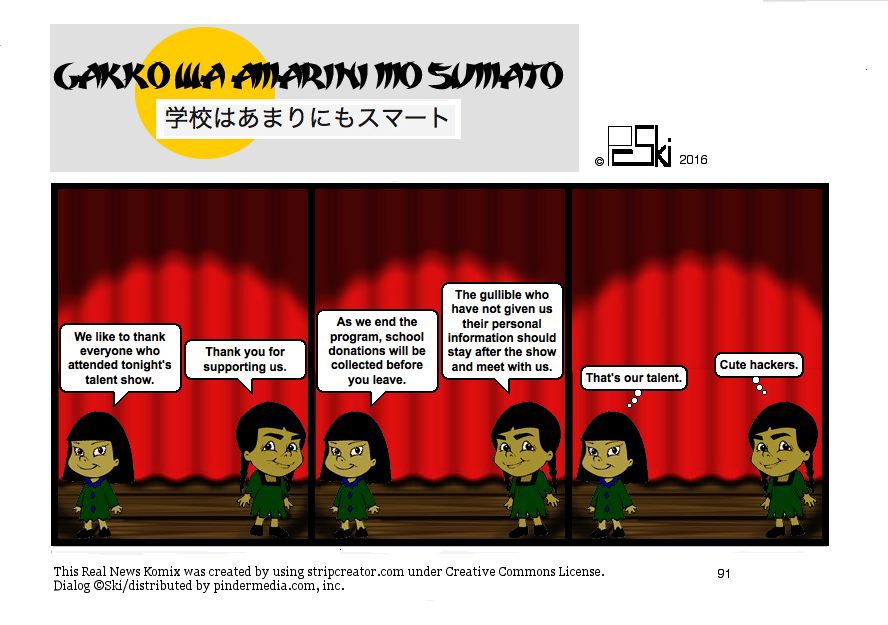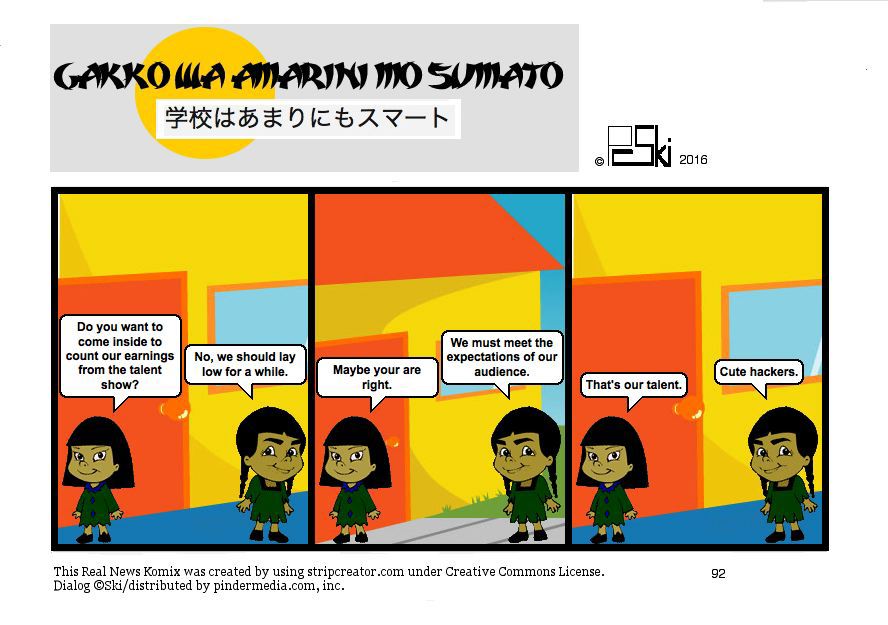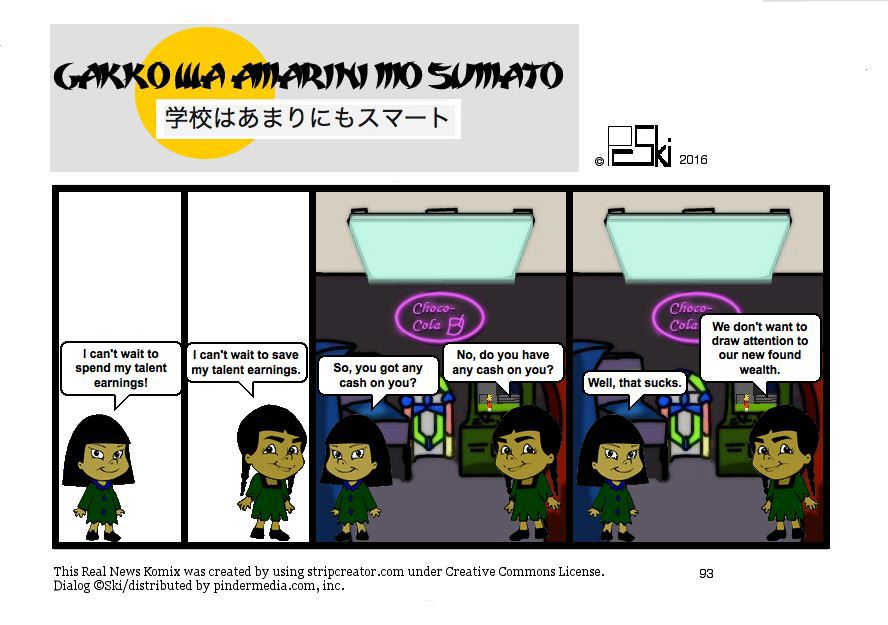 More Gakko WA Amarini MO Sumato can be found at The Real News site.
cyberbarf
ROBODOLL CYBERCULTURE
While the live-action Ghost in the Shell movie was panned by critics and audiences, the concepts autonomous, life like androids is moving forward at a speed that even surprises futurists. Several different companies are moving the sex doll industry into the world of interactive robotics. A 2016 Fortune magazine article predicted that spending on robotics will hit $135.4 billion by 2019. The sex doll industry wants a large slice of this market.
For decades, Southern California firm called Abyss Creations makes life size, humanoid silicone sex toy, called the RealDoll. These dolls were static fantasy toys that cost thousands of dollars. But this company is pushing technology of the pleasure doll market into interactive robots. The new development is called Harmony. She is a prototype, a robotic version of the company's hyper-realistic RealDoll. According to a Guardian (UK) story, Harmony smiles, blinks and frowns. She can hold a conversation, tell jokes and quote Shakespeare. She'll remember your birthday, McMullen told me, what you like to eat, and the names of your brothers and sisters. She can hold a conversation about music, movies and books. And of course, Harmony will have sex with you whenever you want.
After it had made their silicone and steel dolls as human as they could, the company decided the future would be to animate them, giving them personality and bringing them to life. Owner Matt McMullen had toyed with animatronics for years, but the equipment and weight of the doll made for difficult engineering of a fully functional and mobile device. There was a gyrator that got the doll's hips moving, but it made her heavy and caused her to sit awkwardly. There was a sensor system that meant that the doll moaned, depending on which part of her body you squeezed. But these features involved predictable responses: there was no intrigue or suspense. McMullen wanted to get beyond a remote controlled doll, an animatronic puppet to an actual robot.

The goal is to have the doll move around its own - - -no interaction other than talking to it and or interacting with it in the right way - - - so that it becomes truly artificial intelligence with its own personality and space recognition.

Harmony is the frontrunner in the race to create the world's first commercially available sex robot. The current model, with a robotic, AI-enhanced head on a RealDoll's body, will cost $15,000 when it goes on sale at the end of the year.
Once a trope of fantasy movies, the robotic sex doll is the result of convergent technologies: voice and facial recognition software, motion-sensing technology and animatronic engineering can be combined to create dolls that can produce smiles, conversation and physical companionship. The major breakthrough for the Harmony prototype is software that allows it to learn what its owner wants and likes; learning and responding to her owner's voice, Harmony is designed to be as much a substitute partner as a sex toy. But it is not a substitute for human companionship because of the robotics limitations. For example, Harmony cannot walk. McMullen explained that getting a robot to walk is very expensive and uses a lot of energy: the famous Honda P2 robot, launched in 1996 as the world's first independently walking humanoid, drained its jet pack-sized battery after only 15 minutes.
In Las Vegas, Roberto Cardenas makes a plaster casts of a naked women. Cardenas is the engineer behind Android Love Dolls, making what he claims are "the first fully functional sex robot dolls," he told the Guardian. The goal of his company is to have his robots are molded from live models in order to make so realistic it cannot be distinguished from a real woman. A model is paid $200 for the day's casting, and she will receive a $500 commission on every robot cast from her body that Cardenas sells. The model was literally being turned into a sex object, but she said it did not bother her. "I think men have needs. This will probably stop guys from raping women," she told the Guardian. He boasts that his robot could perform more than 20 sexual acts, could sit up by herself and crawl, could moan in sexual pleasure and communicated with AI.
In a doll forum, posters suggest other features: eye contact, voice recognition, realistic body temperature, variable breathing is more important than walking. One user remarked. "If my RealDoll could cook, clean, and screw whenever I wanted, I'd never date again." Just with any other technology field, the more features and user experience, the better.
If a humanoid doll can can walk, talk, react, and do household chores such as cooking, cleaning and laundry, it would put in a new dynamic in personal relationships.
Sociologists worry that fully animated and functional sex robots could be detrimental to society. Industrial nations with declining marriage and birth rates are putting negative pressure on their economies. The foundation for national gross domestic product is consumer spending, which raising children and creating new households are major factors.
Some believe that the realism of sex dolls will create a culture of objectifying women. If a doll is submissive in the privacy of one's home, then men may take their fantasy viewpoint into real life with disastrous results. Women are complex individuals, with emotions, dreams, desires and relationship checklists which are different than men. Women do not want to be objects but partners in relationships. If you confuse the traits of imagination with the reactions of a real woman, a frustrating result can happen to a man's ego.
There is a growing segment of society who are loners. They do not want to interact with other people. They may be shy, introverts, unemployed, socially awkward or fear rejection/pain of interacting with other people. Industries target these individuals to target their self-esteem or body issues through diets, dating sites, fashion trends or relationship advice books. The sex industry has been catering to fantasy markets, but now is on the verge of expanding into interpersonal relations. If technology makes advances to creating affordable versions of Star Trek's Data, it would not be surprising that lonely people, both men and women, would try them to fill the companionship void in their lives.