cyberbarf
BUYING MUSIC ESSAY
In college, there was an independent record store called Kenny's. It was a bare bones, wood floor one room store front. Albums were arranged in used orange crates along the wall. The disinterested clerk would be behind one counter where the smoking materials and posters were located. It had a single focus of being a record store. If you wanted to know what were the new albums, you had to go to the store and skim through the alphabetical bins.
Two things would grab your attention: the artist's name and/or the artwork on the cover. LP art was at its zenith at this point in time. The canvass of a large cardboard square allowed two works or one large wrap around graphic. The back side usually had a picture of the band, song lists and at times other information about the band or the recording. There was a spate of live albums so many LPs had classic concert venue statistics as a selling point.
Inside the LP jacket resided the vinyl disc and the sleeve which contained more band information and the all important song lyrics. With the lyrics, no one could settle bar bets of what the singer was growling on this song or that song.
So purchasing music back in the day was an immersive event. One had to go to the store, wade through the stacks of albums, touch them, look at them, turn them over, handle them with care. Sometimes your senses would be shocked by the cover art, like Meat Loaf's Bat Out of Hell. No one ever heard of Meat Loaf before that screaming album cover artwork pushed me to purchase it. Then we I got back to the dorm, I cranked up my stereo and was blow away by the first track's monster song. It was so different, that guys kept popping into the room asking what was playing . . . and when they saw the LP jacket they were also hooked.
Around the same time, the communal aspect of listening to music was starting to change. Sony Walkman was the first mass produced personal music device. People would record songs onto cassette tapes then play them in the Walkman while they jogged, worked out or studied. This freed listeners from the bounds of Am-FM radio to wait for their favorite artist or song to run through a formatted rotation. It was the beginning of the change on how Americans would want to consume their music.
Even though Apple did not invent the portal music player, its iPod devices were so simple and elegant that it changed the music industry. Instead of bulky and low quality sound of cassettes, digital audio files held the quality of the LPs. Digital files could be encoded with much of the same LP jacket information. But what drove Apple to the top of the music consumer charts was the method of distributing music: the iTunes store. For a mere 99 cents, a person could buy a song. For less than ten bucks, you could buy an entire album. The price point was killer. It was almost in the realm of impulse purchases of those small items while you wait at the grocery check out counter. The iTunes store price was well below that of the record store retail price.
The recording industry hated digital files because they could be easily copied and shared via the web. The record labels wanted to control the distribution channels of all artists because it was that control point was their profit center. But the iTunes store destroyed that brick and mortar business plan. iTunes became the largest music store - - - with infinite shelf space. It cut off the need for a physical copy of any work. Normal retailers, especially independent record stores, could not compete because of basic overhead costs. iTunes was a dynamic data base. It did not need clerks to stock shelves or cashiers to ring you out.
The price structure of Apple also changed the way people consumed music. It was easy entry point for people to pluck down a buck for a song. Nothing costs a dollar anymore. No big deal. And the early push of iTunes gift cards opened the flood gates of habitual consumers, both young and old. Apple garnered a huge customer credit card base which is still the envy of data miners.
And the iTunes procedure was so simple, even a grandparent to download a song. Point and click and Apple's software automatically loaded into one's personal music devices. And it would sync and back up to your hard drive. It was so simple it was stupid good. iTunes store is still the biggest seller of legal music downloads in the world.
It is hard to imagine that iTunes is only ten years old. In the span of just a decade, an entire entertainment industry was fundamentally changed for the betterment of the music consumers. No longer does one have to go into town, or to the mall to find a record department. No longer does one have to wait for a store to open to buy the next album. You can do it all from your home or through your smartphone. The entire world's music catalog is basically at one's finger tips.
The iTunes web store method has spilled over into downloads for e-books and streaming television shows and movies. Being simple, straight forward and affordable is the key to the iTunes massive success. It has been copied by others but not duplicated to any great success. Steve Jobs always wanted a person to have his or her entertainment at their finger tips. Jobs wanted Apple to become the hub for each household's entertainment room. The iPod and iTunes store were the great foundation for that dream.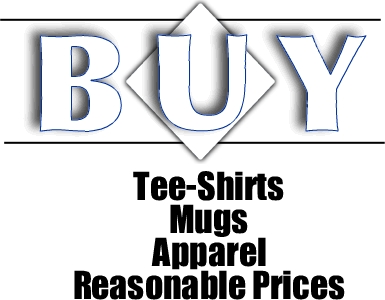 cyberbarf
TABLET MANIA FUTURE
Tech web site comment sections are filled with posters wish lists for the next generation tablet. Wall Street analysts bitch and moan about what is missing in a tech company's product portfolio like it is the coming plague. Features, features and more features. That is the drumbeat from the consumer end.
Famously, the late Steve Jobs never listened to what his customers wanted from Apple. He told them what they wanted once he launched a new product. If it passed the Steve Test, then it was good enough for everyone else. And in retrospect, Jobs had a higher innovative standard than most of pundits and consumers.
Just short of robotic implants, the market is demanding more technological leaps, faster product introduction cycles, and cheaper prices. More, faster, cheaper. For manufacturers, that vortex of consumer demands is like trying to outrun a tornado on the Midwest plain.
It is not that tablet makers don't want to please their customers. But ideas are easy, implementation of ideas is hard. If the consumers or analysts are so smart and creative, why don't they start their own computer company and sell their ideas? That's really hard. There's no App for that.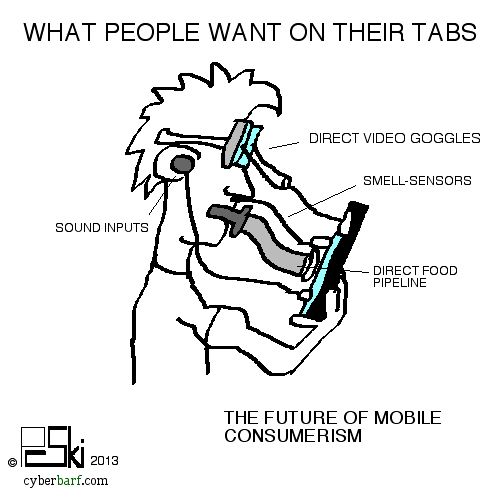 When Apple introduced its first iPad, it was not the first to come to market. Many years earlier, HP and other computer companies toyed with the idea of replacing the ink and paper clipboard with a tablet computer. They believed that there was a market for such a device, his delivery company carriers had their drivers use clipboards to get signatures; retail stores used paper and clipboards to do inventories; even sports coaches had clipboards to record scores, times and plays during games. A funny thing happened on the way to this tech revolution: bar codes. The advent of bar codes and small hand held readers made the concept of the electronic clipboard obsolete. That first wave of tablet technology quickly faded away.
So why did the current series of tablet computers become so successful? First, Apple did not push a replacement device onto the marketplace. It introduced a cool device that some thought was just an expensive, bloated iTouch. But its size and ease of use allowed actual users to take the device into places design engineers never thought would be adopted so quickly outside the home gadget space: to schools to replace textbooks, to hospitals to replace patient charts, and to corporate presentation devices instead of powerpoint presentation projectors.
It is difficult to create a new "wow" product on design specs alone. People need to touch it and fall in love with the device for it to change the market. Will the tablet spawn the digital art canvas? Probably not. Will the rumored iWatch spark new imagination and record sales? Probably not. So what will be the new tablet based cool product? We will have to wait and see it for ourselves. But don't be surprised if we are surprised by what that new product will be . . . or won't be.