cyberbarf
FOUND BUT NOT LOST ON THE INTERNET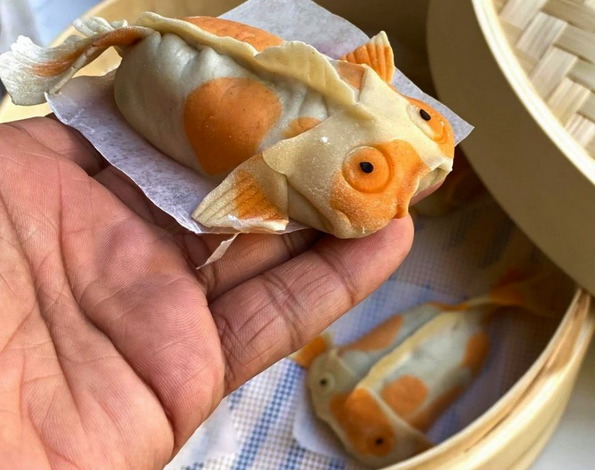 We swear, the pandemic is going to make all of us chefs. On reddit, a person posted their latest creation: fish shaped dumplings. People were amazed by the artistic nature of the food. Many said making steam dumplings is hard enough, but to make one that preserves it shape while cooking was amazing. We do not know how much trial and error went into the process, but if one has enough time on their hands, anything is possible.
Source: Neatorama
As a family was packing up to go home from a vacation in a national park, their 4 year old boy brought to the cabin a surprising guest. His mother heard noises on the porch so she looked out to find her son with young fawn. She was shocked and surprised. Quick thinking, his mother told the boy to walk his new friend home to where he found her. Nature will always surprise humans. And wins the internet.
Source: Neatorama/Mashable
cyberbarf
TAKING GRAFFITI TO THE BANK CYBERSAFARI
The BBC reported that a mural in Nottingham of a girl with a bike tire hula-hoop was sold by the building owner for more than 100,000 pounds.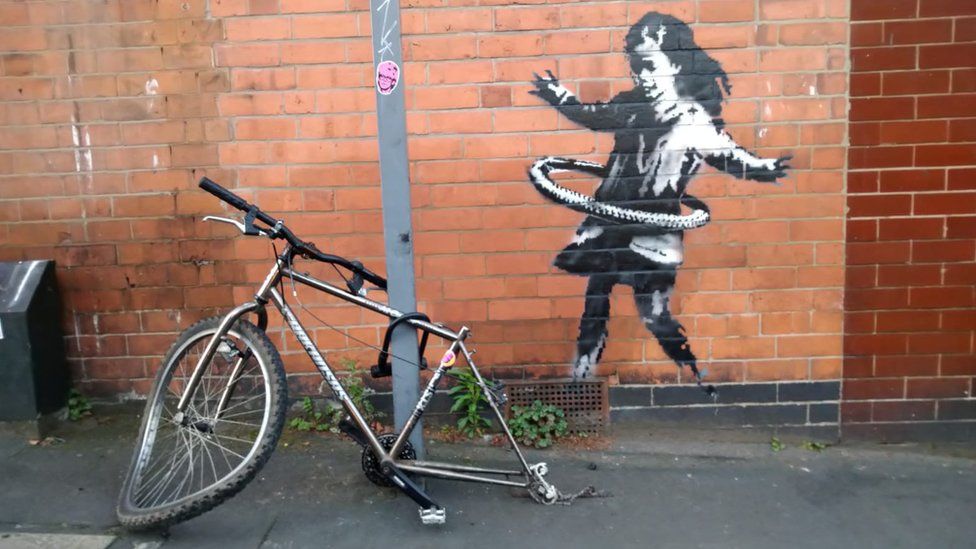 The graffiti artwork was made by the legendary artist, Banksy. He has a firm handle his art, but he remains a mystery. Some have speculated that he is a touring rock musician with an artistic, rebellious flare. Because he remains anonymous, it is hard to tell at this point whether he is making his tagging art just for public display and commentary, or for profit.
The local town tried to figure out a way to preserve the piece in its original location. It has come to pass that Banksy installations do draw crowds of tourists. And tourists do help a local economy. But the problem with having something valuable is that someone will attempt to reap that value.
In this case, the building owner sold the piece for a reported figure in excess of 100,000 pounds. The building tenant was unaware of the situation until an early morning work crew began brick cutting the wall in which the painting was made. The tenant said he would have rathered have the painting kept on the wall as it brought people around his neighborhood. Now, a plywood square fills the void.
The city administrators tried to bargain for a compromise, but in the end they said they had no power to stop the building owner from doing something legal with his property. Selling the artwork to a collector would mean that it would go out of view of the public.
Banksy representatives did not like the idea of a private sale of the work. They indicated that they wanted the piece to be preserved in its original location. But again, it is not clear Banksy had any legal recourse to stop the removal or sale of his art work. His work was intended to be put into the public domain. An artist has a copyright to his work, but it is a gray area whether he retains the actual image itself if it is fused onto someone else's property (building wall).
By trespassing and creating a nuisance under the law on another person's property does not give you a license to make the property owner respect your wishes. In the early days, most property owners painted over the Banksy works because they considered it merely another spray paint eyesore. But after the art community began to like the political meaning of many of his works, Banksy became a well known commodity. The air of mystery on how he paints his murals without getting caught is part of the appeal of his works. And his subject matter always gives people pause to debate. Some of his works have been acquired by galleries. And some licensed Banksy images have been sold to the general public.
Whether this sale will make other building owners think about dismantling their Banksy artworks is something only time will tell. But in an era of economic decline, the chase of a dollar or in this case many pounds seems as enticing as the artwork itself.
Banksy is a pseudonymous England-based street artist, political activist, and film director active since the 1990s. His real name and identity remain unconfirmed and the subject of speculation. His satirical street art and subversive epigrams combine dark humor with graffiti executed in a distinctive stenciling technique. His works of political and social commentary have appeared on streets, walls, and bridges throughout the world. Banksy's work grew out of the Bristol underground scene, which involved collaborations between artists and musicians. Banksy says that he was inspired by 3D, a graffiti artist and founding member of the musical group Massive Attack. Banksy displays his art on publicly visible surfaces such as walls and self-built physical prop pieces. Banksy no longer sells photographs or reproductions of his street graffiti, but his public installations are regularly resold, often even by removing the wall they were painted on. A small number of Banksy's works are officially, non-publicly, sold through Pest Control, his art agency.