| | |
| --- | --- |
| "Spring break is right around the bend. To keep yourself safe, use the net to check out your destination. Check out the local newspaper web site for what to see and what to avoid. Search the local police pages to see if they have a crime map utility to locate the seedy areas of town. Bring your cellphone charger with you so you have access to help in case of emergencies. And use some common sense to stay out of trouble!" | |
cyberbarf
EXAMINE THE NET WAY OF LIFE
cyberbarf
GIVING THE BIRD A FLAP CYBERCULTURE
A small little game program lingers in obscurity to a while, like the vast majority of apps. Then out of the blue, it rockets to the top of the download charts. It is vastly popular because it is a simple fly control game that is so frustratingly hard. The Vietnamese programmer becomes an instant web star. It is claimed that he is making $50,000 a day from his megahit.
But success was short lived; the developer takes down the program because it was "ruining" his life.
Flappy Bird is one of those modern geeky Walter Mitty stories of nothing to fame to crash-and-burn.
No one could believe that a game developer would walk away from $50,000 a day in income (even though it is impossible to determine if this is actually true since popularity statistics don't necessary mean actual sales or advertising hits). Gamers did find the program addicting because the actual game round usually took less than a few seconds. People bragged when they got a score of "3."
But there is a seedy, dark side to internet fame and glory. Even successful main stream game developers confess that they get vile emails and even death threats after their release of a popular title. It could be pure jealousy. It could frustration with the game or its cost. It could be that there is segment of our population that are haters who want to vent at anything or anyone.
In an interview with Forbes Magazine, 29-year-old Dong Nguyen Flappy Bird creator blamed the app's addictive nature for its early departure. "Flappy Bird was designed to play in a few minutes when you are relaxed," Nguyen said. "But it happened to become an addictive product. I think it has become a problem. To solve that problem, it's best to take down Flappy Bird. It's gone forever." Nguyen also revealed that he couldn't sleep after unleashing the iOS app that scored more than 50 million downloads and earned $50,000 per day in ad revenue, according to CNet. So he took his program off the app store.
Nguyen later tweeted that it the attention the game's success has brought told him to quit. "I can call Flappy Bird is [sic] a success of mine. But it also ruins my simple life. So now I hate it," Nguyen posted. He also noted that he was suddenly overloaded with press interview requests and the pressure to update the game. The sudden influx of the global press and on-line community throwing a person into the limelight could be a very stressful experience.
Ars Technica referenced in its article that the attention on the developer unleashed a ton of hate against him. Many of attacks on the game creator were based on the fact that he was allegedly making so much money from a game may people thought was simplistic and unoriginal. The game's general design is similar to a number of largely unknown casual scroller games from the past, including the simple bit artwork style from early video game consoles. Others have suggested that the sudden success of Flappy Bird and other games by Nguyen was driven by fake reviews and bot-powered downloads, rather than any organic viral spread. And of course, being a prominent person on the Internet, Nguyen also attracted his fair share of death threats and other undue abuse from trolls both before and after the removal was announced.
So no one will really know how successful this little game truly was, and the real reasons why it is quickly taken down.
But it is cautionary tale that a lot of people may like a popular product, but dislike the person who becomes popular as a result. The sausage grinding of celebrities is well defined machine. Tweeter and web posts are the gasoline cans ready for the smoldering embers of fans and nonfans to erupt and disrupt the cyberculture.
David Pogue has tried to figure out why there are so many haters lurking in the web shadows. He thinks the anonymous nature of posters have created the conditions for the cesspools — the comments areas — to form on many websites. Instead of a place for freedom of speech, it becomes a target range for potshots. The higher the profile of a person, the bigger the target for those potshots. He thinks it may come down to this: "If you can't feel good about yourself, at least you can make somebody else feel worse."
Pogue believes the rise in uncivil behavior is that people now know they can hide behind their web masks . There are no social repercussions for having a web tantrum. Nobody knows who you are. There is no fear that someone would clock you if you said that comment to that person, in person. The web is a shield for bad social behavior. Pogue also believes that there may a generational factor at play. Youth today spend much less time in face-to-face social interactions because they communicate digitally over texts, social media or in-game pop up windows. These web tools could be used properly for civil discussions and suggestions, but it is possible that there is a growing segment of society who does not know how to use those tools in a responsible fashion.
The controversy around Flappy Bird is like the tell tale doom of a Gilded Society. People are in awe of sudden wealth and fame, but at the same time disrespect the method, means or appeal of that same success.
cyberbarf
barfette
There is a trend in mainstream journalism to hire new executives with a digital background to realign the sinking ship that is called print publishing. However, these new cyber-executives have no basic journalism skill sets to run a daily, weekly or monthly publication. They are from an alien world of web page traffic, number of views, search engine placement and click through advertising. None of those concepts deal with journalism content of news, facts, accuracy and copy editing. News is merely a subset of content, a commodity to aggregators and web portals. The problem is that a well-informed public as guaranteed by the First Amendment which is the key to America's freedoms will not be well served by aggregators and web traffic manipulators.
barfette
There are cycles in every life. In humans, there is a spark of affection, closeness, togetherness, falling outs, reconciliation and mutual well-being. In technology, there is a spark of innovation, close design, integration into existing systems, beta tests, golden masters and release to the general public. People view their tech products like people; they have relationships with the intelligent computers and the associated brands. The movie Her goes to an extreme of the love of technology, but the co-dependence on squeezing the life out of a product to an addicted public who always wants the next great thing sets out to be a romantic failure of biased expectations.
barfette
The easiest way to determine whether you are in control of your digital life is to view your message and email histories. Check to see when those communications were sent. If you see friends, business colleagues or customers sending you messages after midnight, that is a signal that you are somehow hard wired into the network, at their beck and call 24/7. It is not healthy; people did time to relax and unwind in peace. Then check your response message date and time - - - is it shortly after those late night/early morning beeps? You may have fallen into the trap of being too accessible. Humans are not meant to be organic mainframe servers. We need down time away from technology in order preserve some form of humanity. An uninterrupted dinner date is one (where no one is answering calls on their cells or texting/web surfing instead of having a personal conversation.) As odd as it seems, some people need to schedule on their iCalendars "down time" from their work emails, their facebook, tweets, text messaging and web surfing before it consumes their entire waking hours.
cyberbarf
EXAMINE THE NET WAY OF LIFE
cyberbarf
TRANSLATED AS DATA INFORMATION OVERLORD
Another Max Headroom prophecy has been reaffirmed: people translated as data.
The $19 billion Facebook acquisition of WhatsApp, the teen messaging and photo service, took many people by surprise. Facebook is acquiring 450 million users for the outrageous sum of $42 per head. Cable mergers have normally used 50 cents to a dollar as the value of a customer base. WhatsApp users send messages and photos on their phones and the company charges each user only a dollar a year. It sells no advertising. It does not want to sell advertising to its users. Its young user base don't want to "monetized" by the tech corporations of their parents, ironically, like Facebook.
What is tricky is that Facebook has bought a huge flock of finicky cats. As Mythbusters has proven, you can't herd cats. Current WhatsApp users could easily bolt for another message service system that would be less commercial.
Facebook executives claim that the goal is the reach a billion plus users, which would equate to a billion dollars or so in gross revenue. But that does not seem realistic to wait 20 years to get a return on one's grand investment.
Facebook does what other "free services" tend to do: data mine.
Facebook is acquiring a data base of 450 million teen users, a demographic with disposable money and the dream target for many advertisers. But Facebook cannot change the service and drop ads into the messages because the users will rebel.
Facebook acquired this messaging service for two core reasons. First, WhatsApp gives it access to teens, who have started to move away from Facebook. There are a dozen other messaging services. Young consumers appear not to favor one over the other; they tend to migrate to other providers just as each season changes fashion. But the thought is that at some point these teens will grow up. How Facebook intends to try to migrate young adults back to the Facebook is still unclear. Second, it provides a new foothold in various international markets, including India, Brazil, and Mexico. Text messaging is a cheaper alternative in many international countries where teens avoid hefty wireless carrier charges by using a service like WhatsApp.
There are companies who do use these simple text services to push advertising messages to system users. It is almost like overt subliminal advertising. A sneaker company could seed a message and let the users cross pollinate it across their personal groups. This direct marketing only works if it is permission based user experience. Intrusion into a teen's space is the equivalent sign of a parent not knocking on their child's bedroom door. Alternatively, Facebook could try cultivate WhatsApp as a place where people not only communicate with each other, but actively sign up to receive regular messages related to stuff they're interested in. For example, the shoe company Vans recently launched an opt-in multimedia messaging subscription that provides snowboarding information to anyone who wants to hit the slopes or watch videos of tricks in action. Facebook could also let devoted shoppers sign up for alerts about new products or special offers from the brands they love most. Or it could turn WhatsApp into a kind of e-commerce engine: Noticing that you're texting your friends about watching the Super Bowl, WhatsApp could helpfully suggest some nearby pizza places and take a cut of the order. But most commentators think that WhatsApp users would find those ideas intrusions into their communication space.
Facebook needs to sell advertising in order to grow. Facebook will continue to serve ads on web and mobile platforms. CEO Zuckerberg has not clearly stated that he's opposed to ads on messaging services, but he and his company are already developing new ways of targeting ads on all sorts of other mobile apps — apps from both Facebook and third-party companies. WhatsApp has to bee seen as the future for ad targeting on these platforms. Through WhatsApp, Facebook can see who people are communicating with and how. That information can be used to hone ads on other platforms. This indirect linking two different data sets can be exploited in various fashions. Users could be crossed referenced from their messaging account to other web or mobile accounts they have - - - and based upon what the topic is in their current message streams, Facebook bots could push targeted ads to that users web or mobile account. Or, Facebook could just consolidate all the metadata and sell teen "trends," keywords or marketing analysis for corporate customers (for a fee). Or, more boldly, re-message texts to new commercial links (like the unliked rocky road of unsolicited facebook user "testimonials").
As everyone is aware, every point, click, message or browser page hit is being monitored, recorded or saved and one's personal information profile is expanded through those histories. Facebook paid WhatsApp not for a tangible product, but for information, the new gold commodity in digital commerce. Information is becoming more valuable than actual goods. What people do, where people are located, what people like are are real time data points that can be exploited by push advertising. Facebook is not alone. Apple's iBeacon program will pop up information as a person walks by a store, a stand or an object. The iBeacon will be tested at two major league ball parks this summer, and some believe it may have applications in places like museums as a digital assistant tour guide. But one can expand the scope of a beacon messaging system to anyone walking through a mall could get beeped by advertising specials of the store one is approaching . . . to implant the suggestion of an impulse purchase.
The concept is that companies like facebook or Google know more about you than you know about yourself. An individual is seen as information breeding stock in the slaughterhouse of data acquisition and distribution. It is not that difficult to imagine that the information collection to set or create consumer trends could also be reversed to send messages to manipulate personal information into consumer behavior.
Big Brother was the government controlling your life. Information overlords who gather similar data sets attempt to control your per capita consumption habits.
cyberbarf
AUTOCORRECT COMMENTARY
When Apple's voice assistant Siri first came out, people made fun of it because it made so many funny mistakes. Comedians could create an entire stand up act by asking Siri questions. Likewise, alleged predictive algorithms for autocomplete and autocorrect also have their share of web abuse.
The website Mental Floss began to cull some of the weird google prompts, which begs the question what mad artificial intelligence is residing in the main servers?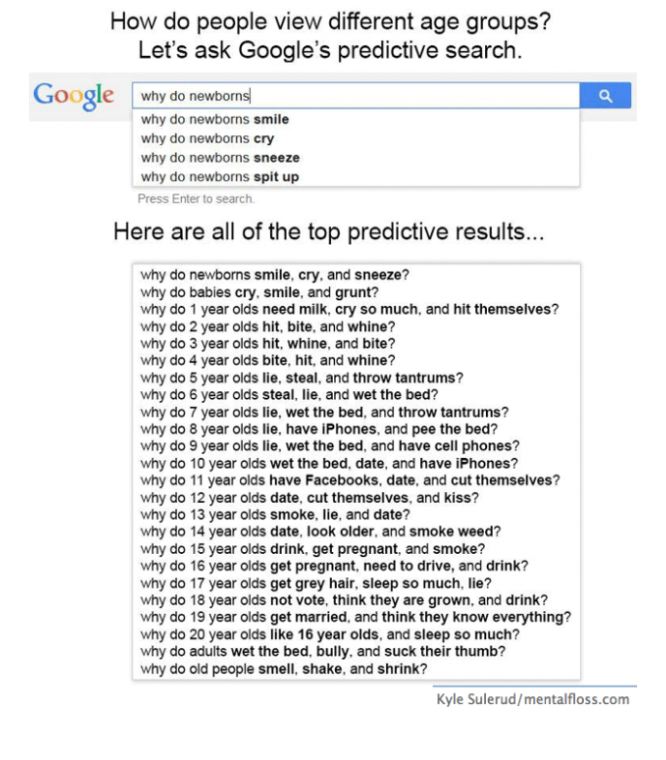 In theory, the search engine is gathering up data that mathematically seems to be connected by numbers of associated strikes or hits all across the web. Keywords have been the foundation for data mining, which is the acquisition of bits of information and reconfiguring them as a result. In some ways, such search processes are trying to not actually find facts but people's perceptions about a subject. For example: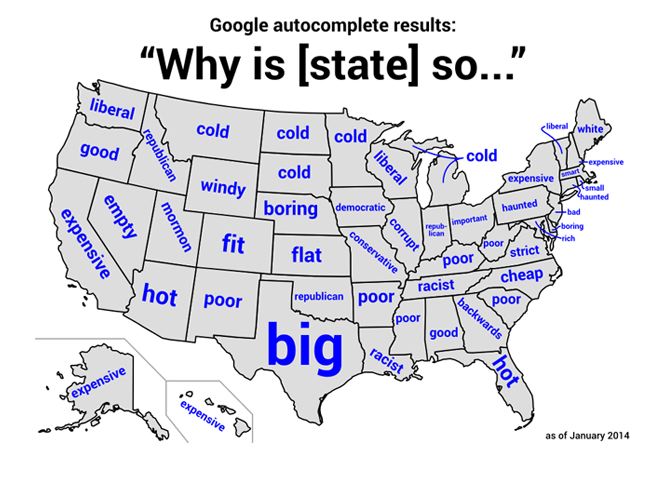 It is hard to tell whether the bias in results is local or national. I have no idea why Pennsylvania is so "haunted" but living in Chicago I know why people could think Illinois is "corrupt."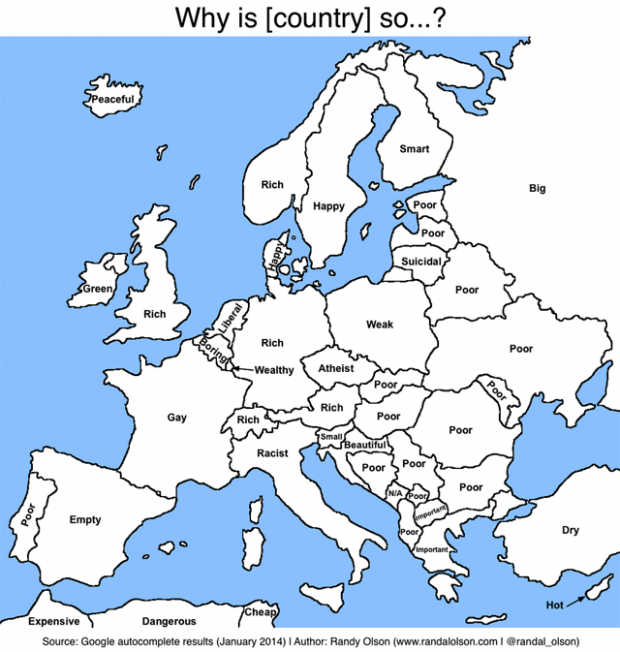 It even (not)works for international subjects, for whom native peoples have had thousands of years negative views, battles and wars with their neighbors to sway some public opinion. Who would have known that the North African coast is expensive, dangerous and cheap? Well, anyone who could read a good newspaper would know the underlying facts to support those buzzwords.
The "auto" function is quite annoying when trying to type a surname into an iPhone appointment calendar. Example, type in Alfie and the program comes up with the suggestion of Algiers, with an extremely tiny delete button which is easily missed so the wrong word is put into the name line. When one is in a hurry, it is quite annoying to retype the same name several times before the autoprogram gives up " correcting" you.
But most people like the autocorrects. It means they don't have to look up a word in the dictionary. It means that they have less typing to do. It means that they have to think less because they expect their device to find AND give them what they are thinking. It is making people lazy with their information.
Schools would rather teach students how to go about finding information on the web than teaching them facts about history from physical textbooks. Internet information is not peer reviewed, fact checked and copy edited like a non-fiction book. Internet information is at best a collection of scattered individual ideas congealed into an amorphous stew called data.