cyberbarf
CYBERLOAFING TRENDS
A recent article from a St. Louis television station called a media stir, when it overstated that between 60 to 80 percent of an employee's time is wasted on non-work related internet uses. It was later corrected to cite a study which concluded that between 60 to 80 percent of an employee's work Internet time is not job related. It quoted a study entitled The Effects of Sanctions and Stigmas on Cyberloafing, published in the May 2012 edition of Computers in Human Behavior, a professional journal.
The immediate problem with the report is that if true, it would mean that really no one actually "works" at work anymore. It would mean the American economy would grind to a standstill. Even when one just tries to fathom the worker waste on the Internet, which just about every business in the land uses in one form or another, 60 to 80 percent of employee Internet activities during the work day are not work related seems unbelievably high. If 60 to 80 percent of a person's Internet time at work is unrelated to that person's job duties, there would be an immediate fall off in that person's productivity that his or her manager(s) would realize on a daily basis.
But what is "cyberloafing?" The term was apparently coined in a 1995 New York newspaper article to identify worker distraction leading to non-work related surfing at their employer's computer terminals. The types of loafing seems unlimited: from sending/reading personal emails, posting to social media, chatting with friends or general surfing web pages. The concept is that instead of a worker doing his appointed task to make a report, sales call, etc., that person is otherwise disengaged from using his time to directly benefit his employer.
An employee owes his employer a degree of loyalty. An employer expects and employee to put in his or her skills and labor throughout the work day for the tasks assigned to them. That is the foundation of the social contract: labor in exchange for compensation. There are set times where employees have personal time away from business: mandated lunch and rest breaks which on average equal an hour of each work day. No one would argue that cyberloafing during one's break time would be unacceptable work behavior.
The initial thought was that employees who cyberloaf at work are either bored or lazy. Of course, that is a generalization. However, people are creatures of habit. Internet addiction is a real problem for some web surfers. With the Internet now so accessible anywhere, from a desktop computer to one's own phone, there is a growing temptation to "cheat" the system and get paid for not working.
In 2001, Business Wire published an article which stated that approximately five (5) percent of employees at work engage in inappropriate office web usage, including personal cyberloafing to working for a second employer.
In 2002, Vivien Lim published an article in The Journal of Organizational Behavior which found self-described cyberloafers were not lazy or bored at work on their personal sidetracks, but openly defiant against an employer, manager or corporate policy.
As a result of the perception of employee misuse of corporate property (computers and web access), employers have started putting in strict employment policies governing worker behavior. New email policies, download protocols, additional passkeys and spyware (monitoring of employee's computer usage including URLs) have been implemented to crack down unproductive employee behavior. This has resulted in some tension between managers and workers. Workers don't like to be spied upon, as software can track all their keystrokes. Managers do not want potential liability for inappropriate emails coming from their web servers or unlawfully downloaded software traced to their office machines.
In 2008, PC World tried to quantify this behavior. It cited surveys that found anywhere from 50 minutes a day to 10 hours a week, employees admitted to personal emailing, instant messaging, reading web sites, viewing videos, or generally surfing the web. It also reported that there were some benefits to allow employees some cyberloafing time. Some people viewed it as a stress release; it made the job more interesting and manageable. A happy or content employee is a better worker. The range of acceptable cyberloafing during a work day was around an hour to an hour fifteen minutes. If one counts lunch and break time as an hour of time during the work day, the acceptable range appears to be around one-quarter hour per day or 1.25 hours per week. Some people believe that personal Internet browsing may have positive effects on workers doing their jobs.
If a worker takes an extra "break" each day, his supervisors may not even know or care, so long as the employer's work is completed competently and on time.
But employers have found a more disturbing trend. Employees are less loyal to the company. Two generations ago, workers after school or military service found permanent employment which usually lasted for their entire work life. Workers expected to stay at one company until retirement. Today, no recent graduate has any expectations of working for one employer. This leads to perception of not going to do extra work in order to get a promotion. Workers see easier opportunities moving from company to company to get increased benefits of a promotion. Further, many employers find that newly hired employees have less drive than previous generation. New young workers are more apt to do the bare minimum in order to get by; which leads to more distractions and cyberloafing possibilities. This would cause tension between managers and employees, which sets off the cycle of distrust.
Unless an employer completed shuts off Internet access to its employees (like China's internal world wide web firewall), there will be cyberloafing by employees. People are now so attached to their personal electronic devices that it is now almost an involuntarily reaction (like breathing) to to make personal texts, check messages and review personal social media pages 24/7. The Internet has now been hard wired into our culture.
cyberbarf
BRUISED APPLE MARKETS
Apple stock has been crushed from its $705 high last year. It trades in the $440-$455 range. Wall Street "analysts" bemoan that in their opinion has lost its way, lost its edge, lost its innovation to strong competitors and lost its darling status in the investment community. They believe that Apple as a company has turned into a dull, utility type stock.
What gets glossed over in these brokerage opinion pieces is the fact that Apple continued to have record quarters and a record annual report. Apple continues to sell more smartphones than its nearest rival. Apple has amassed $144 billion in cash from its operating profits. Its quarter profit of more than $13 billion dwarves gross revenue numbers of other listed stocks.

So why all the negativity on Apple as a stock. Apple has gone from a high growth high margin product company to one of lower growth (still in double digits) and slightly lower profit margins. In the foggy crystal balls of pundits, this is like yelling the sky is falling on Apple. The drum beat may also be intensified by the negativity of short sellers, traders who have borrowed high price stock betting that its price would fall.

It is the traders that are now controlling the message instead of investors. Apple was a fantastic investment story for those people who were willing to invest money when shares were very low. Apple was the monumental turnaround story of this generation. Shareholders were rewarded with 100-500 percent gains and a large annual dividend. So what is wrong with that?

Traders do not take a long term approach; they are momentum players. They made decisions on a moment by moment, minute by minute, day by day basis. They tend to push the markets with their chatter and sizable bets. They are the gamblers to the ma and pa investors who buy and hold their investments for income streams and appreciation.
It is almost laughable that these traders are driving the stock price lower and lower based upon their speculative demands that Apple Do this and Do that (especially in the area of new product development.) When Apple does not announce a groundbreaking television set, analysts scream that the Apple has no products and cream the stock price lower. Anyone listening to these opinionated traders may not realize that Apple does not take product development device from outsiders, especially overblown writers. The naysayers have their own agenda which is totally different than Tim Cook's future vision of Apple.
The comparisons of doom in the headlines rarely meet with the reality of truth. When writers proclaim that Apple is losing market share to rivals who have "shipped" more products than Apple in a quarter, it may be a dubious white lie. Many companies report shipments to its retail distributors as sales, but in fact those shipments remain unsold in inventory. Apple reports actual sales, and is easily confirmed by carriers such as AT&T and Verizon who continually report record sales and activations in the smart phone sector. It gets so bad when the headlines proclaim Blackberry sold out of its phones in the UK. But digging into the guts of the story, most retailers only had 15 phones to sell on the opening weekend. It is a pitiful small sales number compared to the last 5 million unit Apple launch.
In today's stock market, truth is a more valuable commodity than gold. The average person can get caught up in the misleading headlines about Apple's direction as traders take them on a rollercoaster chart ride. This is the post-Jobs era at Apple, and some people will try to leverage that depression for their own gain. And push Apple outside of its own product cycle comfort zone to launch products quicker and quicker with no significant upgrades (which would be used as further fuel on the doom pyre.)
So it is stock buyer beware. Apple stock has been caught up in the washing machine cycles of white-wash, speculative angst and unfair spin. The stock market does not act rationally. Adding to the large swings are institutional and computer trades triggered by technical chart points. It will be a bumpy ride for Apple shareholders for the next year no matter actual news comes out.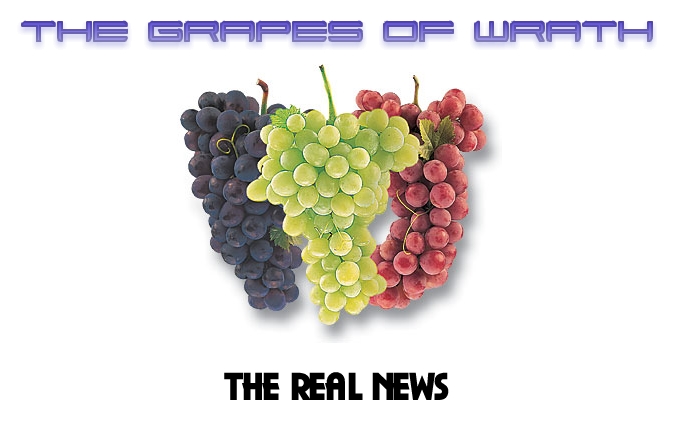 cyberbarf
DRIVER'S SEAT RANT
It happens at least three times a day. Once going to work in commuter traffic, once around noon during errands, and once on the way home from work. It is the annoying texting driver syndrome. It is turning into an aggravating exercise in civil restraint to sit behind some soccer mom in an SUV in a long turn lane cue when she does not realize the turn arrow turned green. And then, you miss a chance to get through the intersection. Then there is the one where you are sitting at a stop and in your rear view mirror you see the bumper of a large vehicle about to ram you. You look closer just as it barely stops, to see the driver hunched over his lap thumbing his smartphone.
What the hell is going on? In five years, orthopedic surgeons will have bumper crop of curvature of the spine cases. But again, what is so important that one has to leave the concentration of operating a dangerous two ton machine on public roads to type in a ten letter response with a happy face icon? The answer is a simple nothing.
Traffic fatalities caused by texting is on an alarming increase; even the telephone carriers are running public service advertisements to warn against the dangers of texting and driving. Some believe that texting while driving is the equivalent of driving while intoxicated: any distraction or impairment to a driver's reaction time leads to serious and often fatal consequences.
It is just rude. It is like trying to have an in-person conversation with someone who is bent over texting another person. Hello? That is not multitasking - - - it is inconsiderate.
We live in a digitial culture of rude, obnoxious, self-serving, narcissistic technorati who have hidden behind the anonymous internet barriers to lose all real social skills. If one's self worth is now measured solely by how many tweets, posts, texts or shout outs in a day, then we are doomed - - - especially if we are sitting in rush hour traffic.