cyberbarf
EXAMINE THE NET WAY OF LIFE
cyberbarf
TRAFFIC JAMS ESSAY
It started in the early morning on the first day after school was let out for the summer. The internet connection suddenly was boggd down and slow. Seriously slow. 56k modem slow. The spinning wheel of death slow. Frustrating slow.
There is only so much patience when in the corner of the window the message " connecting to" a website never moves; or is replaced with "searching for" the server; or "accessing" some hieroglyphic URL; or "transferring data" apparently by pony express from Hawaii. My business plan was either throttled before 9 a.m. or the every teen in America go on-line with no school bus to catch to plan their collective summer vacations - - - on line.
And this coincides with the rampant rumors and stories about big companies paying for "fast lanes" to get their internet services quicker to their paying customers. Netflix cut such a deal which rankled internet purists who believe that all net users should be treated the same. But Netflix needs to have a quick and stable line to its end users or its streaming service would be stuttering hit and miss film key frame mess. But some already said that the major broadband providers have been giving preferences over their own networks for decades.
It does seem like the average guy is getting shoved into one lane for internet traffic while we can sense clear sailing on the nearly empty premium lanes next to us.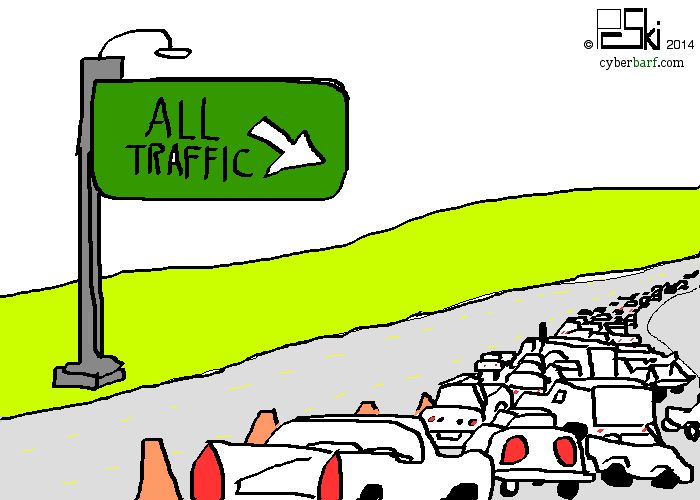 This is not a case of sour grapes. We pay for a T-1 line with fast promised connection speeds. But how can one complain when it takes four minutes to open a single email file?
Then the traffic appeared to magically vanish and the connection speeds by mid-monring went back to pretty much normal. Insert sigh of relief here. Every office in America now depends more on electronic communication than the good old fashioned telephone call When the internet goes down, people in office buildings panic. Some scream they can't find the owner's manual to run the old dustry fax machine. It may not be that bad, but it does kill productivity when the net goes down.
But by mid-afternoon, the traffic jam was back. Then a light bulb went off: the kids just came back from the public pool and now need to re-connect on-line to make their plans for that evening. Oh gawd, a summer of this would be more frustrating than doing stand-up at a Viking funeral. I hoped that people on cable modems were having a worse degradation because of their shared neighborhood bandwidth restrictions.
Without resetting anything on the network, by late afternoon the connection speeds on their own went back to normal. Hurrah, just enough time to dig though the carnage of stacked up emails, attachments and other downloads. I wondered if this was the equivalent of digital waterboarding; being tortured by the persistent drip of slow speed instructions and feedback loops.
I know it is going to get worse. That is what happens when everyone, in every generation, wants to be connected to the wide, wide, wide digital world. I remarked that I was going to be a grumpy old man soon yelling at the digital kids to "get off my lawn!" But then, the screaming should be GET ON MY LAWN! which would mean that those digital children would be outside playing and not jamming up the system and my computer time.
cyberbarf
WEARABLES TRENDS
The big buzz on Wall Street is near future new tech - - - the wearable device such as a new Apple smartwatch or interactive clothing.
This is not new. The concept of wearable technology which means something hard wired into an electronic device has been around for decades. There have been ideas floating around about having sensors in clothing to measure heartbeats, mileage for runners, temperature of skin, LED light patterns instead of sew or knit characters, etc.
The one problem with all these old but somehow new ideas is that the old ideas never made it commercially. Yes, there may have been a cool or wow factor of having a LED screen on your chest, but all those wearables died off quickly.
There were two major problems with wearables, especially in clothing. First, since it has to integrate electronics and wiring, wearable clothing items are not washable. Electronics and water do not mix. Second, the cost for such items were far too great to have a luxury gadget replace an actual, well made piece of clothing.
Another aspect was cultural: it never caught on in the fashion community. It may have been because fashion designers had no idea how to mass produce something as breakable as sewed in circuits. So, wearables never got to the point of even being a fashion trend.
We get to the accessory market where there have been some limited success. Accessories are non-clothing accent pieces such as sunglasses, watches, jewelry. With microchip technology so small, you can put a mini-processor in anything. But the question continues to be both what and why?
Nike teamed up early with Apple to link an iPod and a running shoe to collect personal data. Some people made wristbands to make iPod Nano watches. Google has made their goofy glasses. And apparently, Apple's reported iWatch won't be a watch at all: it is rumored that it will be a medical device being able to collect patient data.
No one has said that any of these wearable accessories is going to replace a person's laptop, smartphone or music player in power, performance or ease of use. It is one of these new markets that Wall Street analysts keep touting for large tech companies to rush to in order to increase profits and share prices. But most tech giants have resisted the plunge into nearly empty end of the consumer pool. No one has figured out why consumers would demand a watch, a bracelet, a ring or headband that does one or two electronic things like tell the time, answer your cell phone, or transmit GPS location to your phone or home. If you really want something like that, you probably already have an app on your phone for that.
And that is the final nail in the coffin. Wearables are very company specific. One does not seem a third party market to make applications for focus-purposed devices. If other developers are not keen to adopt a wearable, likely the general public will not either.
Wearables continues to be a hot buzzworthy media hype that has no real momentum.
cyberbarf
EXAMINE THE NET WAY OF LIFE
cyberbarf
barfette
The U.S. Supreme Court ruled that police need a search warrant before accessing a suspect's cell phone. It was a major victory for personal privacy advocates. But whether it will stop government agencies, including the NSA, from taking third party information from telephone and cable companies to track, listen in and copy communications from the general public is doubtful. After the decision, there were reports that some state agencies have been buying cell phone tracking technology from the federal government. It seems that Big Brother is ramping up its domestic survelliance.
barfette
The Los Angeles Dodgers got new ownership. New owners got a new $7 billion local broadcast rights deal through Time Warner to build a new 365/24/7 Dodger channel. But it has turned into a nightmare. About 70 percent of the Los Angeles market does not carry the new Dodger channel because cable and distribution companies have balked at paying the high per subscriber charge that TW demands to air the programming on the new channel. As a result, Time Warner is losing money. And life long Dodger fans can no longer see their baseball team. The cable companies say it is getting too expensive to carry sports channel, which demand more than $4 per subscriber. Cable bills have skyrocketed in retransmission fees and government taxes to the point where consumers have started to cut the cord for internet streaming services. If other teams were looking to repeat the big buck Dodger TV model, that golden goose may have been cooked.
barfette
At first it was extremely hard to believe that the IRS, in facing a Congressional subpoena on an investigation into audits of conservative groups prior to the last election, lost all of its emails from its director and people involved in the scandal. Then, some commentators said there was no surprise because we are dealing with a bureaucracy that can't even balance its own books. It was said that all the email back up drives were destroyed and discarded. A vendor who was paid specifically to back up emails may not have been retained to back them up to a secure, third party site like a cloud server. So one way to beat back an investigation is to lose the requested evidence. If a private sector party came forward with those excuses, they would be slapped with obstruction of justice charges.