cyberbarf
FREE CYBERSPEECH CYBERRIGHTS
Reuters reported that a free-speech institute last month sent a letter to President Donald Trump demanding the prolific tweeter unblock certain Twitter users on grounds the practice violates the First Amendment of the U.S. Constitution. The account, @realDonaldTrump, has blocked many accounts which Trump saw criticized, mocked or disagreed with his actions. Twitter users are unable to see or respond to tweets from accounts that block them. The Knight First Amendment Institute at Columbia University in New York said in its letter that the blocking suppressed speech in a public forum protected by the Constitution.
Alex Abdo, the institute's senior staff attorney, likened Twitter to a modern form of town hall meeting or public comment periods for government agency proposals, both venues where US law requires even-handed treatment of
Eric Goldman, a Santa Clara University law professor who focuses on internet law, said that previous cases involving politicians blocking users on Facebook supported the Knight Institute's position.
Except that a Twitter account is not a public square or open to anyone having access to it. It is a social media application. A president can still have private conversations. A president can still have the ability to release statements without holding press conferences. Even press conferences are not open to just anyone in the general public. Access is restricted. A social media account is a private right that can be restricted to who in the public can read it.
The First Amendment protects an individual's right of free speech against government action. The First Amendment does not require citizens access to social media accounts of public officials or government web sites. A person cannot demand access to the White House web page to express opposing views of Presidential policy. Likewise, a citizen cannot demand his local paper print his letter to the editor.
Trump blocking access to his Twitter account is not suppressing free speech. Blocked people are not being strangled from giving their views to the public. They still have the ability to sound off on their own Twitter or Facebook accounts, make a public protest, write letters to the editor, or start their own web site. They still have the ability to voice their opinions, but not on Trump's account. Trump blocking people from posting negative things on his feed is no different than an American newspaper refusing to publish an inflammatory letter to the editor or inappropriate advertising copy.
People who upset that they were blocked by Trump are not having their speech infringed; the real reason is that they want to piggyback on Trump millions of followers. Trump's inflamed comments do not need more controversial posters.
What is more disturbing is UK Prime Minister Theresa May's call to regulate the Internet
Wired reported Theresa May has blamed the Internet for the wave of terror attacks in London: the Internet
May, responding to the attack by three young men who killed seven people and injured scores more, called for an end to the "safe spaces" that the Internet provides, and for measures to "regulate cyberspace."
"We cannot allow this ideology the safe space it needs to breed. Yet that is precisely what the Internet - - and the big companies that provide Internet-based services - - provide," May said. The statement, which appears on her official Facebook page, is among four solutions she offered for fighting terrorism. "We need to work with allied, democratic governments to reach international agreements that regulate cyberspace to prevent the spread of extremism and terrorist planning."
As WIRED and others have explained time and time again, undermining encryption - - which is what May is calling for here - - so the "good guys" can see what the "bad guys" are up to jeopardizes everyone's safety. But there is little difference between the good and bad guys, as the United States has been at odds with its own citizens on the government's massive warrantless searches of private electronic information. Simply put, weakened encryption makes everything from world banking to travel and health care riskier. When May and other politicians call for encryption busting protocols, what they really hope to do is turn back the clock to a time when the Internet did not connect everyone and everything from communication to commerce to bank transactions. They need to realize that time is past. Regulation, fines, pleading - - nothing will return the world to the pre-internet era. May wants some way of securely disrupting online cryptography so it can be used only for good, but wishing canŐt make it so. Instead, politicians must learn to focus on solutions that can make a difference.
The root cause of terrorism is not the Internet Yes, some radical groups use web sites and social media to recruit new members or incite acts of violence. But governments already have the means to monitor those "public" communications. The root causes of terrorist organizations are historic feuds, religious conflicts, the quest for wealth and power in areas of the world where there are high percentage of educated but underemployed poor individuals looking for someone to blame for their less than perfect lives.
cyberbarf
iPHONE BIRTHDAY OPINION
Apple's iPhone celebrates its 10th birthday. It has sold a billion units. Remember when McDonald's signs moved from Millions Served to Billions served? That took a long time. But Apple has been selling 100 million powerful hand held computer units every year. As a result, it has amassed a record $260 billion in cash reserves. People are anxious for this fall's release of the next gen iPhone, the iPhone 8.
I have an iPhone.
It is an iPhone 4 from 2010. I have not updated its operating system. I use it for its basic functions: business calendar, photographs, text messages and cell phone usage. Yes, making telephone calls - - - which was the original purpose of hand held phones.
Steve Jobs' vision was to put the power of a desktop computer in the hands of the general public. The shrinkage of computing technology power has been amazing; from desktop towers, to laptops, to tablets to smartphones. We are in the age of Star Trek communication devices.
Most people think their smartphone is an extension of their hand. It is inseparable. It is part of their daily life. It is a utility. It is a substitute for thinking.
How has smartphone technology revolutionized our culture?
The rise of iPhone and its competitors forced telecoms to build brand new communication networks, cellphone towers and satellite technology. It has caused the demise of the landline telephone.
The smartphone can be used for viewing entertainment programs. As a result, it has diminished the need of sitting at home watching the cable television screen. More and more people are dropping their cable TV accounts.
The smartphone can be used for game apps. As a result, casual gamers don't buy the consoles or streaming Valve game players.
The smartphone can be used seamlessly with social media applications. It means that people are no longer tethered to desktop screens of laptops to post their opinions or photographs on their news feeds.
Smartphones also have Internet connections to news and information sites. As a result, people no longer feel they need to purchase a daily newspaper. They can surf the web on their phone to view the headlines of their local paper to achieve a false sense of news security. Old newspaper companies were late to the desktop publishing environment (shooting themselves in the free page model over the subscription service) and also late to the mobile media platforms as Facebook now dominates the personal news feed.
Smartphones have built in GPS mapping services so people no longer know how to read road maps.
Smartphones have the ability to make banking transactions so people no longer need to carry cash, checks or credit cards. They can buy, shop, order and pick up much of their daily material needs (including groceries, bill payments, etc) just from their phone. This may cause a major shift in retailing in America. Big box department stores are closing hundreds of stores because they cannot compete with on-line competitors like Amazon.
But I have no burning desire to be so immersed in my iPhone that I turn Borg.
cyberbarf
FOUND BUT NOT LOST ON THE INTERNET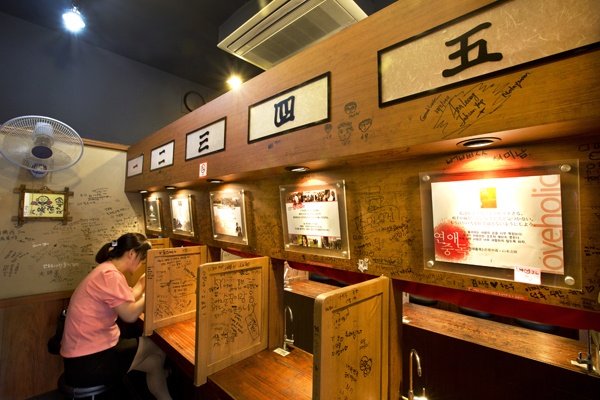 For many people, eating alone in a public place is a feeling of insecurity. Some feel it is a banner of shame; why are you eating alone? Don't you have any friends?
But in high stress, hard working industrialized cities, people who are away from their families do not have the luxury of home cooked meals. Many find that it is less expensive to eat in cafes and street stands than shop, prepare and consume meals in their small apartments.
In conjunction with lower marriage rates, young people seem to have less priority on dating in their 20s and 30s. It may also be a factor of the slowing global economy. Many young men and women make enough to survive on their own. The economic incentive for marriage (pooled income) is not greater than losing personal freedom.
Many Korean restaurants have started to cater to single diners. They no longer want to stigmatize patrons who like to eat alone. Even convenience stories attract singles with counters that look out to the street. Some restaurants (like in the above photograph) will give single diners the privacy of eating alone.
Source: Koreaboo
iToons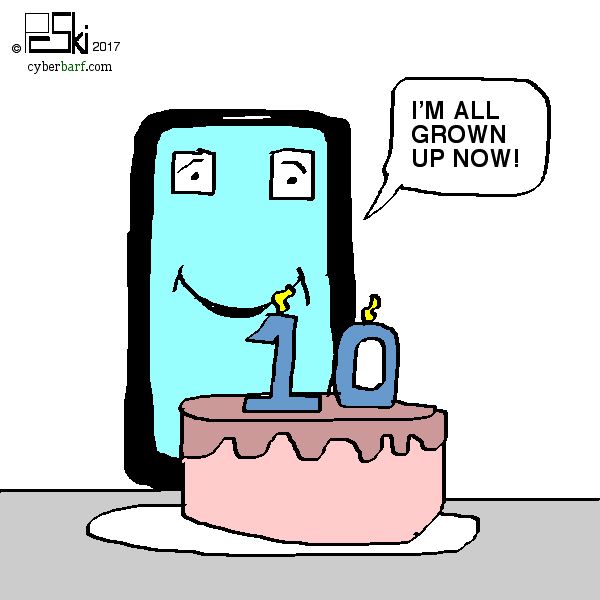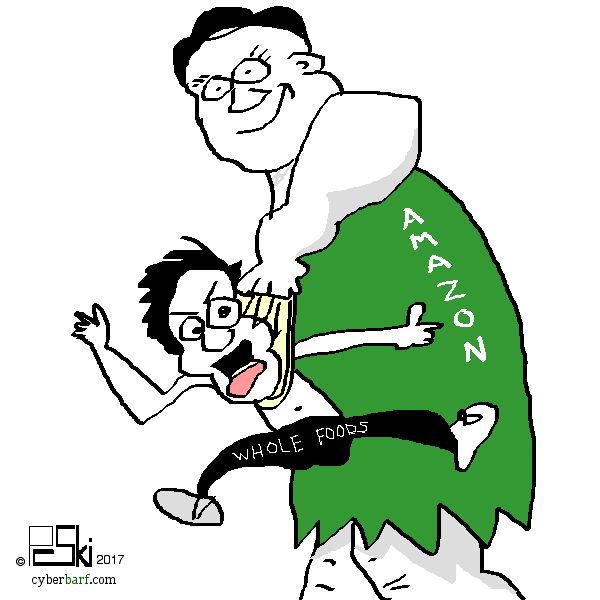 cyberbarf
RAGE ROOMS TREND
In high stress cities that churn inhabitants 24/7, there is a new type of entertainment venue. In Seoul, South Korea, "rage rooms" have begun to pop up.
A rage room is exactly how it sounds. You pay an admission fee to go inside to break something. If you had a bad day at the office, an unexpected poor review, or troubles with your girlfriend, you can take out one's frustration with a baseball bat on destroying a toaster or some other breakable object.
In the sedentary office environment, the physical act of swinging a baseball bat at something invaluable is a simple way to release hormones in the brain and activate pleasure release centers. Runners experience a high when they break through the wall of physical pain in endurance runs. People need outlets to channel their emotions, especially anger, otherwise it can be a destructive force leading to mental and physical ailments (including ulcers, lack of sleep, personality changes.)
Rage rooms is one of those why didn't I think of it ideas. It is simple. It meets a public need. It is inexpensive. It sounds fun. It reminds one of the in movie The Office where the frayed office workers take out their gangster anger out on a piece of office equipment.
Rage rooms adds to the growing list of new trendy, specialty cafes which feature unique things. There are knitting cafes where women come to have a cup of tea and learn how to knit. Sewing cafes offer the same time services. Cat cafes are where multiple cats wander around the premises to be petted and fed by patrons. An extreme version of the animal cafe is a raccoon cafe in Korea, where allegedly tame critters wander the tables seeking attention and food. Sidenote: in the 1960s, there was a cartoon show that featured an American raccoon. People loved the character. One enterprising person began to import raccoons as pets. However, once uncaged people found out that raccoons are not lovable, tame creatures but mean and destructive wild animals. Pet owners immediately started to release them. Since raccoons had no natural predators (except motor vehicles), they began to explode in population (since they are scavengers and there is plenty to eat in urban areas including garbage.)