cyberbarf
EXAMINE THE NET WAY OF LIFE
cyberbarf
SLAM OR FADE ESSAY
This is a follow-up on previous articles on Relationships.
We know that interpersonal relationships can be meaningful, supportive, fun, exciting, confusing, frustrating, emotional, irrational to hurtful.
The advent of social media has added another layer of complication to normal social relationships. There are new dynamics and new cultural aspects of modern socialization.
There are three basic relationship ties: social, professional and social media. There is a constant overlap in how relationships are conducted over these various norms. Three basic ways of communicating are in person contact, voice communication and textual posts.
Social media has subdivided the question even further. There are three main groups in everyone's life: family, friends and colleagues at work or career. How close people are to other people in each group sets the tone for many of their other relationships.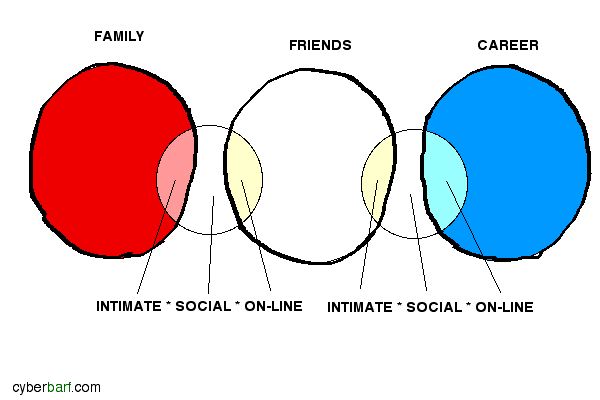 It is much easier to have a person move from left to right than from right to left. It has to do with how our subconscious mind constantly lies to us as a defense mechanism so our emotional core, feelings, are not hurt.
In the above chart, intimate means extremely close and familiar such as sibling best friend or spouse. Intimate relationships involve daily contact of affection and support between two people. There are some situations were a distant family member is a bridge relationship between family and friends categories. Those friendships can be classified as best, close, "social" or "on-line." On-line is a relative new means of growing one's own community base - - - but purely in social media circles and not in an in-person social setting. More Millennials are finding that on-line only relationships fit their socialization needs. In the career category, on-line only relationships could include business contacts or followers if you are professional writer, author, journalist or actor. Those on-line connections are far removed from any actual physical contact with limited interplay through posts or tweets. The social aspect of a career relationship may be co-workers who are not quite non-business social friends, but are part of one's work place (cubical buddies). The intimate business friend is one who is more than a mere co-worker or associate, but a business partner or someone you have brought into your private life to share events outside of work.
One can look at one's own life to determine whether family members are the stable core of one's own social scene, or whether the circle of friends from both work and outside work makes up the biggest component to their lives.
There is no rule that in any social bridge a person who is an on-line friend cannot become a social friend or even an intimate friend.
There are usually three ways a friendship can end: a hard slam (I don't want to see you again); neglect (where people drift a part as time goes by); or the fade (where one person still tries to keep contact with the other but with limited or no feed back).
What is now interesting researchers is the reverse course where intimate friends slowly have their status fade away to nothing, not even an on-line presence. Now there is nothing wrong about people changing their opinions or perceptions about their friends. Friends can be bombastic, annoying, opinionated, mean spirited, crazy or plain dumb in words or actions. Some people constantly prune their friendship tree branches to concentrate more time, resources and effort on more social or intimate relationships. It is how this change in status intrigues sociologists in the social media age as it relates to romantic relationships and dating protocols.
With old dating rules from your parents in conflict with modern independent women's perceptions of self worth and goal oriented results, there really is no solid definition of what a date is anymore. When two people get together they could be merely social friends, potential dating partners or in an early boyfriend-girlfriend relationship. The gray area of confusion is from the lack of communication of intent between the parties. It could also be that one person thinks it is a date while the other thinks it is a friendly meeting with no expectations. Such fog would never have been allowed in Victorian era courtships. So even if the parties agree that they want to know each other better and see where the attraction leads to, digital media adds another gray area.
On-line dating has allowed people to actually date on-line without interpersonal contact. It sounds strange but some people actually prefer Skyping a date than actually going out to a movie, restaurant or bar with a date. It may stem from the fact that the younger generations are so integrated into their technology that this on-line only dating seems a natural extension of their digital life.
Now, for some people, especially women, there is a greater sense of safety and security in on-line relationships. One can kick the tires on a potential date with an on-line chat more efficiently and directly than trying to act one through an awkward, formal date.
So what happens when two people hit if off and like each other's company? They progress their relationship and move it toward intimacy. It means more social interaction and in-person contact. It is a basic risk and reward situation.
Here is an example from a Yahoo Health article. You have met someone. You see this person with great potential. You may have only been on a few dates, but they have all been practically perfect. Things are looking good. But then, suddenly, something shifts, out of nowhere . . . almost imperceptibly at first. An ignored text. An unreturned email. Excuses of "I have just been so busy at work." A canceled date . . . and then another. "Sorry, I am going out of town." No effort to reschedule. Internally, you are panicking, because you have been here before. This is a slow fade, you realize, and soon you know this person with the amazing potential will be completely gone from your life and there's nothing you can do to stop it.
"You will never get closure in these types of situations, which is what almost everyone wants," Boston-based dating coach Neely Steinberg tells Yahoo Health. "It's always, Why did you just disappear? I need to know!" It is one of the most frustrating aspects of modern dating culture: disappearing is easy, and it happens often. Fading out is the new quasi-breakup. Before, if some one wanted a break in a dating relationship, they told you clearly that their feelings or situation has changed and it was time to move on. Harsh and painful, perhaps, but it served an important social purpose: closure.
Now, there may be real reasons that confuse a slow break-up from just a busy person. Everyone with a career is nervous about their job. Everyone with a job is busy. It is a legitimate reason not to schedule a date because one is busy with a deadline project or two. But one tell tale sign for some social researchers is that if another person wants to be with you, they still need to make some effort to be with you. Even in any early relationship, and even in a long running friendship, people make time for each other because they enjoy each other's company. We need a social life; it is part of our DNA.
In the example, a slow fade may happen because one person in the early dating relationship realizes that things are starting to get real serious. Serious relationships mean more time, effort, and commitment. Some people want to slow down the relationship so they use non-responses to social media requests, texts, messages and voice mails as a sign to cool the situation. But this is the point where honest communication can save a good thing from becoming a train wreck.
Another reason a slow fade can happen quickly is that a person, knowing that a serious relationship could happen, decides to have a personal heart to heart to determine whether he or she is "really into you." Often, the slow-fader feels like he or she is drowning. They were comfortably dating and then, at a certain point, it is obvious the other person starts having expectations about the person and the relationship. And the other person has two choices: "OK, I'm in, let's do this, let's have a relationship! "or, "I am not ready for a commitment, or, I'm not sure about this person, or, I just don't know what I want. " "In these situations, when one partner needs more than the other individual is willing or able to give, they find it easier to simply begin backing away," psychologist and counselor Karla Ivanovich told Yahoo Health.
Rather than communicate fears and concerns, not an easy conversation to have, the slow-fader gradually slips away, so that the other person will get the hint without having to have an open discussion. This is why a slow-fader will often still show signs of interest as they are fading out, making the ultimate drop kick moment that much more confusing. "They are conflicted themselves," researchers say. "They want to know that you are still there, that you are still an option, that the door has not fully closed, just in case they have an epiphany about you." It is a dangerous gambit to hedge your bets on your heart when your heart is not into it.
The end can be brutally quick and silent. A person can "unfriend" and/or block a romantic partner without telling them. For some, it is like stepping on an emotional land mine when they figure out that this social media termination means our relationship is over and I don't want anything further to do with you. Unless the other person knows of an unresolved argument, an inconsiderate gesture or an embarrassing public display that hurt the defriender, that person had no idea it was coming and its impact is a hard shock and confusion.
This is especially true with women who do not want to hurt a man's feelings about her change in direction. How women think it is nicer to not hurt a man's feelings by freezing him out or setting an emotional land mine is one of those mysteries men will never figure out. In the past, breaking up met an awkward in-person meeting where one partner told the other their relationship was over. The reason may not have made sense, but at least their was a reason. There was closure. But in the digital world, an "unfriend," a block , a slam or fade does not give closure. It merely prolongs the pain of a person trying to rack their brains to figure out why a person suddenly wants nothing further to do with him or her.
And this is not a rare occurrence. . According to Ivanovich, Millennials are practically groomed to pull a slow fade. "There are two concepts . . . . " she says. "In the ADD Nation, children are taught to jump from sport, to activity, to interest, to academics, and to do so with intense frequency. If you are not excelling at something, get rid of it." And while no one is perfect, they are primed to think that we can always get closer, do better, or find a better fit without putting in any additional work. We think we can simply trade up. This is the idea behind the concept of the Disposable Society, Ivanovich says. "We are more inclined to toss the item, or relationship, than to actually put the time in to address the problem and fix it, especially with relationships," Ivanovich says. "As you can imagine, commitment is not as important in this concept."
Social media perpetuates the myth that everyone is happy and living life to the fullest, Ivanovich says. "And remember your grandmother's old saying: You only want something when someone else has it. We are a society of coveters, so imagine your surprise when someone else has gladly engaged in a relationship with what you previously tossed away." Because of the easy swipe and toss away nature of social media technology applications, there will be a rebound of angst, introspection or forgiveness.
Sociologists wonder whether people should give a slow-fader a second chance. Some one who has hurt you says they have made a big mistake and wants to see you again. "Sure, a person can be worth a second try in some cases, but proceed with caution," advise dating coaches. "There needs to be open and honest communication about what happened [and] how you were hurt, and boundaries need to be set, communicated, and held to. A sincere apology is nice, but their actions need to prove their words true," coaches say. But the irony is not lost that a slow fader's fear of open and honest communication caused the slow fade drop kick that ended the first relationship.
No one wants to get hurt. No one wants to put their feelings on the line to trampled by someone you care about. New technology and cybercultural norms are making those things easier to accomplish without a face to face, open and honest communication. The new way can sting, hurt and puzzle more than the old ways.