cyberbarf
FOUND BUT NOT LOST ON THE INTERNET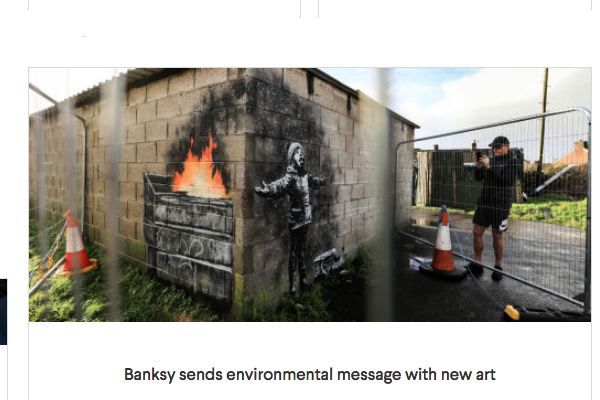 British graffiti artist Banksy's latest work is a corner turner on his view on climate change and the environment. The unknown artist who has captivated the art world by his pranks has used his mysterious mantra to make timely social commentary.
Source: aol.com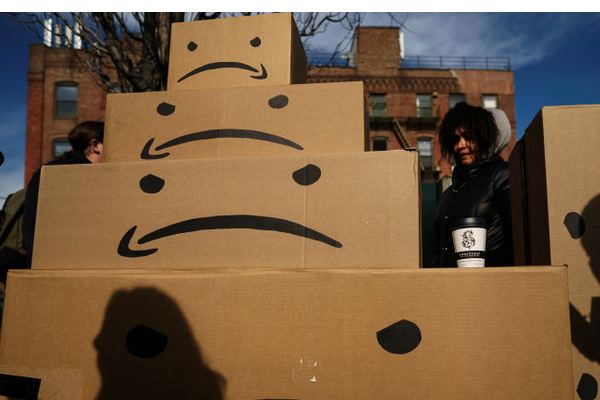 A happy face logo has been turned upside down by unhappy Amazon employees. As Amazon becomes the planet's global source and shipping company, overworked, overstressed and underappreciated workers are beginning to lash back with protests, social media gripes and union talk about alleged sweatshop distribution centers. Further complicating Amazon's management is that the highly profitable company got billions in corporate welfare from D.C./Virginia and NYC to build new corporate offices, which will probably displace many middle and lower class people.
Source: Gizmodo
cyberbarf
RESOLUTIONS! COMMENTARY
2018 was a year of a glacial thaw towards change. It was a simple philosophy to get outside one's current comfort zone, explore new things, socialize, and be more creative away from the daily grind of work.
But incremental progress needs to have some forward momentum to succeed. You need to focus on a mindset. That is why so many people have New Year's resolutions as a means to set new goals. In no particular order, here are some thoughts, ideas, goals and promises made in order to have a better digital, personal, technological, cultural and rewarding year:
EXPAND the number of new international news sources to learn about how other people around the world view America, its principles and policies.
USE the internet vast resources to view different kinds of programming from different kinds of content producers, from YouTubers to national networks, to streaming services and original studio works.
LESS procrastination on the computer screen as one can easily get lost in web of distraction.
TRAVEL more to new places. The Internet is a great free travel guide to explore new cities, countries and places without leaving your home computer. But even those virtual experiences pale by comparison of actually going to those places to experience the sights, sounds, smells and culture first hand.
BETTER keep track of current and new friendships. The social media is easy to click likes and follows, but one should be more engaged and responsive in your friend's lives and events, even if you cannot be there in person.
EXERCISE your heart, mind, body and soul more. Physical exercise is important to overall health, but mental experiences and learning is just as important. The technology exists to be able to learn new languages, master new artistic forms, create lasting memories in words or pictures.
BE NICER to other people. Social media gives one the option of weaponized snark. It is easy, quick and sometimes unfiltered hurt. The discord amongst digital relationships is a growing trend which does not bode well for maintaining a personal level of overall happiness. Human beings may live solitary lives but we are still social animals.
COMPLETE what you have started; there is a novel outlined, a series of artwork sketches to paint, and more stories to tell.