cyberbarf.com
EXAMINE THE NET WAY OF LIFE
cyberbarf
SNEAKY SPY BILL ARTICLE
Citizens have only a small window every two to four years to make their elected officials accountable for their actions. It is called elections. But citizens are less informed than their representatives who are more concerned about being re-elected than actually reading bills on the legislative agenda.
A prime example of this was the end of 2015 Omnibus Budget bill passed by new House speaker Paul Ryan. It contained in its 1000 plus pages special interest legislation that the public did not know about until days after it was passed into law. Most Congressmen were more concerned about leaving on time for the holiday recess than to actually read what they were voting on.
In that bill was a restatement of a federal spying bill, that on its own merits was thrashed by tech leaders and civil libertarians to the point where it was withdrawn from committee consideration.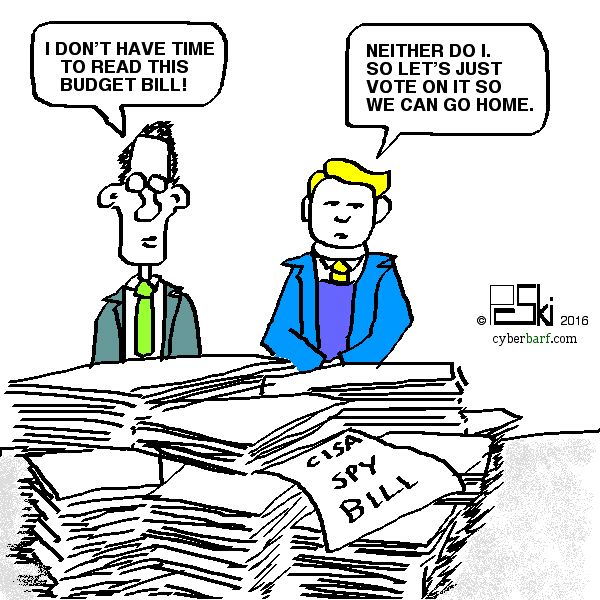 Many critics were blind-sided by the bill's passage. Some called it one of the most outrageous and shameful acts of government, US leadership that completely ignored objections from citizens, taxpayers, privacy watchdogs, and even Silicon Valley companies, which had been extremely critical, vocal, and aggressive against CISA. The CISA variant that passed with the omnibus budget bill also removed any NSA-unfriendly clauses, and now gives even more power to government agencies, like the Department of Homeland Security, the FBI, and the NSA, to snoop through any online communications.
CISA had alarmed the privacy community by giving companies the ability to share cybersecurity information with federal agencies, including the NSA, "notwithstanding any other provision of law." That means CISA's information sharing channel, ostensibly created for responding quickly to hacks and breaches, could also be used to provide a loophole in privacy laws that enabled intelligence and law enforcement surveillance without a warrant. The law also strips the requirement in prior bills that private personal consumer information be scrubbed before sharing raw data with government agencies. This means that your personal information will be shared without input prior consent. And considering foreign hackers have been attacking federal servers for data, the more personal data being transferred between servers can be a higher risk of interception.
The opposition to the CISA bill was buried in the budget bill because Congressional leaders needed to have a budget passed because this is an election year. By putting in special interest legislation in a bigger, unrelated bill, leaders effectively blunted any negative votes because the budget had to be passed to avoid a negative campaign issue in November.
This may lead major technology companies who opposed the original CISA to ramp up their encryption codes so customer data will not be able to be decrypted by the companies. Federal security officials are still demanding back door keys for all software, OS and cloud services so it can access information in the name of national security to allegedly thwart threats. But no one is really sure that massive data sweeps serve any function except invading privacy of law abiding citizens. And if officials have suspects or specific threats, they can easily get a warrant to gain access to information.
cyberbarf
eSPORTS CYBERCULTURE
Esports is getting its primetime network moment. For the first time, the CW Network will be partnering with digital network Machinima to bring its web docuseries Chasing the Cup to its digital platforms and broadcast television. "There could be an interesting opportunity for us, as we are seeing our digital and broadcast audience migrate back and forth (between platforms)," said CW executive vice president of marketing and digital programs Rick Haskins. "We think that this model could be interesting where we do a pregame on digital and move the actual event to broadcast. We can move people back and forth within our ecosystem."
The broadcast ecosystem continues to evolve at a great pace. Game tournaments and play action are being streamed on a daily basis. Major companies like ESPN is looking to new live event programming opportunities to off-set cord cutters.
The television industry is still working through the period of upheaval in the last decade when a variety of rival technologies all began to seriously affect its business. Time shift programming on various devices, commercial skip software, streaming services like Netflix and Hulu giving greater on-demand choices, broadband channels like YouTube and Vine have their own followers and subscribers have all converged to put a strain on traditional cable broadcasting channels. Despite all this, live sports still got good ratings. They're famously DVR-proof - - - nobody is recording the Super Bowl to watch the next day - - - and also social, a perfect fit for traditional television. In a period where ratings fell pretty much across the board, for live sports they remained flat and in some cases even grew.
But so did sports networks costs for live sports events. Wall Street analysts project that in as little as three years, ESPN's program costs per subscriber will be more than actual subscriber revenue. More cable viewers are dropping expanded packages that contain sports channels because they don't use them or object to $6 plus a month in bill surcharges. Even if you have a sports fan, he may decide to spend money to get direct programming for the sports league itself, such as subscribing to MLB.com to get the games he wants to see.
That is why many sports networks are looking toward eSports as an alternative to live event programming because it is a) potentially cheaper than broadcasting large live events like a college football game and b) taps into the youth market which has been abandoning traditional TV shows.
Just as broadcast Texas hold-em tournaments caught the attention of casual viewers 10 years ago, the lure of big money gamer tournaments is peaking the interest of casual teen home gamers.
The BBC reported four players made more than $1.73 million in 2015. As the popularity of eSports has grown the prize and sponsorship money has increased to the point where some players are turning full time professional. According to E-Sports Earnings, many other players earned more than $100,000 in income. While eSports still has a long way to go before it becomes as mainstream as basketball or football, SuperData Research, a New York-based company that tracks the sector, said that the global eSports market will grow from from $748 million today to $1.9 billion by the end of 2018.
The market seems to be there to be tapped by deep pocket networks. In 2015 some 188 million people watched games being played online and on TV, up from 71.5 million in 2013. Gobal eSports market is growing for several reasons: there are more people playing games than ever before (worldwide games sales reached $114 billion in 2015); gamers can compete against each other over the Internet; and advertisers, eager to target the coveted 18 to 35-year old market.
Like in other sports, most players only make a small sum. 300 of 500 players listed on the E-Sports Earnings website made less than $50,000 in tournament winnings in 2015. For the average person trying to move from playing in on-line with his friends to tournament success takes many hours of daily practice, immense skill and fast fingers. The average person completes about 100 actions per minute during a game, but professionals average between 350 and 500. Winning the multiplayer action games themselves like League of Legends, StarCraft II, Dota 2 requires quick thinking and well-thought-out strategies. It has been documented that South Korean tournament teams live in a gamer dojo environment - - - doing nothing but playing their games nonstop for the entire waking days month after month just to take the thinking aspect out of their conscious mind and fuse their skill directly into their hand controllers. Most teen pro gamers get burned out only after a few years. The pressure is intense because your career can be made or broken in one tournament performance. While South Korea is still a hotbed of gaming, it is America, Europe and Asia that are growing the more than the Asian market. Asia accounted for $321 million in investments in 2015, about $100 million more than North America.
The appeal of eSports is that it is a global industry so anyone from anywhere can make it. It is the naive dream that how hard can it be? I am a good home player so I can beat anyone. But to really make it to the top,a player need to join an elite team. Similar to other sports, managers and scouts look for top players to sign contracts and then they fly them out to all of the biggest tournaments. Pro gamer Alex Krupnyk signed his first deal in 2004. He only earned about $100 a month at the time, but eventually joined another team where he made $24,000 a year, excluding tournament winnings.
Sports networks can get on the ground floor of a new sport through player sponsorships and endorsement deals to control costs. The X-Games was an example of ABC-TV creating a new program platform for the California skateboard scene, which became a cultural target with Tony Hawk's early video games. If there is a way to make money in a new opportunity, Disney and its ESPN brand have been proven profit machines.
A Deadspin analysis showed that ESPN has historically enjoyed massive profits not just because of its popularity but because of the dual revenue stream that popularity affords it. Not only does it earn billions selling commercials, it earns further billions from subscriptions fees paid by cable distributors like Comcast and Time Warner for the right to offer its channels to subscribers. Historically, the subscription fee for ESPN has been around four times greater than the next highest fee (TNT or the NFL Network), while ESPN2's fee has been in the top 10. Cable viewers pay those fees in the form of our cable bill, whether or not the homeowner watches ESPN. Flush with cash from the dual revenue stream and insatiable, ESPN went on a spending spree:
ESPN paid $2.25 billion to broadcast SEC games, $480 million to broadcast Wimbledon, $15 billion to broadcast Monday Night Football, $1.5 billion to broadcast the Pac-12, $5.6 billion to broadcast MLB, $3.6 billion to broadcast the ACC, $770 million to broadcast the U.S. Open, $5.6 billion to broadcast the College Football Playoffs, $12.6 billion to broadcast the NBA.
In 2011, in the midst of this spending spree, cable distributors started threatening to offer "skinny bundles" in response to cable viewers objections to increases in monthly cable bills (usually tied to increased channel fees from ESPN). Rather than charging subscribers a lot of money for the traditional television bundle of every popular channel, they would offer less expensive bundles with fewer popular channels. Since ESPN charges by far the highest subscription fee, they were a natural candidate to be left out of the skinny bundles; one media executive at the time called ESPN fees a "tax on every American household." The viewer backlash against high cable bills started the trend of consumers cutting the cord entirely to opt not to pay for TV. This destroys ESPN's two revenue stream business model.
ESPN has been rapidly losing subscribers and money. In a November regulatory filing, the network revealed that it has lost seven million subscribers over the past two years. While every popular TV channel has lost subscribers, the losses for ESPN and ESPN2 are among of the highest in the industry - - - and the most costly. The average ESPN subscriber fee is $6.41 per month, and rising. Those seven million customers represent about $80 a year apiece - - - over half a billion dollars a year. Add in the big subscriber losses for ESPN2 and ESPN Classic, and more modest losses for ESPNews and ESPNU, and they are missing out on around $750 million in revenue they would have earned in 2011. This is one of the unstated reasons ESPN laid off 300 employees, including terminating personalities Keith Olbermann, Bill Simmons, and Colin Cowherd.
The math is not kind to ESPN. The upheaval in the television industry distribution channels for content does not bode well for ESPN to add subscribers to their networks. The network still has almost 92 million subscribers, and simple math tells you they could recover the lost three-quarters of a billion dollars by charging a subscriber fee of $7.09, rather than $6.41, per month - - - a 10.6 percent increase,which will still be a hard sell to consumers who are fed up with rising cable bills. The only saving grace for a sports network is still with live sporting events. Increasing the number and type of live sporting events can help stop viewership losses. That is why eSports can be interesting option for ESPN and its rivals because it is new and it hits an audience that is abandoning traditional cable services.
But it could get expensive fast. eSports teams and leagues have begun changing hands like established sports franchises.
The popularity of various game platforms has accelerated business investment and acquisitions. Riot Games, the developer of League of Legends, announced in December 2015 that it was now completely owned by Tencent, an economic giant from China. Tencent first bought a majority share in Riot Games back in 2011. The news was broken in a post written for Riot Games' employees, which explained that now the company was fully owned by Tencent, rewards schemes for workers and contributors would be streamlined. Tencent's move to acquire the studio was for the lucrative multiplayer online battle arena (MOBA) game League of Legends. Released in 2009, SuperData research estimates the game made well over $1 billion last year, and indicates that it's a key driver of e-sport reaching a viewer base of over 130 million.
In October, 2015, The North American League of Legends team Team Impulse (TiP) is putting itself up for sale following an unsuccessful 2015 season. Impulse has already qualified for the 2016 League of Legends Championship Series (LCS), however, so whomever buys the team will also acquire their spot in the tournament. First reported by GameSpot, Team Impulse's decision to sell off its brand, LCS spot, and current roster was confirmed to game news website Kotaku. This controversial sale of a tournament spot has caught the attention of league organizers.
The main way that Riot Games regulates its LCS tournaments against any potential fraud now requires that any team that made it into the LCS must have at least three of the five original team members who first qualified for the series - - - but only if they come up from a challenger series team. The LCS rule book also stipulates that any changes in a team's ownership may only occur between Splits, meaning after the may only occur between Splits, meaning after the most recent Playoffs and Promotion Matches but before the start of the following Split. Riot only added these stipulations to its LCS rulebook after the question of whether or not the team that actually qualified for the tournament series was still the same team playing in that same tournament series first became an issue in January 2014. The problem then was that Lemondogs, the top European LCS team that year, had gutted its entire five-player roster and replaced them with relative newcomers after qualifying for the upcoming LCS season. Riot decided to disqualify them from the LCS as a result of their dramatic personnel changes, saying that they failed to provide after the complete restructuring the league with a valid roster.
Controversy, intrigue, back door deals will push curiosity and interest buttons for both fans and advertisers.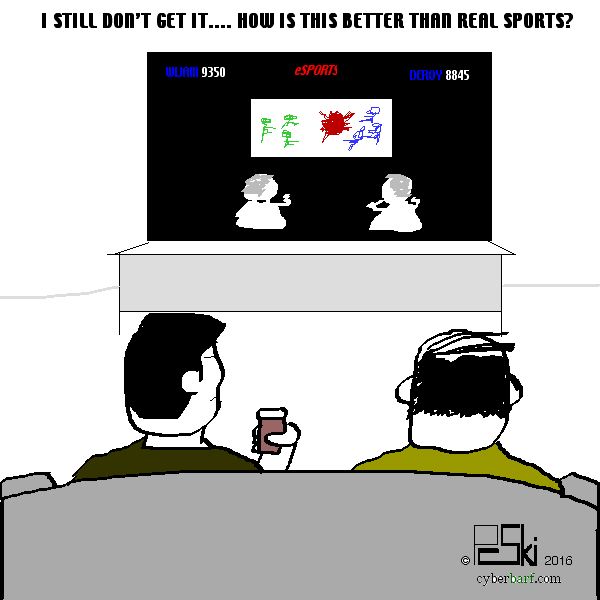 Team players grind away daily training for various big money world tournaments. Usually, only the winning the team makes enough prize money to make a year's worth of effort worth it. Other individual players find their professional income from social media such as gaining followers and advertising revenue from streaming their daily game play on services such as Twitch.
There are various success stories which fuel the dream of pro careers. Career game earnings leaders are Peter Dager $2,070,748.96, Saahil Arora $2,065,337.64, Kurtis Ling $1,881,720.64, Clinton Loomis $1,837,282.84, Sumail Hassan $1,742,076.34, Zhang, Ning $1,662,202.73, Hao Chen, Zhihao $1,572,017.23, Jiao, Wang $1,217,250.16, SanSheng Wang, Zhaohui $1,205,274.33, Mu Zhang, Pan $1,202,882.11, Clement Ivanov $1,061,519.56, Liu, Jiajun $979,733.22, Lei, Zengrong $975,578.01.
Dager, 24, yearly earnings shows the increase in prize money potential:
Earnings By Year Total Results /Online Results Offline/LAN Results
2016 $12,000.00 / $0.00 / $12,000.00
2015$1,730,076.34 /$25,211.00 / $1,704,865.34
2014 $313,493.63 / $15,226.53 / $298,267.10
2013 $6,512.32 / $3,367.25 / $3,145.07
2012 $8,666.67 / $5,466.67 / $3,200.00
Dager's earnings shows the quick prize pool acceleration of eSports since 2013.
Like in any sports industry, there is an apparent dark side. Game news website Kotaku reported the Korean e-Sports Association (KeSPA) announced that 2014 StarCraft 2 World Champion and 2015 runner-up Lee Life Seung Hyun has been taken into custody in January, 2016 by authorities at the Changwon District Prosecutor's Office in the South Gyeongsang province of South Korea. There was no official word as to the cause of the investigation, or whether Life has been charged with anything.
Match-fixing rumors and allegations have swirled around the Korean StarCraft 2 series for the last couple years, according to Kotaku. Sports betting site Pinnacle has voided betting results on a few occasions when it observed unusual patterns around matches. Last January, the manager of Axiom eSports (a StarCraft 2 team owned by John Bain) noted that the scene was becoming flooded by a lot of small tournaments with unclear sponsorship. Because these smaller tournaments were not regulated by any organization with professional rules and guidelines, they were rife with the potential for abuse. Most ominously, one of StarCraft 2's all-time most popular players, MarineKing, lost a match under highly suspicious circumstances last year. However, it would be a categorically different matter if Life were charged in connection with match-fixing, and easily the worst scandal in StarCraft since the Brood War match-fixing ring came to light. Life is a gamer superstar in Korea, probably the greatest StarCraft 2 talent of his generation. It is like Babe Ruth getting caught with a corked bat. He became famous when he won the prestigious GSL title at the age of 15 against Jung Mvp Jong Hyun, one of the greatest champions in StarCraft history. That inaugurated a run of major championships through 2013 that firmly established him as one of the best players in the world. In 2014 he won the world title at Blizzcon, and followed it up with another GSL title in 2015. This past autumn, he competed in yet another Blizzcon final and nearly pulled off a repeat championship, which is almost unheard-of in a game as volatile as StarCraft 2.
eSports has all the elements of major professional sports: rabid fan base, prize money, superstar players, and gambling interests. Since eSports are in its infancy, it harks back to the early days of American baseball where players were not paid as much as they thought they deserved. In protest, the sport was rocked with betting scandals including the Black Sox alleged throwing the 1919 World Series in favor of bribes from gamblers. This led to the cardinal sin rule in baseball: no gambling by players, coaches, managers or owners. Anyone caught gambling on the game is banned for life, including the sports greatest hitter, Pete Rose.
As a pure game player, it is difficult to earn a living. The Guardian UK spoke to Andrey Yanyuk, known as Reynad, one of the most successful professional Hearthstone players."Hearthstone's just a very low skill-cap game," he said. "If .... you're playing several hours a day, you're pretty much gonna be at the same skill level as most people playing the game at a professional level. It's very easy to hit that skill ceiling in Hearthstone. Once you hit it, you have the same odds of winning as anyone else. It's just how the game works."
But Reynad also said one thing to consider when it came to striding out as a pro player: winning tournaments is not actually a good way to make a living. A world championship may have a grand prize of $100,000 , but only one person can win that prize. Any prize money after that falls off dramatically. Rewards decline precipitously as you get further down the ranking. And unlike physical sports, there is only really one Hearthstone tournament to consider: game creator Blizzard's world championships. If you fail to win that tournament, and you have to wait another year for your chance at the big money. Unlike other head-to-head sports such as tennis, for example, there is not a real a championship circuit with good paying tournaments leading up to the grand finale.
So the more consistent way to make a living playing a game might not be to head for the top of the tournaments, but instead focus on building up an audience eager to watch you play. That is what a number of Hearthstone professionals do, turning to the streaming platform Twitch to play games in front of adoring fans. Reynad began streaming online card games, not with Hearthstone, but with Magic: the Gathering Online (MtGO), the digital version of the venerable MtG card game. Whereas before, Reynad had to play 10 to 12 hours of MtGO a day just to scrape a living, Hearthstone provided a larger fan base, and one that was still growing at a huge pace. Twitch shares advertising revenue with its most successful streamers, as well as a portion of the money the streamers receive from their channelŐs subscribers. And so, with enough people watching his streams, the income from advertising alone provides a living.
Just with any other sports endeavor, it takes full time dedication and mental fortitude to start from the bottom to try to work up to the championship elite class. That is why there is only a handful of truly dedicated professional gamers who command a decent following to earn a living playing video games.
cyberbarf
SELFISH DRIVING CARS ESSAY
Major technology companies are stumbling over themselves to get self-driving cars into the mainstream. It seems counter-intuitive to sell self-driving cars to Americans who used to believe that getting a driver's license was the first step in personal freedom and leaving the parental nest. But more major automobile manufacturers are getting on board with the self-driving car dream. But why would companies selling expensive cars want to lessen the thrill of driving to the next generation of potential buyers?
The University of Michigan Transportation Institute reports that in 2008, 65.4 percent of 18-year-olds had driver's licenses. But by 2014, that percentage has dropped dramatically to only 60.1 percent. That is more than an eight percent drop in young drivers. By comparison, more then 80 percent of 18-year olds had a driver's license in 1983.
If you dig deeper into the numbers, one finds that post-college adults (24-29) driver's licenses has also had significant drops. In 1983, 95.6 percent of this age group had driver's licenses. By 2008, it had fallen to 86.3 percent. In 2014, it fell further to 85.1 percent. The deviation between the two groups is expanding; in 1983 the difference was 15 percent but by 2014 the gap is now 25 percent.
University of Michigan researchers found when they asked 619 people their primary reason for not owning a car:
Despite this trend, automobile companies had record sales in 2015. It appears that there will be a small increase in sales in 2016. Ninety percent of people between 45 and 69 still drive. So sales may continue to be strong. But this may be attributable to a better economy and pent up demand from the 2008 fiscal crash. People who had to file bankruptcy may have had to wait seven years to build up their credit in order to purchase a new vehicle. People also must feel more secure in the employment status in order to sign on the dotted line for a big ticket item like a new car. But analysts fear that this may foreshadow a peak of US auto sales.
A 2013 Pew study indicated only 44 percent of teenagers said they got their license within a year of when they first became eligible for one, according to a recent survey for the AAA Foundation for Traffic Safety. By the time they turned 18, only 54 percent said they had a license. In the AAA survey, the most popular reasons teens gave for not getting their licenses sooner were that they did not have a car; they could get around without driving; and that gas or driving was too expensive.
In June, 2012, Motor Trend magazine reported the share of 14 to 34-year-olds without a driver's license was 26 percent in 2010, up from 21 percent in 2000, the study says, quoting the Federal Highway Administration. In 2009, the 16 to 34-year-old age group took 24 percent more bike trips than in 2001, even as its population shrank by 2 percent. The same age group walked to more destinations in 2009 than in 2001, and the distance it traveled by public transit increased 40 percent.
According to The Atlantic, researchers are unsure why fewer people are driving. Some speculate that the reasons for more unlicensed young adults are cost, access to public transportation, the ability to obtain transportation from others, and lack of time. Thirty-seven percent of those surveyed claimed they were too busy or did not have enough time to get their licenses. That study also found that the majority of people polled intended to get a license eventually, even if they never did. A full 69 percent of respondents said that they planned to get a license in the next five years, while 22 percent said they never planned to at all. The findings implied that, rather than eschew cars entirely, driving has become less of a priority than it was in the past. The Atlantic speculated that this may just be because as a society we are traveling less because the world is coming directly to us. The ease of Amazon and free shipping, the rise of teleworking in employment, and the endless entertainment provided by the Internet may be serious factors why people do not have to leave their homes to work, shop or entertain themselves.
General Motors has invested $500 million in ride-share company Lyft. GM also purchased the remnants of a bankrupt competitor, Sidecar, for an undisclosed sum less than the $39 million investors had invested in that startup. Ford is experimenting with a Zip car-style car-renting program in a handful of cities. Ford may be teaming with Google on a self-driving car project. And most automakers are partnering with tech titans such as Google, Apple and Microsoft on new software that syncs the car's entertainment system with smartphones, allowing drivers to bring many of their favorite apps into the cabin and use them straight from the dashboard. It appears that auto makers are trying to capture the tech savvy Millennials.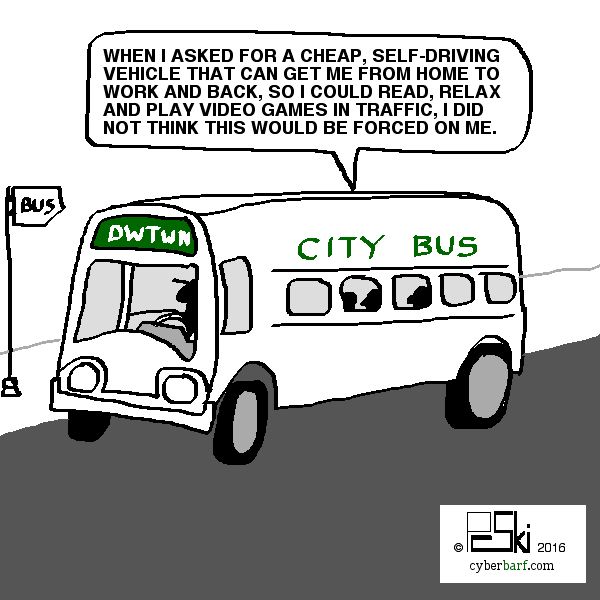 General Motors launched a new product called Maven, its ride-on-demand competitor. Maven will allow people to rent GM vehicles like Zipcar or City CarShare. The GM investment in Lyft, which it told the public would be used to develop autonomous vehicles as well as to solidify a partnership between the two companies (Lyft will now also allow its drivers to rent GM vehicles if they prefer not to use their own). To complete this business model, GM unexpectedly purchased Sidecar, an Uber rival that shut down in December amid intense competition.
"GM is at the forefront of redefining the future of personal mobility," GM President Dan Ammann said in a statement. Amman went on to say that the automakerŐs strategic relationship with Lyft and its decades of work developing GM's OnStar system would allow Maven "to provide the high level of personalized mobility services our customers expect today and in the future." Maven will initially launch in Ann Arbor, Michigan, where 21 GM vehicles will be available for on-demand renting. Depending on phone compatibility, Maven customers will be able to book a car and unlock the car with their smartphone when they arrive. The companion smartphone app will be able to start, heat, and cool the car as well. "Customers can bring their digital lives into the vehicle through Apple CarPlay, Android Auto, OnStar, SiriusXM radio and 4GLTE wireless. Each vehicle will provide an ownership-like experience with the convenience of car-sharing, " GM said in a press release.
It seems car makers see a future where drivers may not be able to afford their products or they do not care about driving. Much of the youth market population will be in metropolitan cities (because that is where the culture, bars and singles scenes are). They have grown up without the need of driving, as parents have become personal drivers for their children for the past two decades. They would rather sit in the backseat using their cellphone or tablet than learning to merge on an expressway (unless it is a portable video game.) But there is a hard truth emerging about youth employment: it is terrible. In the US, 25 percent of 20 to 24-year old adults are not working or not going to school. They are effectively retired before entering into the job market. (As such, they do not count in the general unemployment statistics.) In the inner city like Chicago, 47 percent black males aged 20-24 are not working or in school, almost double the national average. If you are not working or not working on your skills to get a job, there is no incentive to get your own car. You have to find alternatives to get around. And the trend is for the sharing economy, since it is cheaper than conventional transportation, to grow.
If ride sharing apps kill off the taxi industry, will disinterested teens kill off the auto manufacturing industry? Probably not, but it will have an impact on how it markets its products to this disconnected market group. They will either get a driver's license and use the rent-on-demand city vehicles for their personal transportation needs, or they will get in the habit of clicking their fingers to call for a ride share to get around town. In either case, an actual motor vehicle will have to be driven by someone.
But automakers are in the volume business. There are more motor vehicles in the US than people. But if the trends continue, where one third of your adult population has no desire to own a car, then the manufacturers are in trouble. Because one ride-share provider can take the place of eight car sales by picking up just eight passengers a day.
In the Mad Man era, companies would not bow to a selfish consumer segment. Instead, advertising executives would grab them by the throat and convince them that their sole and self esteem hung in the balance if they did get into a Dodge Dart or Ford Mustang. But the headwind may be too strong by their own research. People who have used Uber and Lyft for car services really like the experience. The only thing that can derail the share economy is government regulation to place these services under current business licenses, such as taxi and livery companies. Or accident or tax liabilities snares the app makers to become employers of the drivers and liable for any negligent conduct to make the current business model an unprofitable venture.