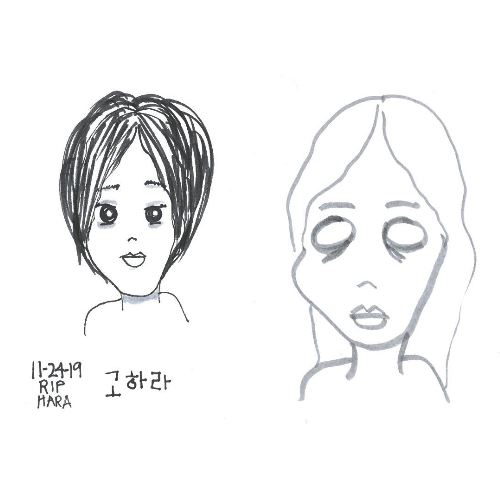 Sulli and Hara had a common bond of friendship and the unrelenting spotlight of being a Korean celebrity. South Korea is a very conservative, paternal society. Personal reputation and image are highly valued by the public, employers, and corporate sponsors. In the entertainment field, stars are being sold as the ideal person: clean cut, honorable, well mannered, scandal free, culturally correct and virginal. Fans vicariously dream through their favorite stars lives. But it is a delicate balance because scandal brings out vicious ridicule, shame and banishment from the public eye.
Both Sulli and Hara went through a landmine field of negative articles, hate comments, sexual harassment and mental health issues. In Korea, health, wealth, image equals status. Mental health issues are scorned if brought into the light of day. Weaknesses are ripped apart since those with issues do not fit into the perfect mold of a homogeneous citizen.
Hara was a loved performer known for her quirky sense of humor and great work ethic. She debuted as a member of girl group Kara on July 24, 2008. She went on to pursue a career not only as a member of the group, but also as a solo singer and an actor. She was featured in SBS's drama City Hunter in 2011 and she was a regular guest on a number of TV shows. She received the New Star Award in 2011 at the SBS Drama Awards and the Best Challenge Award in 2015 at the SBS Entertainment Awards.
Hara was a popular public figure, not only with fans of her music, but also for her quirky sense of humor and energetic stage presence. Joongang Daily reported that when news broke out in September last year that Hara had been in a physical fight with her ex-boyfriend Choi Jong-bum, who had threatened to release a video of the two having sex, the public was outraged. The case came at a time when the Me Too movement was growing in Korea amid greater awareness of molka, or surreptitious filming with spycams. Although both parties reported each other to the police, prosecutors indicted Choi on charges of assault and threatening behavior. He was given a year and a half in prison with a three-year suspended sentence. Both parties are appealing the ruling.
But even after the public trial, Hara continued to get constant hate comments. The bullies fired off attacks against her character, her looks, her slutty behavior (having relations before marriage), and that she was at fault for being abused by her boyfriend. For a young Korean woman, this is a devastating burden.
BBC.com reported on a woman who could not handle this burden and shame of revenge porn spy cam video. The sentences for so-called non-consentual spy cam porn are relatively lenient in South Korea, but the victims victims can face a different kind of punishment. "I feel like he's still watching me," a young woman victim told her father. She would wake in the middle of the night in terror from another nightmare.
The victim had been caught up in the spy camera epidemic. She was a nurse at a major hospital. A man had drilled a hole to place a tiny camera in one of the ladies changing rooms. When he was caught upskirting a woman, police seized his phone and found illicit footage of four victims. Her parents said the violation of her privacy had a great effect this had on their daughter's mental health. She had accidentally run into the culprit on her way to the hospital. In a panic she phoned the hospital's union representative who taped the call. She appears unable to breathe and her voice is barely audible. "Just come out, just leave the hospital now," urged the union representative. Her fear is palpable. "I just can't. I can't. I'm afraid I will run into him again," she manages to say before handing the phone to another nurse. The encounter, her parents say, caused such anguish that it made her feel she would never be free of the perpetrator. The perpetrator knew a lot of the same people the nurse knew. She feared the most was [that] maybe he shared the video with people she knew. Even if he didn't share it online maybe he would have showed it to other people. She was really afraid of that. A few days later the nurse would take her own life
The nurse left devastated parents who demanded justice. Their daughter had a career and was about to be married. But her mental health was destroyed by a pervert. The perpetrator went to trial and he was sent to prison for ten months. Prosecutors had asked for a two year sentence. The maximum penalty for illegal filming is five years. The nurse's parents were outraged by the lenient sentence for a man who contributed to their daughter's death.
Being filmed secretly by someone you know can cause "serious trauma" according to the director of the Korean Suicide Prevention Centre. "Spy camera crimes are a form of sexual violence and a serious violation of personal information and privacy," Paik Jong-Woo told us. "We should never have a society where the victim becomes a casualty." He urges all those who know a spy camera victim to look out for them. The Korean Women's Development Institute interviewed more than 2,000 victims of illegal filming and other sexual crimes. Among them, 23 percent considered taking their own life, 16 percent even planned their suicide and 23 women actually attempted suicide. "A victim needs support and needs to be healed," said Mr Paik. "Giving the appropriate amount of punishment to the perpetrator of a crime is the basis of a healthy society that respects life."
AFP News Agency reports South Korea, women who appear in such videos often feel shame --despite being the victims --and face ostracism and social isolation if the images become public.
South Korea has one of the world's highest rates of suicide which, according to recent government figures, is among the top causes of death for those under 40. Taboos about mental illness also dissuade many South Koreans from seeking help. Hara's death comes a month after Sulli took her own life in October after a long struggle with online bullying. Beneath the glitz and glamour, the K-pop industry is known for its cutthroat competitiveness, lack of privacy, online bullying, and relentless public pressure to maintain a wholesome image at all times and at any cost. K-pop stars like Hara and Sulli are picked up by agencies at a young age (usually as teenagers) and live under tight control, with their days taken over by grueling singing and dancing training. Earlier this year Hara had spoken out about abusive comments, depression, and her difficult life as a celebrity.
Following Sulli's death, Hara posted several photos of herself with Sulli on her Instagram account, saying, "Jin-ri [will be able to] do as she wishes in the world over there." She also appeared on Instagram Live in tears, telling fans that her and Sulli were "like sisters." After Sulli's death, Hara received encouragement from her brother to remain strong and live a full life. She completed her solo album and a mini-tour around Japan. She seemed to have turned her life around.
Like Sulli, Hara was a regular victim of malicious online bullying, with some people even sending her repeated messages asking for a copy of her sex tape. On May 26, 2019 Hara was found unconscious at her home in what was thought to be a suicide attempt. She returned to public life after the incident, signing with Japanese company Production Ogi and released a solo EP Midnight Queen in November, 2019. Hara spoke out on the issue herself in June, saying she will take legal measures against attackers. "Celebrities aren't people that just live off of what you give us," Hara wrote on Instagram."We have to take so much care with every little thing we do in our private lives, and we can't even tell that to our friends and family. . . You have your right to free speech. But please, could you not think about who I am before you write those vicious words?"
Hara said "The life of an entertainer is not all glamorous, but we have to be careful even with close friends and even family members."
Hara's last message was an Instagram photo of her in bed, with the caption "Good Night." Police announced that they found a self-critical handwritten note in Goo's house. "We found a note written by hand on her living room table," police said at a press conference. It was a "pessimistic" note about her life and her future.
The latest episode of Korean Television program, Unanswered Questions, covered Sulli's death in detail. While discussing the most potential cause of her death, the TV program unveiled the shocking reality behind the "hate" culture rampant in the society and especially the entertainment industry in Korea. As it discussed the level of online maliciousness Sulli faced as a celebrity, Unanswered Questions interviewed some of the netizens who left "hate comments" on Sulli's Instagram. When confronted with the question as to why they wrote such hateful things, these haters reacted with blatant shamelessness which horrified, then eventually saddened, the viewers across the nation. Koreans Haters said they did not tell her to kill herself. Some said it was a joke. Another claimed that all celebrities should have to take hare comments because of their celebrity status. The haters showed no remorse or regret for their actions.
Reuters reports that Korean prosecutors consider cyber violence a serious crime and have an active program educating the public how not to fall prey to online attacks, or to become the perpetrator. Charges laid are steadily on the rise with nearly 150,000 cases last year, but they form just a minuscule portion of what goes on and there is no good recourse for the victims in a country once touted as one of the most wired on earth. "It's rather simple with physical violence, as the victim can go see a doctor, but with cyber violence, there is no cure," says Jeon Min-su, a cyber crime investigator with the Seoul Metropolitan Police Agency.
"When the perpetrators write vicious comments, they first begin with a light tap and the scale of cyber bullying then intensifies to a punch," he said in an interview. The rumors and personal attacks online make their way into the stars' personal lives, Kwon said. Both Sulli and Hara had been with girl bands and later broke out on their own, which made them more vulnerable. Artist agencies attempt to go after hate commentators, defamers and cyberbullies but it is often difficult to trace anonymous posters.
South Korean legislators are pushing for a new bill to make cyberbullying education compulsory in schools and private businesses. Other leaders are seeking harsher penalties for cyberbullying. The National Assembly has been told it should prepare legislation to encourage production of truthful articles and for the punishment of sensational and malicious articles that induce malicious comments. The Korea Singers Association ( KSA), an organization founded in 1957 to establish bonds and protect the rights of singers, released a statement following the passing of Hara. The statement begins, "Beyond misery, all members of KSA cannot contain our anger as we face the harsh reality of having to say good-bye to Goo Hara even before we dry our tears from sending away Sulli." The organization then called for various measures to protect victims from on-line abuse. The organization said,"Finally, while also seeking measures of protection, we will track down the malicious crowds who harm the well-being of the popular music industry and place them under the trial of the law, and we declare that we will take action using all possible ways and measures until our requests are fulfilled." Following Sulli's passing last month, Kakao already discontinued the comment section on its entertainment portal site Daum. A member of parliament, Park Sun-sook, who first addressed the issue of online attacks in 1998, wants to make it possible for anyone to ask web portals to take down malicious or blatantly false comments. "Young stars are exposed with no defense to cyber violence. It's time for the law and the society to protect them," she told Reuters.
What can change? Shortly after K-pop group's Rainbow's Hyunyoung faced malicious comments regarding a post she made, she announced to her haters that she will not just sit back and take it. Many other artists have started to talk back to their haters. Whether that will work or soothe the pain of the hate is yet to be determined. There are more fans than anti-fans. Fans can police their fan portals and cafes to counter strike against bullies. But cyberbullies may be more embolden with attention, ironically, one of the main complaints they have against celebrities.
There is an old American adage: If you do not have anything nice to say to someone, do not say anything. Why cyberbullies are compelled to make negative comments to hurt strangers is unknown, but in itself could be considered a mental illness. Are they striking out against their own crappy lives by trying to ruin someone else's? Are they jealous of the success of others? Are they just rotten human beings?
No matter the reason, enough is enough.
cyberbarf
STORE NOTICE
Our company store has had update issues. We are attempting to correct broken links and reload image files.
We apologize for any inconvenience.
We have also noted that many other web sites have had loading issues, on various other platforms. There are always browser update issues, server maintenance upgrades, and the restrictions on bandwidth usage. More and more web pages are being dominated by large video files which slows down page completion times.
But our merch host site deals with image, not video files.
There is also an internal debate of whether the e-store is worth the effort to maintain. The vast majority of e-commerce is dominated by a handful of players: Amazon, Apple, facebook and Google. We would like to give our readers an opportunity to support the site through this traditional form.
Thank you for your continued readership.