cyberbarf
EXAMINE THE NET WAY OF LIFE
cyberbarf
SAFE SPACES ESSAY
In educational institutions, safe-space (or safe space), safer-space, and positive space are terms used to indicate that a teacher, educational institution or student body that do not tolerate criticism from individuals who do share different beliefs from themselves, according to Wikipedia.
The Safe Space Network defines it as a place where anyone can relax and be able to fully express, without fear of being made to feel uncomfortable, unwelcome, or unsafe on account of biological sex, race/ethnicity, sexual orientation, gender identity or expression, cultural background, religious affiliation, age, or physical or mental ability. A place where the rules guard each personŐs self-respect and dignity and strongly encourage everyone to respect others.
But it seems to breed the opposite: intolerance and suspension of other people's rights.
Some say the safe space movement is a social philosophy that strives to ensure nobody will ever be offended by anything, ever. But this fails to recognize that all speech should be free, including offensive speech. Without a forum of ideas, society becomes a repressive, single thought police state (see ISIS article below).
Political correctness (adjectivally, politically correct, commonly abbreviated to PC) is a term primarily used as a pejorative to describe language, policies, or measures which are intended not to offend or disadvantage any particular group of people in society; in pejorative usage, those who use the term are generally implying that these policies are excessive.
In the American Speech journal article "Cultural Sensitivity and Political Correctness: The Linguistic Problem of Naming" (1996), Edna Andrews said that the usage of culturally inclusive and gender-neutral language is based upon the concept that "language represents thought, and may even control thought." Andrews' proposition is conceptually derived from the Sapir-Whorf Hypothesis, which proposes that the grammatical categories of a language shape the ideas, thoughts, and actions of the speaker. Moreover, Andrews said that politically moderate conceptions of the language-- thought relationship suffice to support the "reasonable deduction . . . (of) cultural change via linguistic change."
University of Pennsylvania professor Alan Charles Kors and lawyer Harvey A. Silverglate connect speech codes in US universities to philosopher Herbert Marcuse. They claim that speech codes create a "climate of repression," arguing that they are based on "Marcusean logic." The speech codes, a mandate of a redefined notion of "freedom," are based on the belief that the imposition of a moral agenda on a community is justified which is a view which requires less emphasis on individual rights and more on assuring "historically oppressed" persons the means of achieving equal rights. They claim colleges and universities do not offer the protection of fair rules, equal justice, and consistent standards to the generation that finds itself on our campuses. Higher education institutions instead encourage students to bring charges of harassment against those whose opinions or expressions offend them. At almost every college and university, students deemed members of historically oppressed groups (women, blacks, gays, and Hispanics) are informed during orientation that their campuses are teeming with illegal or intolerable violations of their "right" not to be offended. Commentators believe that this is a new form of McCarthyism, but this time blacklisting freedom of expression and association.
Edward W. Younkins has written that Political Correctness involves the translation of Marxism from economic terms into cultural terms. The premise underlying political correctness is that if the elite can change the language then they can change the way individuals act and thus change society. He states that Political Correctness has corrupted the news media, universities, business, Congress, and politics. Declaring that some thoughts and words are "correct" while others are not permits those who are among the correct thinkers to escape free competition of ideas by using threats, intimidation, and force against non-correct thinkers. According to multiculturalism and political correctness, all history is dictated by the power that certain groups defined by race, ethnicity, or gender have over other groups. Some groups are designated as "sainted victims" and are viewed as naturally good regardless of what any of them do as individuals. For example, radical feminists teach that in the past men had all the power, that they oppressed women, and that men living now have to atone for the transgressions of men of the past. In the world of political correctness, white males are determined automatically and universally to be malicious and immoral.
Gary Wickert of PJmedia commented that Political Correctness will lead to Thought Police. Group think goes contrary to our founding principle, he says. Political Correctness it as a term which denotes language, ideas, policies, and behavior seen as seeking to minimize social and institutional offensive to occupational, gender, racial, cultural, sexual orientation, disability, and age-related contexts. Wickert argues that no matter what you call it, one thing is certain: For decades now, the perceived orthodoxy of political correctness has been eating away at the institutions which have made America great -- precisely as it was intended to.
George Orwell once remarked that Stalin's Soviet Union was a place yesterday's weather could be changed by decree. America, it seems, is not wholly immune to this totalitarian impulse either. The authoritarian implications of this movement, as Jonathan Chait points out in New York magazine, raise an alarm. The tribunes of political correctness, Chait notes, "are carrying out the ideals of a movement that regards the delegitimization of dissent as a first-order goal." The New York Times ran a story on of one university's group to ban Woodrow Wilson's name on the School of Public and International Affairs at Princeton. A student group called the Black Justice League is demanding that Princeton University, which Wilson molded in his image first as professor, then as the school's president, acknowledge "the racist legacy of Woodrow Wilson" and move to strip his name from both the public policy school and the residential college. For good measure, these students want Princeton to institute courses on "the history of marginalized peoples" as well as "cultural competency training." Instead of studying Wilson's record in the context of actual history, new students and their mentors are trying to erase actual history from everyone's studies or knowledge base. This could be considered intellectual dictatorship.
The Safe Space story blew up in the Midwest. It became a national story at the University of Missouri, when a journalism professor told a student reporter to leave a public protest where minority students who were rallying because the reporter was not allowed interview or photograph the protesters because that would invade the protesters' privacy and safety. That argument totally disregarded the basic tenets of the First Amendment and a reporter's job to cover news such as a campus issue in a public space. The national media backlash against reporting an actual news story led to outcries against the school and the coddling staff members.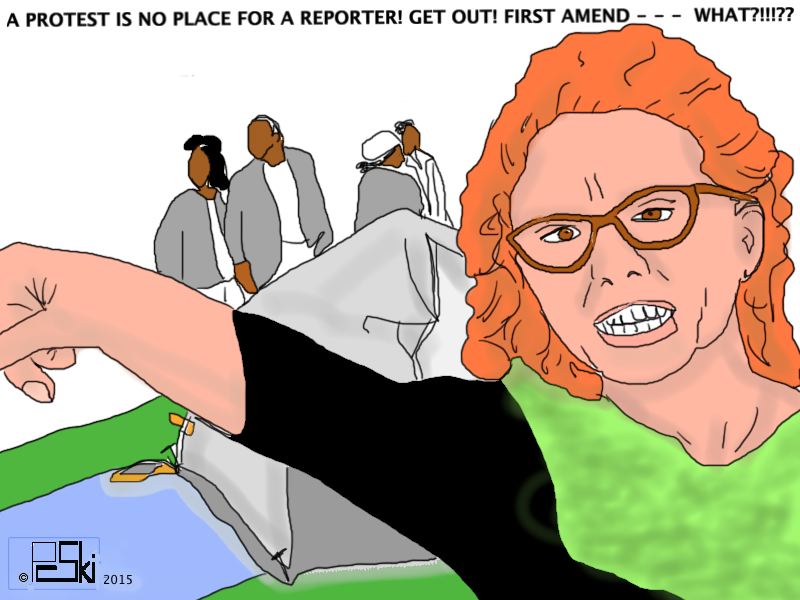 Later, the journalism professor resigned her post. But the university has not backed away from creating safe spaces on its campus.
The Daily Illini, a college newspaper at University of Illinois, ran a syndicated Rick McKee cartoon that offended several students. It showed a group of children trick or treating. One white child was wearing in a hoodie and told his friends as he was climbing over a fence that he was going as "an illegal alien." This is a national issue that is being discussed by presidential candidates and in Congress. The purpose of editorial cartoons is to provide commentary and opinion on public issues, even if offends or pokes fun at people or politicians. Instead of standing up for the editor's choice of opinion on the editorial page, the paper reversed its course. The paper issued an apology stating that the "cartoon was run with frivolous regard, and in no way represents our ideals as an organization, company or the individuals who work for The Daily Illini." The person who selected the cartoon was also suspended from the paper and the paper took an additional step of canceling its contract to Cagle Cartoons, which provides a wide range of cartoons from both liberal and conservative cartoonists for no apparent reason except to punish it for providing them with a plethora of cartoons to choose from.
Cartoonist McKee responded to the controversy by saying he blames political correctness on campuses that will not tolerate different view points. "I blame the politically correct atmosphere they find themselves in that exists on most U.S. college campuses. Our institutions of higher learning are supposed to be safe spaces where differing viewpoints are tolerated, but that no longer seems to be the case. ThereŐs nothing racist about the cartoon and the notion that people should come into this country legally is an opinion that is widely held by many Americans," he wrote.
For free press supporters, it gets worse. The official newspaper of California's Claremont McKenna College announced last month it would be setting aside some of its column inches to give "people of color" an unfiltered voice in the media. "So for those who don't feel all the messages of solidarity are enough, or who feel the mainstream media is misguided representing people of color, or who feel compelled to speak and be heard, we would like to re-purpose its influence by providing a space in next week's issue for students of color to voice their experiences," a November 13 editorial in The Student Life stated. "We will proofread, but we will not edit your voice or content." But journalism teaches that reporters are duty bound to interview various subjects, obtain facts, present fair and balanced reporting on issues so by taking away columns from reporters is a damning slap in the face to the journalism professionals and staff. Instead of minority groups joining the student paper, it wants instead special rights not afforded to other student groups.
At least one administration has taken a contrary stance. The University of Chicago issued a report in January that stated, "It is not the proper role of the University to attempt to shield individuals from ideas and opinions they find unwelcome and opinions they find unwelcome, disagreeable, or even deeply offensive."
The United States was founded on freedom of speech. Our founding fathers lived in repressive times which led to rebellion. They knew the value of independent speech as opposed to state thought.
"Without Freedom of Thought, there can be no such Thing as Wisdom; and no such Thing as publick Liberty, without Freedom of Speech, " wrote Benjamin Franklin.
Samuel Adams said "There is nothing so fretting and vexatious, nothing so justly TERRIBLE to tyrants, and their tools and abettors, as a FREE PRESS."
"Were it left to me to decide whether we should have a government without newspapers, or newspapers without government, I should not hesitate a moment to prefer the latter," wrote Thomas Jefferson.
In the scope of the founding principles of free speech and free press, throughout history these ideals have been cherished as a national icon.
"Every man has a right to utter what he thinks truth, and every other man has a right to knock him down for it, " said Samuel Johnson
"I would not wish to live in a world where I could not express my honest opinions. Men who deny to others the right of speech are not fit to live with honest men. I deny the right of any man, of any number of men, of any church, of any State, to put a padlock on the lips - - to make the tongue a convict. I passionately deny the right of the Herod of authority to kill the children of the brain, " pleaded Robert G. Ingersoll in an appeal to the jury in the trial of C.B. Reynolds for blasphemy in May 1887.
"Without free speech no search for Truth is possible; without free speech no discovery of Truth is useful; without free speech progress is checked, and the nations no longer march forward towards the nobler life which the future holds for man. Better a thousandfold abuse of free speech than denial of free speech. The abuse dies in a day; the denial slays the life of the people and entombs the hope of the race, said Charles Bradlaugh in a speech in 1880.
It takes the absurdity of safe space logic to be satirized by this season's episodes in South Park in order to shed light on its abuses. The Safe Space movement runs contrary to the founding principles of America. Free speech includes all speech, including offensive speech. If certain students are too sensitive to hear opposing views, then they are totally unprepared to go out into the real world. The American education system is broken if it is not teaching and reinforcing the founding principles of free speech, freedom of association and diversity of opinions. By trying to intimidate speech by calling it politically incorrect, offensive, dangerous or disingenuous, serves only the purpose of prized tenets of freedom into yokes of oppression.
cyberbarf
BREAK UP TOOLS ESSAY
This may be the Year of the Goat, but here at cyberbarf.com it unintentionally became the Year of Relationships. We have explored many aspects of human relationships. Now, Facebook adds to the end of them.
Facebook will soon launch a set of tools that would allow you to to hide your ex's posts from your feed, keep your ex's name from popping up as an automatic suggestion for tagging in a post, and restrict the information an ex is able to see about you on your profile.
In a statement, Facebook product manager Kelly Winters said these new tools are "part of our ongoing effort to develop resources for people who may be going though difficult moments in their lives. We hope these tools will help people end relationships on Facebook with greater ease, comfort and sense of control."
Yahoo Tech notes that experts say Facebook might be on to something. It is well known that regular communication after a break-up is not exactly good for mental health, said David Sbarra, PhD, an associate professor and the director of clinical training in the department of psychology at the University of Arizona and an expert on the psychology of break-ups. "In my work, we have studied how in-person contact affects adults' reports to marital separation, and, in an earlier study, how in-person contact affects people after a non-marital breakup," Sbarra said. Following marital separation, people who have contact with an ex-partner was associated with more sadness after a breakup
And social media, Sbarra notes, presents a whole new arena for tracking your ex-partner. "My sense is that for people who are struggling with a separation, it's essentially adding fuel to the fire of your breakup-related suffering to monitor your ex-partner on Facebook," he says.
It still comes down to how adult people are when they break off their adult relationships.
If a relationship is broken because of abuse or fear of retaliation, then any barrier from blocking, restraining orders and deleting contact tools makes sense for individual safety.
But most relationships either flame out or fade away due to the diminished initial attraction being replaced with serious expectations and compatibility. It could be family, finances, different career paths, emotional support issues or change in attitude that become the reason(s) to prefer being alone than being together.
As social media makes us less social and civil, it is not surprising that social media will begin to provide more tools to make the hard part of life (breaking up) seem easier. But a text goodbye, or a ghosting stonewall, does not provide true closure that an amiable parting (with hurt feelings) has between two people who at one point in the past felt themselves orbiting around their own world.
Relationships are studied in the vacuum of rational examination, but we know that relationships are actually irrational and emotional rollercoasters which are tempered by honest communication and caring trustworthy support. Even in most cases, people who break off a relationship still have repressed feelings for the other person. It is natural. It is part of the grieving and healing process so a people can move on with their lives.
But closing the door on a chapter in your life does not mean you have to try to erase your ex from every memory or social situation. You should not make mutual friends choose sides. You should not drop activities or hobbies in order to hide from an ex who may attend the same events. There is no reason people, even ex's, can be civil in social situations. As it has been said, even when a door closes (and even slammed shut), it does not mean it cannot be opened again - - - because that is what doors do.