cyberbarf
HAPPY ANNIVERSARY, BABY! SITE REVIEW
Way, way, waaay back in time, The Little River Band had a hit song with that title. LRB was part of the first wave of Australian rock bands to hit American college radio. If you notice in the top masthead, the issue count has rolled over to 17. cyberbarf enters its 17th year of publication as a digital zine. One thing is certain: not many things last that long.
We can take a little solace in a recent story that most internet surfers are fed up with web page loading times, the video glitches and unremovable pop up nonsense in navigation. The new trend is going to back to simple, straight forward web design. Ironically, this site has thought about design changes in the past but kept to the basic format because of lack of quality time. Like most of the web, this is a part time job which does not meet operating expenses. But since we like to write, draw and comment on cyberculture, we started this site.
Back in 2001, the first issue asked what was working at that time:
The origins of the Internet was the U.S. Defense Department ARPANET, a network to provide secure and survivable communications for organizations engaged in defense related research. There was an parallel system in academic circles by the National Science Foundation. The primary directive was research communication.
When the Internet was created in 1983, its original uses were electronic mail, file transfer, bulletin boards, news groups and remote computer access. The underlying content was knowledge and research.
What is working on the Internet today? Has the basic purposes changed?
Electronic mail is still a growth engine. It has replaced the water cooler conversation and intercom messages between managers. It is a simple and effective tool of communication between individuals.
File transfer has grown from a leaf to a redwood. The graphics, multimedia and interactivity embedded in transferring files from a server to an end user has gone beyond the simple text transfer of research papers.
Bulletin boards were community kiosks. Post something and come back later and see any reaction. The concept is still being used, like with Apple SupportŐs discussion groups. But stagnant bulletin boards have been morphed by real time "chat rooms."
News groups are the topical conglomeration of subject matter interest between individuals. The discussion, commentary and organic bibliography of any particular subject is still prevalent on the net. However, the search engine has replaced the need of a subject matter primary resource site. For example, you donŐt need to belong to a news group on gardening. All you have to do is type in "gardening" into a search engine, and thousands of pages will appear.
Remote access to computer terminals has traveled from the Internet to intranets, local area networks to secure routers, as common place as a touch tone telephone. Is today's underlying content knowledge and research? No, it is now more complex because of the shear number of users on the net.
There are three major areas under development: academic, commercial and personal. Academic is the original core content of cooperative knowledge and research tools. Commercial is the use of the network to facilitate commerce-- marketing, contracting, sales, and interchange of information. Personal is the individual's production of a piece of their life, ideas, interests, hobbies or creativity into the public forum.
Successful commercial applications lag behind the net's personal element. The major uses for individuals clearly could be defined in a limited pattern: search engine use for topics (business or personal interest), financial stock tracking, on-line brokerage, news portals, email and chat rooms through ISPs like AOL or Earthlink, and research. What do these subjects have in common? Personal interest. Personal interest in your own portfolio, your own news stations, your own friends to email, or your own research tools to complete your daily projects. Personal interest is the driving force behind the exponential use of the Internet It was the foundation of the origins of the net; it remains the foundation today. In essence, the foundation of the digital world has not really changed since its inception.
No doubt the electronic frontier has changed drastically since 2001. The world itself started to take dark turns. The dark web sprang up. Professional hacking groups begot white knight security firms who joust back and forth between light and dark ethical boundaries. News as trustworthy information has morphed into personal opinion as a paramount source of information. People cannot tell the difference between real and fake news. More worrisome, it seems that most people really do not care.
Governments want to end net neutrality in order to regulate (and tax) the Internet The offspring of the original Internet pioneers are still thinking about creating a new "Internet 2.0"outside the current communication grid. But no matter how one consumes today's information, it hits your computer device either by a wire or tower signal owned by a major telecom. The game may have changed but the players are still the same.
The Internet has grown from a connection device to a communication device to a commercial monster. On-line purchasing power has started to cripple the old Big Box retail business model. Major retailers like Macy's and Sears have been closing hundreds of stores. Giants like Walmart have tried to tap into web commerce but still cannot chip away at the scope of Amazon's distribution power.
The ease of the net app world has made letter writing as obsolete as physical, paper textbooks. The postal system is delivering less letters and more Amazon purchase boxes (even on Sunday mornings). Even with the technology to bring people closer together, world powers have seemed to amp up their hostile rhetoric and dangerous provocative weapon policies to put the globe into another Cold War era.
Cute cat videos have given way to monster fail videos, epic food creations, video bloggers rambling about odd topics, women becoming Instagram divas and video game highlight reels more important than resumes. The net is a platform that allows anyone to post their oddities with the hopes of it becoming a viral rage with the half life of a firecracker.
The future is uncertain. The net could be reaching its plateau or it could take another leap to evolve into something else. This site continues to go along for the Ride.
cyberbarf
TOP BANANA TREND
According to South Korean retailer, E-Mart,, bananas were the most sold fruit in Korea during the first half of 2017. Bananas have overtaken apples as the nation's most popular fruit. The giant retailer sold $32.48 million worth of bananas in just six month. But the reason for this trend is unusual.
Bananas used to be a luxury in Korea, but have become cheaper and cheaper because of imports from the Philippines. Bananas are now one of Korea's most affordable fruits, even though a bunch still costs on the average $2.65 US. Bananas are becoming very popular among young people for an interesting reason.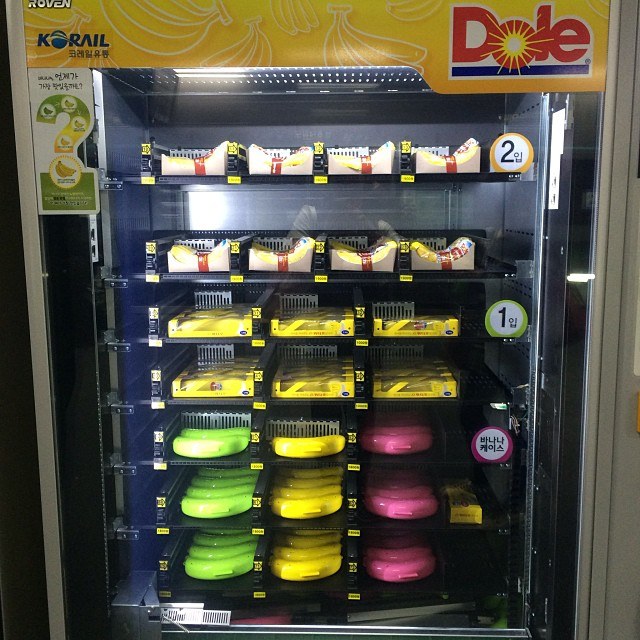 Banana Vending Machine in Korea. Source Koreaboo.
It is a meal substitute. Young people are skipping meals by eating a banana. Banana vending machines are even popping up around Korea for anyone looking for a quick meal. "Bananas are cheap and popular among young women as an alternative to a meal, " Lee Jin Pyo, E-Mart Customer, said. South Koreans are especially concerned about their appearance. Korean beauty products are now a growing export throughout Southeast Asia and China. People tend to try to mimic their female idol stars "S" curve bodies. The idols themselves have reported that they have strict diets and exercise routines in order to make weight restrictions set by their agencies. One pop singer said she was eating only one small bowl of rice a day just to keep her weight down.
South Korea is an industrialized nation that is in a slow growth period after a major political scandal. Only 1 in 5 Koreans use their vacation time because many fear losing their jobs or weakening their performance. There is a growing high college graduate unemployment rate as the local economy cannot take in so many highly educated, white collar workers.
So it is natural that people find ways to cut costs in order to make ends meet.
The globalization of food will continue. China continues to be the largest purchaser of Midwest US grains and soybeans. Earlier this year, another bird flu scare found South Korea importing eggs from the United States via large cargo airplanes. It was the first time that Korea had to import such a staple food of eggs. Just like in the United States, this year's weather patterns may also affect global food markets - - - heavy rains in the US and Korea may cause crop issues and higher consumer food prices.
But in any situation, clever people find a way to make things work. The use of vending machines to sell perishable foods is unheard of in the United States. But in Korea, vending machines selling bananas meets a growing consumer demand with the ease of convenience.
cyberbarf
FOUND BUT NOT LOST ON THE INTERNET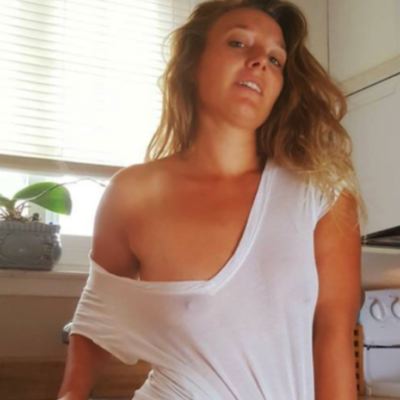 A Nevada Mom is taking provocative selfies of herself in order to support her family. Even though most people rarely make money on the Internet, including most YouTube stars, this lady claims to be making tens of thousands of dollars uploading images of herself to her fans.
Source: Yahoo News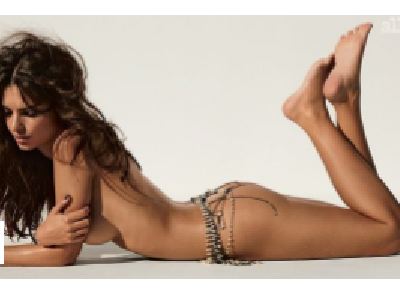 Meanwhile, a supermodel claims she is being hurt by people complaining about her large breasts. Emily Ratajkowski rose to fame when she danced naked alongside Robin Thicke in his 2013 music video for "Blurred Lines," but these days the 26-year-old model wants to change the way the world views sexuality onscreen. "It really bothers me that people are so offended by breastsÉThatŐs when I realized how f* * *-d our culture is," she told Allure for their August 2017 issue. "When we see breasts, we donŐt think of beauty and femininity. We think of vulgar, oversexualized images." .She was complaining that people who are offended by her looks are costing her opportunities. Which is an odd statement since her entire career is based upon her beauty.
Source: Fox News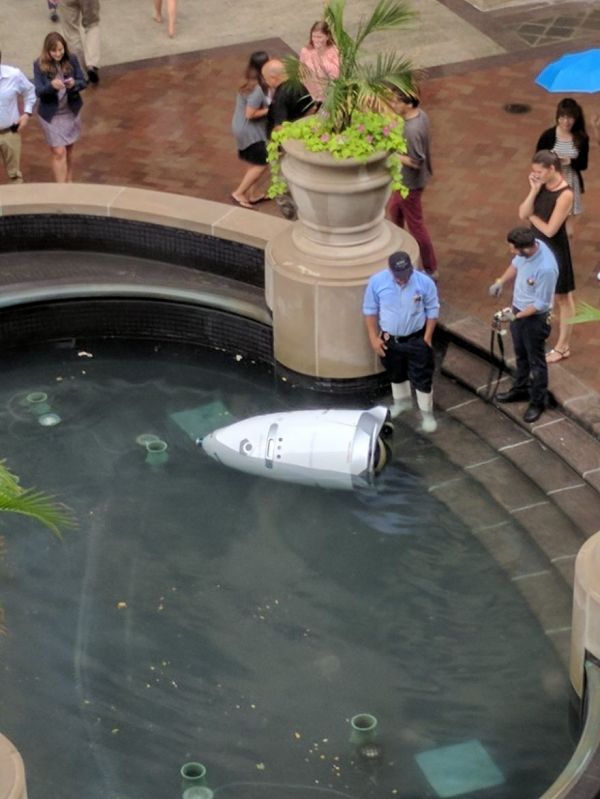 And speaking of career suicide, a KS security robot patrolling a mixed use complex in Washington D.C. while on duty went for a catastrophic dive. The security robot fell into a fountain, taking the unit out of commission. Real security guards had to come to the seen to salvage the robot. It appears automation of some jobs can only go so far.
Source: Arstechnia
iToons