cyberbarf
FOUND BUT NOT LOST ON THE INTERNET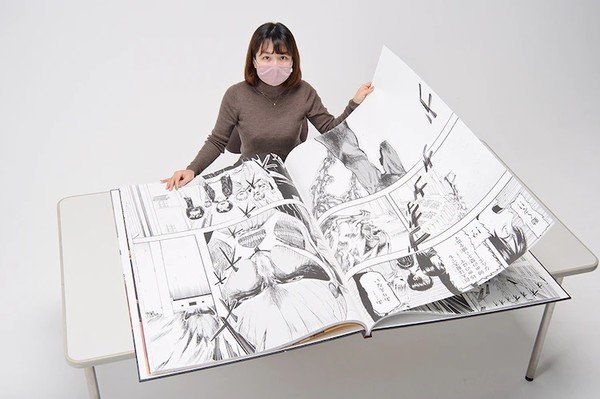 Kodansha is attempting to break the Guinness World Record for largest comic book published by issuing a new Titan-sized print of Attack on Titan's first two chapters. Kodansha has released some images demonstrating the scale of the book, which is reportedly 6-7 times than a regular size. The current record holder is the Brazilian comic Turma da Monica in 2016. A copy of the new Titan collectable is more than $1,500 US.
Source: Anime News Network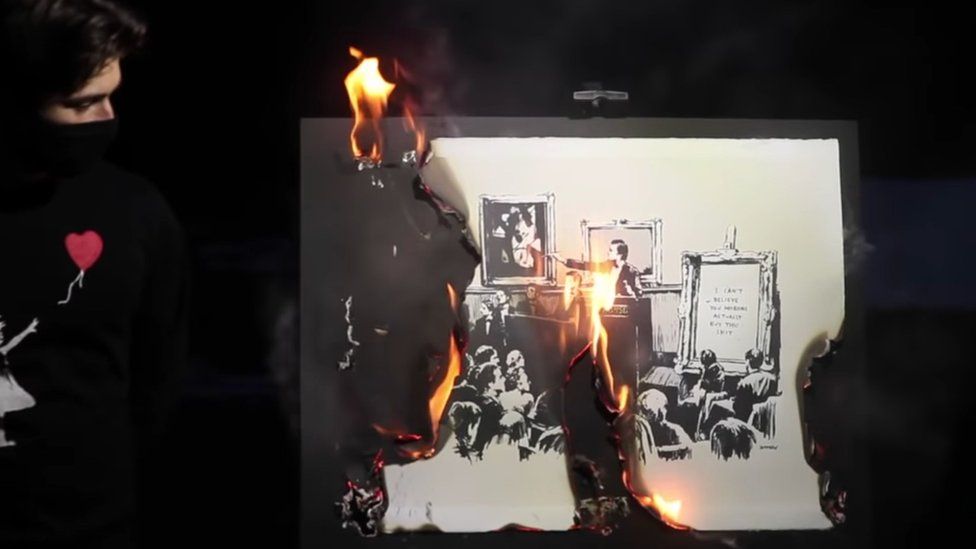 Banksy art burned, destroyed and sold as token in money-making stunt. Banksy continues to be in the art news. This time one of works is set on fire and the remaining image sold as a digital token, which is really merely a bitchain encrypted certificate of ownership, but not ownership in the normal property world. These art tokens merely track the ownership of an URL link to the artwork. It does not transfer any ownership or original copyright to the work. It seems odd that someone would pay hundreds of thousands of dollars for an encrypted link to a jpeg file, but the art world has always been strange and cynics say a way to money launder.
Source: BBC
cyberbarf
RETURN TO THE PAST TRENDS
In a pandemic year, the confinement has led many people to return to past activities in order to kill time or better themselves.
Blogging is becoming popular again as more and more people spend time at home. According to Internet portal Naver, the total percent last year to a staggering 298.1 million. Several factors are at work according to Chosun Ilbo. First, a growing number of people work from home or study online. Kim Hyun-kyu (28), a job seeker from Mapo in Seoul, started a blog in August of public accountant and started writing a blog to offer tips on studies. However, lockdowns also took its toll on instagramming, and with fewer pictures and videos being posted on the platform because people could not vacation, travel or meet friends in public cafes or bars. Some have started blogging to supplement their income. In the case of Naver, blogs that have more than 50 posts and attract more than 100 visitors a day can carry ads. A Naver spokesman said there was a sharp increase in the number of bloggers who earn more compared to about a year ago.
Diary and scrapbook decorating are also in vogue. In Asia, elementary school children often write their New Year wishes in their diaries. Diary decoration has become a fancy trend for these children. But it did not stop with them. Young adults and parents have gotten into the habit of writing diaries or creating scrapbooks. One reason could be to document their personal feelings during a trying year. Or to off-set the hardships by creating something positive with their time.
Home improvement is also on the rise because people are living at home all day. Cleaning, remodels and home repair fixes via YouTube videos. In the past, every husband was a weekend handyman. a spouse would get a maintenance to-do list. But in good economic times, couples would hire contractors to do even the little routine jobs. But with YouTube instruction videos on every subject, more and more adults are self-repairing their toilets, painting their rooms, redoing their floors and organizing their closets.
More people have open channels on YouTube and TikTok. Korean actress Lee Si-Yeoung was first one to amass more than 10 million followers through her very funny skits. Some of these videos have been controversial as their are dangerous challenges that can harm naive children. But for the most part, amateur video content is harmless, dumb things. Media tracking firms have concluded that more people get their news, information and entertainment from Internet videos and SNS than traditional media.
Cooking is probably the biggest retro pandemic re-discovery. Again, the Internet is filled with exotic food pictures and recipes. Any major grocery chain can have global ingredients so people are making their own BBQ sauces, stir fries and baking goods. To counter this, fast food chains have been ramping up special menu items to get customers back to pre-demic levels.
Reading books is also on the upswing. The YA (Young Adult) market is thriving partly due to heavy on-line workload on students. Many have gone to reading novels as a means of escape the remote learning burden. Hobby shops reported increases in sales as at-home children need projects so their parents can do other work. Korean dramas streaming internationally have increased the genre to have hundred million dollar investments by Netflix to create hallyu content.
But the negative side, 1950's McCarthyism is back in vogue. Toxic politics have lead to increased toxic social outrage. As Reason magazine opined, Americans' Lust To Cancel One Another Should Spark Soul Searching. It is the result of our overly politicized culture where many people like to shame and destroy their enemies, but it is undermining the benefits! of free and open dialogue. Without any facts or context, posters routinely question other people about their opinions, privileges and ethnic sensitivity. Editorial cartoonists have been beaten back and blocked because people do not understand that political cartoonists use satire and parody to opine their views. But people, editors, readers and platform AI blocking programs cannot sense the difference between satire and hate speech.
The BBC reported on a odd trend. Doomscrolling is the activity where people seek out bad news in order to make themselves feel better. If you are alone at home without a boyfriend, that is all right because you just read about a man who just got killed in an accident. His crying girlfriend is seen grieving in a photograph. Social observers think that the coronavirus' deadly first months instilled fear in many people. In order to raise their self-esteem and make themselves feel better, they make indirect comparisons with the less fortunate. The downfall to this is that people will become less empathic to others. For example, charity donations have plunged for the second straight year. An uncertain or bad economy is to blame, but there is a thought that many people now believe that charity begins first at home.
The pandemic may have changed people's basic habits. Some in a good way. The wearing of masks, cleaning surfaces and social distancing has dramatically reduced cases of the normal flu and common cold. People finding new personal growth activities is also a healthy change from sitting all evening in front of a wide screen TV or smartphone scroll.