Coronavirus is a novel virus, meaning that it is a new form which humans have not had a chance to gain natural immunity. It is transferred by water particles from coughs, sneezes and human touch. It is a respiratory illness that can target any age group, but is more lethal to those persons with pre-existing medical conditions or compromised immune systems.
Wei Guixian, a 57-year- old seafood vendor in Wuhan, China, was among the first 27 people to be diagnosed with the coronavirus, which originated from the wet market where she worked. Wei first began exhibiting coronavirus symptoms on December 10, 2019. She was admitted to the hospital less than a week later. Her doctors described her condition as "very serious." Other vendors from the same market began to check into the hospital soon after. Wei recovered and left the hospital in January. The Wall Street Journal reported many people would have not died in China if its government acted sooner, Wei told the paper in a February interview.
Wei is considered by some as Patient Zero for the pandemic. This is not the first time a person has been identified as the potential source of a rampant disease. In 1901, Mary Mallon, also known as Typhoid Mary, was an Irish-born cook believed to have infected 51 people, three of whom died, with typhoid fever. She was the first person in the United States identified as an asymptomatic carrier of the disease. Because she persisted in working as a cook, by which she exposed others to the disease, she was twice forcibly isolated by authorities, and she later died after a total of nearly three decades in isolation.
No one knows when COVID-19 strain actually formed. There are some reports that more than 80 percent of the world population may have been exposed to the virus. Because it has similar symptoms to common influenza strains, it may have been around longer than scientists have been able to pinpoint. Researchers have attempted to trace the origins of the virus. USA Today reported that there are least eight strains of the coronavirus are making their way around the world. While much is unknown, hidden in the virus's unique microscopic fragments are clues to the origins of its original strain, how it behaves as it mutates and which strains are turning into serious health clusters while others are dying out thanks to quarantine measures. Labs around the world are turning their sequencing machines, most about the size of a desktop printer, to the task of rapidly sequencing the genomes of virus samples taken from people sick with COVID-19. The information is uploaded to a website called NextStrain.org that shows how the virus is migrating and splitting into similar but new subtypes. While researchers caution they're only seeing the tip of the iceberg, the tiny differences between the virus strains suggest shelter-in-place orders are working in some areas and that no one strain of the virus is more deadly than another. They also say it does not appear the strains will grow more lethal as they evolve because the virus mutates slowly and has an easy method to infect the human body.
Because the airborne virus can potentially remain on surfaces for 72 hours, isolation of both the sick and healthy have been the CDC's main policy objective. In 1917, the Spanish Flu ripped through the United States with devastating consequences. Entire families, entire neighborhoods were killed by the disease. It overwhelmed local governments and community organizations. It was the tragic event that made people believe in government health care regulations could save lives. New laws on sanitation, health and funding for research set the ground work for future epidemics. The fundamental reality is that people to people contact spreads germs as easy as passing a side dish around the table at Sunday family dinner.
In order to stop the spread, there were various crack downs against personal liberties. Nations began closing their borders to travelers from certain countries, especially China and South Korea (which had the second initial wave of infections). Then, restrictions on public gatherings (from 50 people to 10 to none in certain places). Public businesses like bars, restaurants, theaters were forced to close so people could not gather. Other industries had to suspend work because employees feared getting sick and/or their products were not selling as people could not go out to shop (for example, new car sales). The daily talk of isolation has given rise to the new lexicon, "social distancing" which means staying six feet or more away from the next person in line.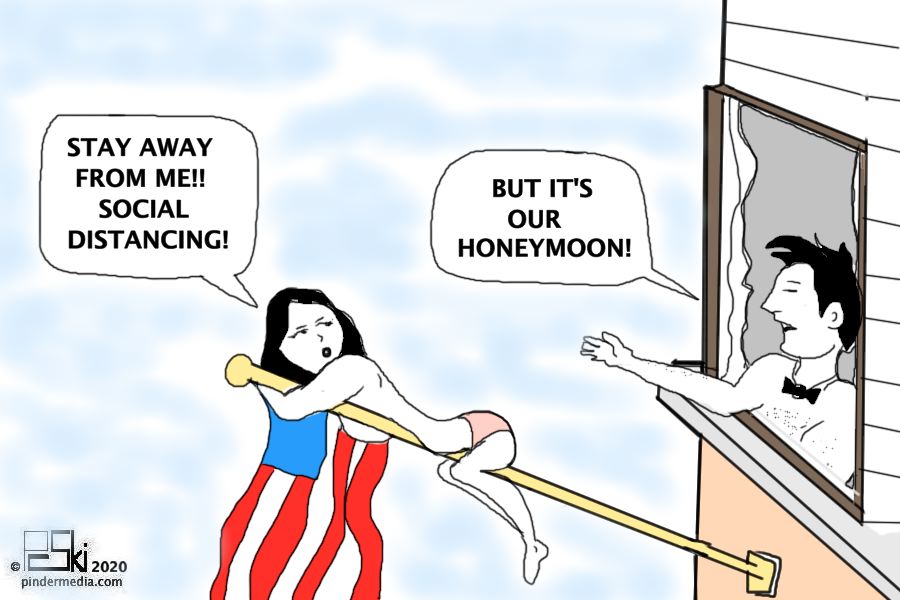 The threat of isolation led to panic buying in most parts of the globe. In the US, people began hoarding toilet paper, paper towel, sanitary wipes, disinfectants, pasta, eggs, and bread. Oddly, one grocery aisle that remained fully stocked were the snack and chip aisle. It could be that the lack of televised sports means less reason to buy salty snacks. Or, there may be an feeling that one has to eat healthy foods to ward off the virus. In any case, the result was a further run on toilet paper stocks - - - with angry customers fighting for rolls.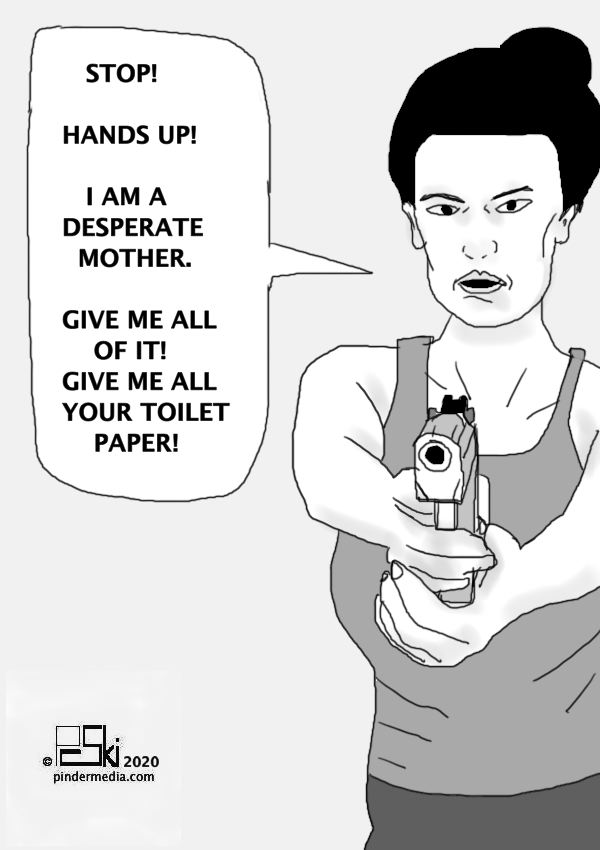 There was a great irony in the closure of the sports-industrial complex. Last year, the US Supreme Court ruled the federal government could not ban individual states from licensing sports books. There was a rush to open new gambling venues because states are desperate for new forms of revenue. They missed the opportunity on the NFL season and Super Bowl, but it still had the billion dollar waging on the NCAA men's basketball tournament. But just as conference tournaments began, the crisis ramped up to the point that player safety shut down all sports leagues. The lucrative March Madness tournament was canceled without a legal wager.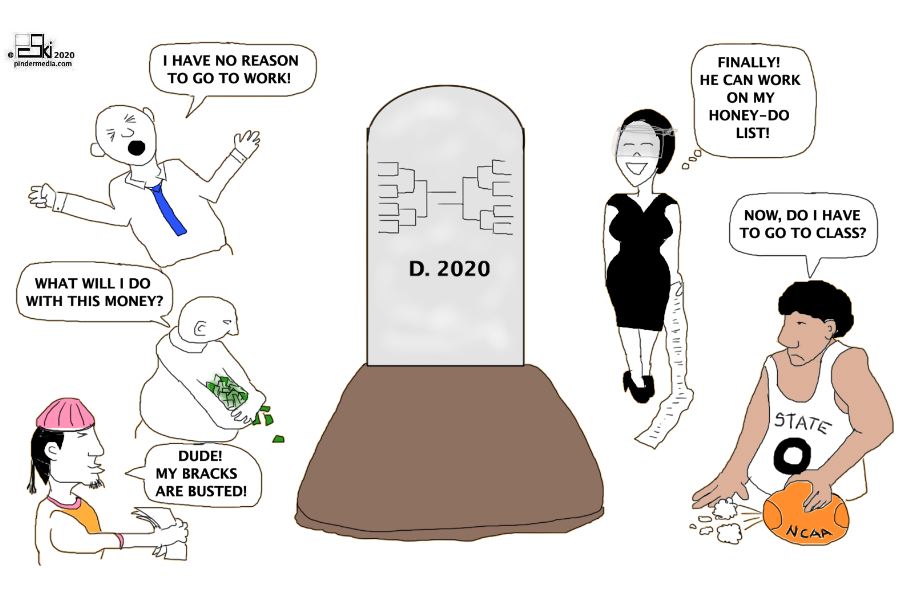 It was only a matter of time before major league baseball suspended its spring training games and postponed the start of their long season. It put into play many issues, including player's not being paid (because no games played) to service time issues. The union and owners have met to find solutions during this suspension, with the league contributing some money to idle players and staff. But there is still no certainty if and when the season could be played.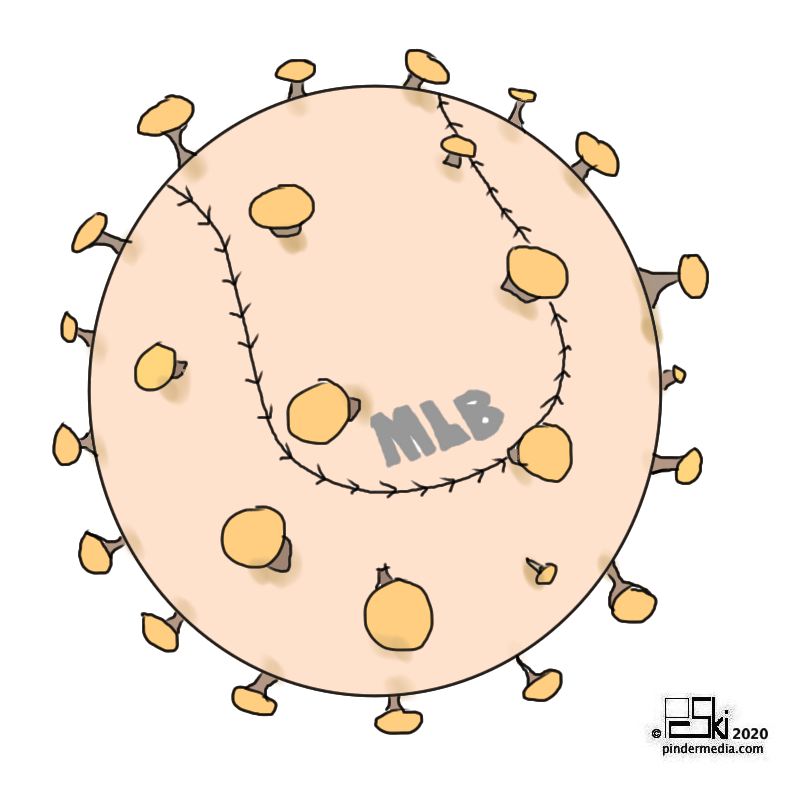 There have been some affect on fan withdrawal from their sporting lives. Sports talk radio is very bad when the hosts talk anything but current sports. Gamblers, one of the hard-core sports groupies, have little to gamble on. Many commentators have lamented that American society may have become too dependent on sports as a diversion from their daily lives. It is true that professional sports is year round entertainment but it is only one of many. Film and television shows, especially original content providers like Disney and Netflix, should take some audience share with sports-less shut-ins. But film theater owners are hurting because their venues are closed and new releases that should be held for them are being ported directly to on-line platforms. Some theater chains may not survive to re-open.
But there is a more urgent survival plan. The concept of "flattening the curve" is to make people aware that a community health care system can be easily overwhelmed to the point of collapse. A hundred bed hospital can accommodate 100 patients, but it may not be able to handle 100 patients in the emergency room on an hourly or daily basis. An epidemic can tax the medical staffs, basic resources like masks and gloves, and facilities (hygiene, safety, procedures). The front line medical staffs are the ones most at risk to infection and crisis fatigue.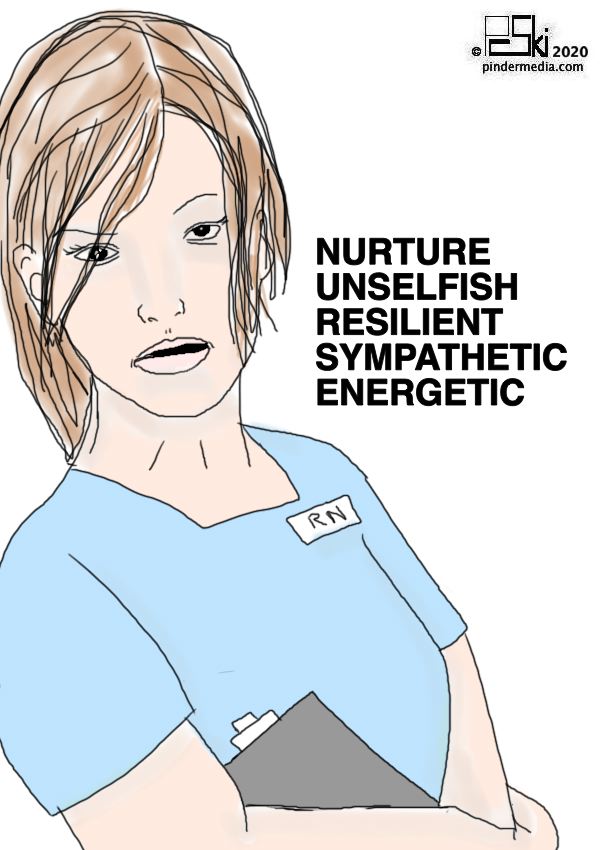 But in a crisis, there are opportunities. Sage politicians always say "never waste a good crisis." With millions of Americans out of work and the country facing the prospect of a recession unlike any in recorded history, Congress got to work on a stimulus package that was supposed to tide workers over until the virus passed and the economy reopened. It began as a trillion dollar relief package to help workers, small businesses and the sick to live during the closures and disruption of their daily lives. But as Reason.com has written numerous times, the coronavirus bailout bill ballooned with political pork projects to more than $2.5 trillion spending plan that included such pandemic essentials as $35 million in funding for a performing arts center in Washington, D.C., new rules requiring more diversity on corporate boards, and new emissions requirements for airplanes. There are huge bailouts proposed for certain industries, like the airlines.
It also imposed huge new burdens on most businesses, large and small: expanded paid family medical leave, and increased unemployment insurance benefits. One result of the bill's proposals were a surge of business layoffs to avoid having to pay idle employees benefits when their businesses were shut down. There are many new loan programs, which have to be repaid, retirement account access without penalty, which have to be repaid if a virus related distribution/loan, and a huge $500 billion corporate bailout slush fund. The Federal Reserve has been printing money to hold up the volatile markets to the tune of $4 trillion. But a continued collapse of confidence in stocks and bonds, and a looming deep recession means a massive federal deficit that could cripple small business and consumer capital in the near future.
Beyond the economics, the politics disturbs civil libertarians. The health crisis has unleashed almost unlimited police power against individual liberties. Churches have been closed (freedom of religion, freedom of assembly). People are forced to stay at home or threatened with arrest (right to travel). Businesses are forced to close (taking of property without due process). Public gatherings like protests are banned (freedom of political speech). Civil libertarians are worried that government officials who now function by executive fiat will want to retain their authoritative controls after the pandemic ends.
Immunologists believe that the coronavirus will weaken and mutate into a milder form. Because the virus is cloaked in an oily protein barrier, warm weather could literally heat up its shell which would break a part its structure creating inert matter. Just like seasonal flus, the virus best environment to reproduce is in cold, dry weather. A change in climate could change the tide on the spread. That is why some researches look to the 60 day window for containment of any outbreak. In Wuhan, things are getting back to normal after a hard two months. The temporary hospitals have closed. Businesses have reopened. Travel into the providence has been re-established.
In the US, urban clusters continue to grow. But since the virus hit America after Asia and Europe, it may run its course quicker if the containment efforts actually work. Lost in the rhetoric is the fact that regular influenza is expected to kill more patients than COVID-19. The human emotion of the fear of this new, unknown virus led to a cascade event that has shut down great portions of the global economy. Lives have come to an sudden stop. It will be interesting to see if there will be any lasting psychological effects of the pandemic, the strain on interpersonal relationships, a weak or strong economic recovery and a new attitude that government benefits are better than straying from home to work.
cyberbarf
REVENGE OF TECH DOWN THE UPGRADE
New network printers are supposed to be PLUG and PLAY. Right?
Things were bad from the start. The printers did not come as ordered in the sense the manufacturer thinks the manual feed constitutes a full paper tray. Of course, customer service is closed until Monday morning. So the weekend installation progresses with plugging in the power cord and network ethernet cable. The devices show up on the network print screen. But then things turn south.
The new printers have operating system requirements above some of our current computers. But that never stopped a network printer before. An older OS computer got set up easily by using its bonjour protocol and generic postscript printer driver. But a computer with one version newer OS had major problems. It could add the new printers in the print menu, but it could not print to them. It could locate the printer and send a document to print, the printer would ping then pause to freeze. Adding and deleting the printers was a pain.
We went to the printer manufacturer's web page to download any update in the printer's internal programming, including a firmware update. On the first printer done, the computer with the major issues got it to print. But with the second printer, the same computer could not reach it (even with the same settings). Then an hour later, the working first printer failed too. The tech ghosts were playing maddening games with us.
A further re-install of the web printer updates led to no real progress. The only work around for the computer was putting in the actual printer IP addresses in the print location utility. We did not have to do this for any other office computer. It remains a mystery.
Through the set up of new computers (and making the legacy computers work with the new printers), we found that the installation of program updates (software and OS) were extremely slow. Half and hour plus slow. The programs may be fat monsters. But this was ridiculous.
On Monday morning we will tell whether the solutions have held, or whether the tech ghosts are going to play more games.