The collateral damage from the scandal was quick. Jung shared his alleged illicit videos on the social media app KakaoTalk, with other celebrities, including Seungri. In one alleged chat conversation, Jung said, "Let's all get together online, hit the strip bar and rape them in the car." Another member responded, "Our lives are like a movie. We have done so many things that could put us in jail. We just havenŐt killed anyone." On March 14, Yong Jun-hyung of Highlight and Choi Jong-hoon of F.T. Island admitted they were participants in the chatroom, and resigned their positions in music careers. The agency for Lee Jong-hyun of CNBLUE, FNC Entertainment, admitted his involvement on March 15.
The chatroom also exposed popular actor Cha Tae-hyun and comedian Kim Jun-ho with allegations of golf gambling in large amounts. They both quit all their television programs, including 2 Days & 1 Night, where they were co-hosts with Jung. Many international fans were stunned by the Cha and Jun-Ho resignations for merely gambling on golf. However, South Korea has very strict gambling laws. It is illegal for Korean citizens to gamble inside or outside the country. A singer from a girls group was recently sentenced to a suspended jail term for substantial overseas gambling. Many commentators remarked that Cha and Kim's resignation statements were exactly the same (as if they met to get their story straight) when they said the bets were merely for fun and the money was returned after the round. But if that was true, then why did both men resign from all their shows to go into hiding?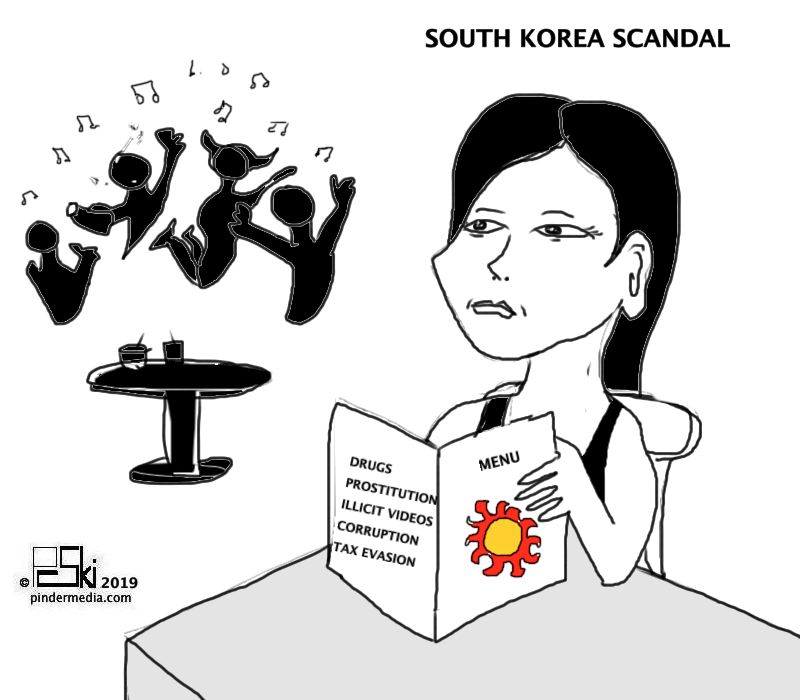 The scope of the probe continued to expand. Seungri claimed that one chat about getting women together for a foreign investor meant that he was gathering up some girlfriends to escort a Singapore billionaire's daughter on a Seoul shopping date. However, the person inferred in that statement came forward to deny the statement. She basically stated that she went to the club once in December with her four girlfriends. They drank and left on their own. They had no involvement in the club and the allegations against it. Some have speculated that Seungri was looking for an alibi for that December conversation, and this Singapore party was at the club at that time. Seungri was basically caught, some say, trying to throw an acquaintance under the investigation bus.
Other chats indicated that Seungri wanted to round up women to service VIPs at the club or at a hotel. Prostitution is illegal in South Korea. Forcing women into sexual services is a sensitive subject in Korea from the bitterness of the Japanese occupation prior to then end of World War II. There are many alleged instances of Seungri attempting to line up women to come to parties and entertain his guests. There were also reports that he brought women overseas to a lavish party in Philippines. On March 10, Seungri was booked on sex bribery charges (sex-for-favors or supplying prostitutes). The following day, he resigned from entertainment on his Instagram account, stating that he had caused a "societal disturbance" and said he would cooperate with the investigation. At the end of March, Seungri told the director of SBS''s investigative program, Unanswered Questions, in a text message, that the lawyer whistleblower and journalist were responsible for criminal allegations against him. He told a local newspaper that he would be vindicated, but the public would not believe it.
The only reason this story broke was that a whistleblower, a person with inside knowledge and access to these chat rooms and data records, brought the materials to a Seoul attorney. The lawyer, looking at the 200,000 text messages, believed that there was probable police corruption involved in the matter so he bypassed the local police and prosecutors to a national corruption board, Anti-Corruption and Civil Rights Commission. Once the story broke, the lawyer was summoned by police. He said the police were more concerned about the source of the materials than the criminal allegations contained in the materials. Since the story broke, the whistleblower's identity has been kept secret for fear of retribution.
There were allegations and reports that several Burning Sun staff members tested positive for drug use. As a result, the police announced over 500 drug related arrests on March 25, 2019 after declaring "total war "against drug crime due to the scandal at the Burning Sun. Of the 523 arrests for the use and distribution of drugs, 216 were detained. 421 cases, or 82 percent involved psychotomimetic drugs like GHB,a common date rape drug, and one alleged to have been used at the Burning Sun. In addition, several police officials have been arrested in connection with a corruption probe.
But things would get worse. A woman recently came forward to claim that she believed that she was drugged and sexually assaulted at the club. She was drinking at a table with Chinese businessmen when she awoke at 10 a.m. the next day at a police station being charged with assaulting a guest at the club. Her clothes were in a disarray, so she believed that she was drugged and assaulted at the club. She demanded a drug test. The local police were allegedly callous toward her, and they claimed that the result was inconclusive.
In light of the videos which showed unconscious women being assaulted in the club's VIP room, the woman's story sounded credible. She has filed a complaint against the police for an improper investigation.
The incident does show a heinous pattern of abuse toward women. If a club promoter drugs a woman to be used as a sexual mat for male high rollers, then afterward tried to book the victim with a crime to cover up his own crime with the cooperation of the local police, it shows no boundaries or respect for the law. One member of the chat room shared a video of a woman who owed him money. He remarked that he should use the video to black mail her since she was fairly well known in the industry. Other chats indicated that Jung would contact young women, trainees at some agencies, and tell them that he would make them famous if they slept with him. This is a classic sexual predator process.
Jung was not clean before this scandal broke. In 2016, an ex-girlfriend charged him with sharing videos without her consent. The police dropped the investigation after it claimed it could not get Jung's cellphone data. In 2018, Jung was investigated again for the same allegations, but that investigation was quietly dropped by police. In the chatrooms, there were alleged conversations between the group members that they had connections with police officers and high ranked officials to get around DUI charges, keep their names out of the media, and to get around local laws such as kitchen hygiene or tax laws.
Burning Sun, like many other clubs, was falsely licensed as restaurants and not entertainment establishments. The real was simple: entertainment clubs had to pay an addition 13 percent in taxes. In order to fake out inspectors, it was reported that one club printed up fake menus. But it was apparent on social media photographs that these establishments had stages, dance floors and DJ booths. It was an open secret. Another investigation is now pending against police officers for public corruption and bribery.
But the story does not end here. New allegations have surfaced that a minor cashed out his mother's credit card to enter Burning Sun. He allegedly spent $20,000 at the club before his mother came to drag him out. The mother allegedly scolded the staff about allowing a minor into the club, but nothing happened of consequence until the mother renewed her charges after the scandal broke. The idea of underage drinking is a serious offense. But the amount of money being spent in the club was staggering. Another report claimed that a Taiwanese woman, who was a Seungri fan, would come into the club to spend $200,000 in one night. Later, another report alleged that this woman may be a secret owner of the club, who used it to launder money. The scheme alleged that she would be charged three times the price for drinks, then 2/3 of the funds would be deposited into her secret bank account. And when investigative reporters turn up the fact that Seungri cultivated many overseas millionaire investors, including an overnight $30 million deposit to fund a new business venture, the implication is that it has organized crime ties.
It may come down to tax evasion that brings down these criminal enterprises. Burning Sun closed, but it appears that a new club was ready to open in the same location. A news station had a local accountant review tax records for the business with charge receipts and he concluded that Gangnam clubs could easily underreport 30 percent of its gross income. Burning Sun was only open for a year, but the amount of potential skim could have been $14 million (US). The indication that this was standard operating procedure had lead to a massive 100 auditor tax investigation of Seungri's old agency, YG Entertainment. It was reported that YG's principal owners/officers may own as many as 10 clubs. Prior to the actual tax audit, K-fans reported that there was an early morning document shredding at the corporate HQ and later a computer server maintenance/removal service. Critics believe that this is circumstantial evidence for destruction of evidence.
Which is not unheard of in this scandal. When the story broke, another chat session stated Seungri telling his friends that the news was bad and that everyone should get rid of their smart phones. When Jung was arrested after he returned from LA, he turned over a phone, but not the Golden Phone which contained most of the alleged criminal activities. He disposed of his old phone in LA and brought a new one to Korea. He also had to turn over two older phones, which confirmed the 2016 events. It was also reported that chat room participant tried to reset his phone to erase all its data. Police are in the process of retrieving the data.
Seungri was the self-proclaimed Great Gatsby of Korea. He was a showboating celebrity who was obsessed with money. He may become the ultimate fall guy for this scandal (along with his inner circle of business partners and friends). But citizens are still upset that probes into higher officials, such as the VIPs, foreign investors and other associates have not been forthcoming. The story began as a simple bouncer assault case. But it has snowballed out of control to include horrific allegations of date rape drugs, drugging women for sex, video recording of sex without consent, distribution of pornography, false charges against victims, bribery, police corruption, human trafficking, prostitution, tax evasion, obstruction of justice, destruction of evidence and money laundering.
But as shocking as these reports have been, some cynics are not surprised. On March 18, President Moon Jae-in ordered a thorough investigation of the charges against the Burning Sun individuals, but also to include two past similar cases, one involving a former vice justice minister, Kim Hak-ui, who was cleared of a scandal in 2013, but had new allegations of raping women and appearing in sex videos with them. The second case was the 2009 suicide of rookie actress Jang Ja-yeon, whose suicide note said she was forced to have sex with as many as thirty men by her entertainment agency. The handling of those cases had been criticized for nonimpartiality due to the involvement of high-profile figures.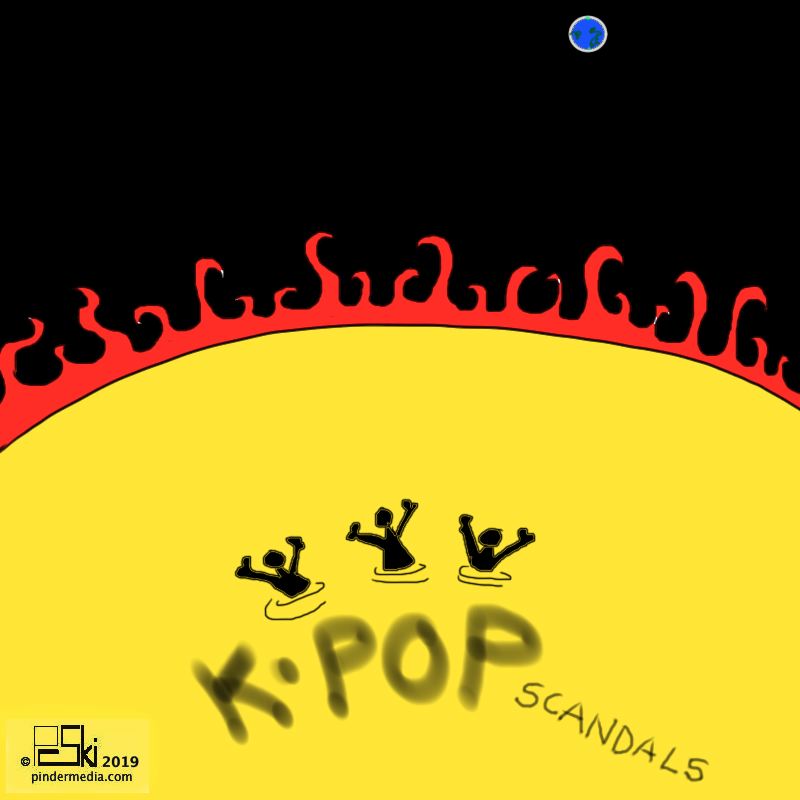 A lasting impression from this scandal could be sickening treatment of the entertainment industry who trap, abuse and use young women without regard to basic human rights or morality. The Korean entertainment industry was once described as being the worst aspects of the old Hollywood studio contract system and the American record label exploitation of its artists.