cyberbarf
WHO OWNS YOUR DATA? CYBER-RIGHTS
There is a great paradox between privacy rights and the public interaction when using the internet.
Individual users may think that they have an expectation of personal privacy while they surf the web. However, governments and police officers believe they have unfettered access to anything that is in a public domain, whether it be on a public street or data being transmitted from servers to terminals.
It really depends on how a nation's citizens view their privacy rights against the type of government control they allow to be imposed on the populus. For example, China's latest economic boom has created a growing, educated middle class in step with a very rich, elite political class. This current youth generation fancies itself as being modern, internationalists. They like to consume Western goods, services and culture. However, their government wants to continue to assert control and censorship over all information content.
The oddity is that an external security issue has led China to crackdown on their own citizens' wants and desires. South Korea is the midst of an internal upheaval. Its impeached president has been arrested for multiple counts of corruption and misconduct. She is the third president out of the nation's eleven to have been arrested. This turmoil comes as North Korean's dictator continues to launch offensive missiles against his neighbors. Japan and South Korea are still at odds over the history of pre-World War II conflicts. But it when South Korea acquired a sophisticated U.S. anti-missile system, THADD, that got China's leaders mad as hell.
China's middle class fell for South Korean culture, commonly known as The Korean Wave or hailyu, by wanting to embrace Korean culture, music, entertainment, beauty products and food. It was so popular that many Chinese stars teamed up with top Korean actors to make films. But in order to punish Korea for exercising its right to self-defense, China banned all Korea products from being sold in its borders. It also banned its people from accessing Korean on-line content.
Korean news outlets note that the anti-hailyu ban started in October, 2016. But Chinese consumers still gained access to popular Korean TV dramas and films through on-line streaming services. However, China has now cracked down on the practice by blocking access to those services. The continuous blocking of South Korean entertainment is expected to have a great negative impact on Korea; resulting in decrease in profits for Korean entertainment companies and decrease in overall popularity of Korean media in China.
It is unclear why China is so upset with South Korea's upgraded defensive systems, but one has to understand that China is fighting with all its neighbors over the South China seas. China wants to control the untapped oil and natural gas fields in this area. If Korea has a strong defense, some believe, China will have a harder time bullying its way into these disputed waters.
It is ironic that South Korea's popularity in China comes after China displaced Korea as a major exporter of manufacturered goods to the West. Korea tipped its modern manufacturing revolution when Japan hit its 1990s recession. Now that China cannot sustain growth without increased costs of labor, fuel and transportation, countries like Vietnam are beginning to take manufacturing away from Beijing because of their lower costs. But all these countries desire to both maintain their own unique cultures but also embrace the benefits of exporting their cultural icons to everyone.
So the first hurdle in the question is whether your government will allow you to even exercise your free market individuality to consume whatever product from whereever.
The naive think such tactics would never happen in the U.S. or in Europe. But as CNet reported, even democratic governments are trying to regulate both internet content and providers. A proposed German legislation would allow the country to fine social platforms like Facebook and Twitter tens of millions of dollars for failing to adequately police content that runs afoul of the law. In a statement proposing the legislation, German Minister of Justice and Consumer Heiko Maas says that free expression ends where criminal law begins, and that social platforms have failed to do enough to take down criminal content posted to their sites Maas claims to fake news as potentially slanderous content that may, cases, violate German law. Germany is trying to criminalize what people post or read on the internet. This has pro-individual rights groups to cry foul.
Content platforms and ISPs like to claim that they are static players in any libel, slander or false reporting of news by their users. The industry has successfully garnered safe harbor provisions in the evolving world of digital rights. But the content platforms are not saints when it comes to milking their users for their own motives. Since platforms and ISPs control the connections between people, they can gather any part of your digital fingerprints, from browser history, click throughs, likes and purchases.
In the past, the FCC and FTC sought to enforce privacy rules against ISP abuse. However, a turnover in Washington has led to a swift regulatory reversal. The new Congress has moved to dismantle some Obama era rules that would have protected the online privacy of everyday Americans. The deregulation means it will be easier for huge telecom companies to track and sell their customers' browsing history. Without the FCC's privacy rules, ISP will be able to track, collect and sell not just information about web pages you visit but all your activity any time your computer accesses the internet. For example, if you check a sports score on your phone, your ISP could know that you are interested in that sport so to serve up ads about sports jerseys or caps. They will sell your data about your daily habits to a marketing firms so that they could serve (and sell) you more relevant ads. You are suddenly a new cash cow ready for the deregulation milking.
The Electronic Freedom Foundation (EFF) caught Verizon's AppFlash as being alleged spyware Verizon was set to launch a new product for Android users called AppFlash. It is supposed to send content such as restaurant reviews or movie listing from different apps - - - even if you had not downloaded them. The EFF called the app spyware by pointing to terms in Verizon's own privacy policy that say the app will collect information like your phone number, device type and identifiers, operating system and the apps you have on your phone. That data could be shared within the Verizon family of companies, including its AOL advertising unit, as well as places, including non-Verizon sites, services and devices. This charge came just a few just days after Congress voted to pull the plug on rules proposed by the Federal Communications Commission that would have made it harder for internet service providers to collect your data for advertising purposes. The ISPs argued that the rules were too stringent relative to those governing online players like Google and Facebook, while consumer advocates said the move weakens the protections for personal privacy. Verizon told both CNET and the EFF that AppFlash would initially work on a single phone as a test and that customers would have to opt in to use the app.
We live in an information age where data is valued more than ever. Everyone wants a piece of the digital action. The U.S. government has been using sophisticated NSA programs to collect mega data streams in real time. Federal and local governments have been using stingray technology to snoop on cell tower transmissions. Government officials claim that these intrusions in people's personal communications is necessary in order to find, track and stop criminal activity. If you are not a criminal, you should not be worried about the snooping. But that begs the real issue: is one's personal communicaions, including data, owned by its creator - - - and thus subject to the same Fourth Amendment protections against unlawful search and seizure? The consensus of legal experts believe that to be true.
If President Trump signs the new law allowing ISPs and service providers to collect and sell your personal data, then there will be a new battlefield. The creators of the game Cards Against Humanity have vowed to gather sufficient funds to buy then publish all the browsing histories of Congressmen and Senators. Whether that threat will stop the profiteering motive of lobby groups is in doubt.
The final issue on data ownership comes down to when a person dies. Does that person's Facebook account belong to his or her estate, or does all that information (including posts, pictures, friends) escheat to the service provider? Facebook and Google have been reluctant in the past to give deceased families access to those accounts - - - citing their terms of service policies. However, when many people use these accounts in lieu of physical diaries or photo albums, families are vested interests in preserving their family histories. Some providers now allow users to set terms of post-death access to their accounts. But since under U.S. copyright law, the author or content creator is the owner of the work (words or pictures), that property right is an asset of their estate by operation of existing state laws and should be honored by the ISPs and service providers. But there will be future litigation on the topic because free content is the best kind of content for digital platform companies.
It comes down to whether as a society we value personal rights to own, control and exercise individual unfettered access rights to all information and web content. But the conflicting interests of governments, businesses and privacy advocates will continue to make this unsettled territory for years to come.
iToons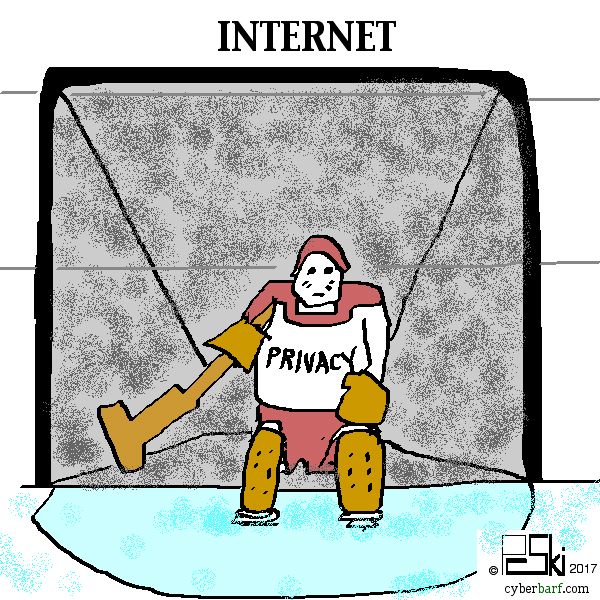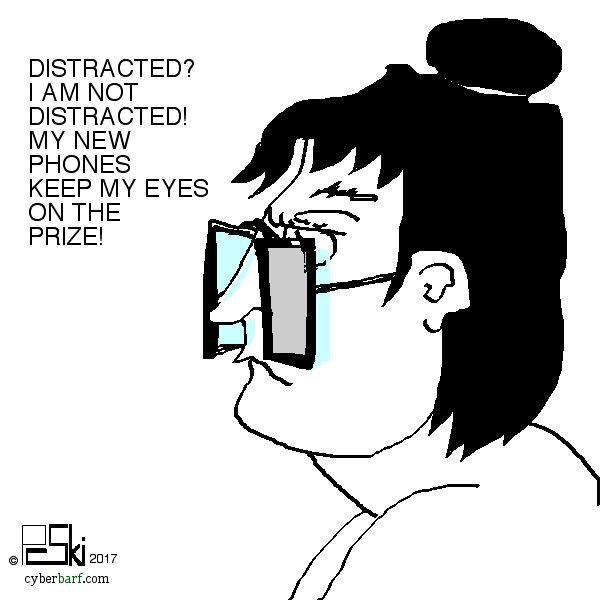 cyberbarf
A SHELL OF ITS SELF CYBERCULTURE
When you have an iconic entertainment franchise, the idea is not to screw it up.
But Paramount's live-action version of Ghost in the Shell is being universally panned by reviewers and critics.
The studio got into hot water the moment it announced its casting choices. GITS is a famous Japanese manga and animation series. It was the first to dramatically capture the intangible aspects of a digital world in a futuristic cyberpunk style. It fused important current topics like privacy, digital rights, government spying, police force, criminal behavior such as hacking into multi-layered, complex stories set in a high powered, high tech world. The main character is a curvy, cute Japanese female cyborg (a person whose body has been completely enhanced by technology elements and artificial body parts) named Major Kusanagi.
Instead of casting an Asian actress for the lead role, the studio chose Scarlett Johannson. Fans and special interest groups made their displeasure known, but Paramount executives moved forward with the project. In order to promote the movie, the studio created its own film meme generator. But people got a hold of it and turned their displeasure into direct protests like these: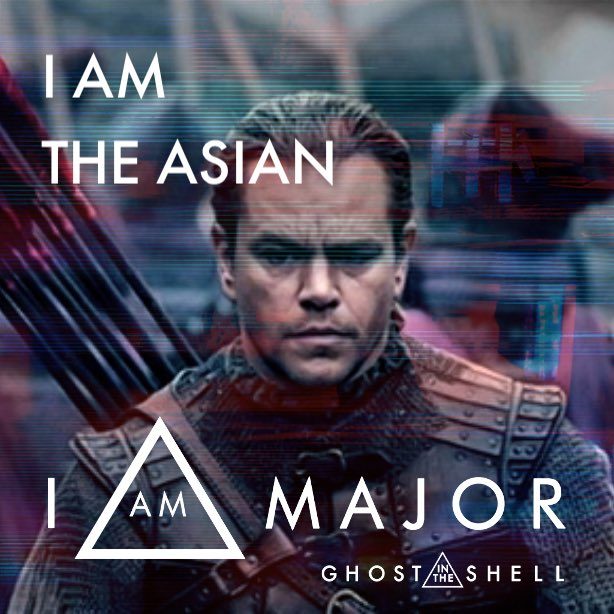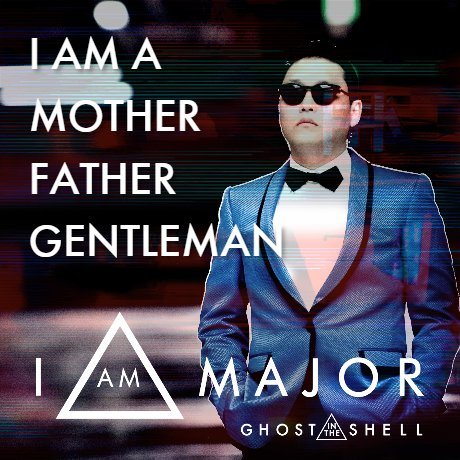 To add injury to the insult, when the movie was finally released last month, it was panned by viewers. It was a boring, vanilla Hollywood action movie. It lacked any of the anime series deep storylines or plot twists. It was mostly eye candy Fx special effects. The casting controversy was taken to the back burner because this big budget film paid no homage to its source material. It was a major disappointment.