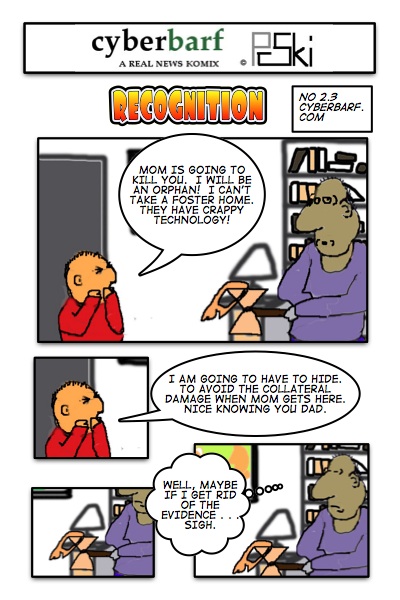 cyberbarf
LaPORTE RANT NEW MEDIA OLD NEWS
Leo LaPorte was a host of several shows on Tech TV. Our late Tech Guru showed us the weird programming that satellite television had during the turn of the New Century. All technology, all computer, all geek, all the time. LaPorte has made a living writing, podcasting and producing internet shows and commentary, with an emphasis on new media applications. He has a habit of jumping feet first in anything new, in reality to check it out and second to write or comment about it. He has run the gambit from cable television, local radio. Internet podcasting, blogging, Twitter, facebook and the next great social media buzz account. Until, August 22, 2010.
" Something happened tonight that made me question everything I've done with social media since I first joined Twitter in late 2006. You know me Š IÕm a complete web whore. I sign up for every site, try every web app, use every service I can find. ItÕs my job, but I also love doing it. I believe in the Internet as a communication tool. I love trying the myriad new ways people are using it to connect and I believed that social media specifically had some magic new potential to bring us together.
"When Google announced Buzz last year I was one of the first to jump on the bandwagon. I welcomed a competitor to Twitter that had the community features I loved in Friendfeed and Jaiku, and I thought Google had the best chance to create a second generation social network. I defended Google for its initial privacy stumbles and I began to use Buzz exclusively, replacing Twitter, Friendfeed, and Facebook. I built a following of over 17,000 people. I was happy.
"Then last night I noticed that my Buzzes were no longer showing up on Twitter (I use a service called Buzz Can Tweet that has been pretty reliably rebroadcasting my Buzz posts to Twitter.) I looked more closely at my Buzz feed and noticed that there had been considerably less engagement over the past few weeks. Then I noticed that I wasn't seeing my posts in my Buzz timeline at all. A little deeper investigation showed that nothing I had posted on Buzz had gone public since August 6. Nothing. . . ..
"No one noticed. Not even me. It makes me feel like everything I've posted over the past four years on Twitter, Jaiku, Friendfeed, Plurk, Pownce, and, yes, Google Buzz, has been an immense waste of time. I was shouting into a vast echo chamber where no one could hear me because they were too busy shouting themselves. "
LaPorte was humiliated, demoralized by the realization that the instant communication of the social media outlets leads in most cases to little or no social interaction. It is not that he did anything wrong. It is not that anyone was doing anything truly wrong. But just by jumping into the social media pool does not mean that you will create waves. You might not even get wet.
IN the beginning of our web publishing spree, we were fixated on the number of hits, then unique visitors to each site. But even that stat watch grew tiring . . . the highs, the lows, and the speculation what people liked or disliked varied like the weather. At a certain point in time, you stop looking at the web visitor charts and just do what you really set out to do: publish your own content in the freedom of the Internet space.
We could never really understand the mania of facebook friend counter until South Park and teens showed us that it was merely an elementary school popularity game gone wild. If one's self esteem can only be bolstered by the number of friends, no really, strangers, then our definition of friendship has been diminished more than sociologists realize.
Our society is losing its social communication skills. The next generation does not reach for one on one, in person, conversation. The current means of expression is via text messages; short blurbs and abbreviations. It is like radar sonar pings trying to land objects on their social screen. The art of the long, handwritten letter as a mode of communication is dead. The telephone conversation is on the wane as smart phones have made us less dependent on voice communication.
When a tree falls in the forest, and if no one is there to hear it crash to the ground, did it really make a noise? The same holds true to all forms of new media communication. As a content creator you can post just about anything on the network, but you really cannot tell if anyone is there to hear it? Or is there so many people out on the network, that no one can ever hear it because we drown each other out like static on a radio bandwidth?
cyberbarf
TEEN CELL PHONERS BY THE NUMBERS
If anyone wanted to know how a teen could rack up a $1,500.00 cell phone bill, Pew Research study of Teen phone use had the answer. Seventy-five (75%) of U.S. teens aged 12 to 17 have cell phones. Almost three-quarters (72%) of teens are text messengers. One third send more than 100 texts a day, and eleven (11%) text more than 200 times per day. A majority of teens (54%) text daily. Boys send and/or receive 30 texts per day while Girls send and/or receive 80 texts per day. Without an unlimited text plan, each text message is like throwing a quarter into a pay phone (which both are becoming rare in America.)
The raw data shows some interesting trends:
19% of used cell for illicit purposes, but only 3% who do not pay for phone usage do so;
64% of parents look at the contents of their childÕs cell phone and 62% take away phone as form of punishment;
52% limit the time of day teen may use cell phone;
48% use the phone to monitor their childÕs location;
46% limit the number of minutes teen can talk on phone;
Other uses for cell phone:
83% taking pictures; 64% sharing pictures; 60% playing music; 46% playing games; 32% sharing videos; 27% going on line; 23% access social networks; 21% email and 11% buying things (e-commerce).
It appears that the cell phone is the modern teddy bear/security blanket for kids. It has taken the place of a vast array of stand alone devices such as cameras, Walkmans, gameboys, videocams and laptop computers accessing the Internet, social nets or emailing buddy lists. In fact, email is trailing texting as means of communication by almost a 7 to 2 margin.
It is also interesting to note, that if a parent pays for the phone, and demands to look at its contents, a child's phone use is fairly clean. The importance of parental supervision and discipline is diluted when only 62% use taking away the phone as a form of punishment for misbehavior. But more strange is that less than half of parents use their child's cell phone to monitor their location in the wild. One would have thought that would have been the number one reason to get a family plan: to keep track of their kids so they don't get into trouble.
cyberbarf
WHERE'S OUR SPACE SHIPS? 1959 AD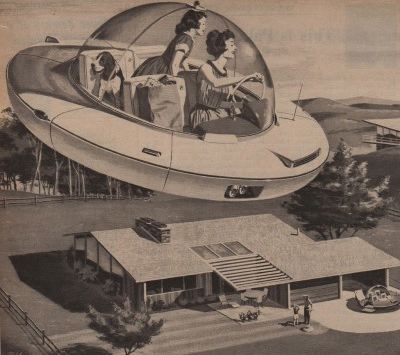 In 1960, President Kennedy challenged the United States to walk on the moon within the end of the decade. On July 20, 1969, American astronauts landed on the moon. The entire planet was watching when Neil Armstrong took the first small step for mankind.
Since that point in time, generations of Americans thought that the 19th century literature of science fiction masters like H.G. Wells would come to fruition by 2000. People dreamed of fancy technology, hover crafts, space ships to distant planets, the stuff of The Jetsons.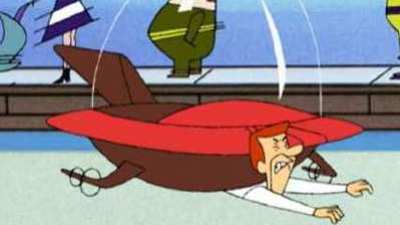 So where are our personal space ships?
The 1969 way of life has not changed that much. We still use the same basic vehicle, the gas combustion engine, to transport ourselves. The passenger jet liner still flies routes to and from cities. American passenger rail lines are basically now short term commuter runs from the suburbs. Solar power is still an expensive, non mass produced form of energy that has not been standardized for the average household. We still build our homes with basic materials from the stone age: rock and wood products. We still heat our homes with oil, coal or natural gas through an original grid of electric utility transmission lines. Our communication system is still routed and grounded in cables and wires. The transistors have become smaller and smaller, but the telephone is still really just a telephone, a means of singular communication.
In some respects, the American space dream peaked with the first man landing on the moon. Space flight has been pared back to an international orbiting space station, that is over budget and its purpose faded from our collective memory. Since then, probes have explored the solar system. Mars rovers captivated us in their search for water and life on the Red Planet, the planet of fictional invaders in The War of the Worlds. A few NASA pundits believe the next great project should be the Century Spacecraft, a ship that would send a manned crew to Mars forever, never to return. But that notion of colonization does not stir the hearts, minds or pocketbooks of the American people.
No, our personal space ships are kept where they have always been . . . in the fading pages of those sci-fi paperback classics.