cyberbarf
AUTOMATIC CARS ESSAY
General Motors is making a concept vehicle that drives itself. It is a combination of computer navigation, GPS, radar and laser tracking . . . so when you get into your future car, you won't have to drive your future car.
How useless is that?!
We know the bane of every teenage driving student and every stressed out soccer mom is parallel parking. There are a few manufacturer's that have the automatic parking feature, where the bumper sensors and on board navigation computer spin the tires and allegedly parks you into your parallel space without smashing into vehicles fore and aft. Quite daft.
But the whole point of getting one's driver's license is to . . . . DRIVE!
If you want to be chauffeured about then a) inherit a boatload of money and hire a driver, or b) take a taxi, or c) if you can't afford taxi fare, board a city bus. There is no point to buying an expensive car with magic electronics and NOT drive it. That is hopelessly counterintuitive for American roadmasters.
It is like those expensive European supercars which have "launch control" which is a computer traction control device to control wheel spin when taking off the line in a drag race. American muscle cars need no stinkin' traction control. American muscle cars are built with enough rear axle jolting torque to bend then plow asphalt from a standing start.
The joy of driving is the human bonding with the engineering expertise and power of the internal combustion engine while the countryside flies by the windows. You can hear the beastly V-8 come to life when you stab the accelerator pedal. You can feel the tires leap through the steering wheel when the tire scream into tight corners. American motoring is one part of the dictionary definition of "being alive."
Yes, a lot of $4.00 per gallon gasoline goes out the tailpipe of US rolled sheet metal. But the foundation of the nation's economy was the auto industry and its ancillary suppliers. It changed how we worked, how we traveled, how we thought about ourselves and how we played. When Henry Ford built the Model T for the masses, he meant it. He wanted everyone to experience the full body sensation of whipping along a country rutted road on a Sunday drive. A Sunday drive was just that: driving the car on a Sunday afternoon, not necessary going to a particular place, but just to drive. Driving is individual freedom, and America used to be all about individual freedom.
Motoring beget invention and invention beget technology advances in engineering: power, speed, handling, braking and vehicle design manufacturing and assembly. All great accomplishments created in a little more than a century. But modern vehicles have a reliability issue: the simple quirk is that the more electronics, gadgets and high tech pieces on a motor vehicle, the more likely those extra electronics, gadgets and high tech pieces are going to break down. No matter; consumers still want the biggest, fastest, brightest, coolest cars on the planet.
So is a car that drives itself cool or cruel?
Is it cruel in the sense of a person eating three gourmet meals a day, but through a feeding tube while strapped to a gurney? Is it a joyless future of being a piece of livestock in a rolling cage going to and from the work place?
Adults raised in the sci-fi 1950s and 1960s are still waiting for the jet cars, so they would think any progress toward that end would be cool. But telling a navigation mapping program your destination to auto drive your car so you can talk on the phone, text, eat a three course meal, do hair and make-up or sleep something off seems dumb, lazy and stupid - - - not cool.
The whole automatic car concept seems wrong. As wrong as a politician eating a bland rubber chicken meal at a posh fundraiser then running off stage to vomit it up so he has room for his lobster dinner on his private jet on route to his next fundraiser.
A car is an extension of the driver's mind and soul. It is a concert of power and human control. To take out a lead instrument from the equation leaves you with a one note beggar at the airport toe tapping for loose change for his saxophone case.
cyberbarf
MURMUR:LOST SOULS REAL NEWS KOMIX
We continue our new graphic novella with Part Five.
cyberbarf
COOKIE CUTTER STORIES ROBOJOURNALISM
Newspaper publishers are beginning to turn to coded templates for content. In order to replace expensive reporters, publishers are starting to use computer programmers to write various basic story outlines that can be filled in with keywords and/or event types.
On the web content side, WIRED magazine reported that Narrative Science, a 30-person company in Chicago creates a story from press releases, earnings reports or even internet posts. "The articles run on the websites of respected publishers like Forbes, as well as other Internet media powers (many of which are keeping their identities private). Niche news services hire Narrative Science to write updates for their subscribers, be they sports fans, small-cap investors, or fast-food franchise owners," WIRED reported.
For example, Narrative Science's algorithms are used to create simple articles using pitch-by-pitch game data that parents entered into an iPhone app called GameChanger. Last year the software produced nearly 400,000 accounts of Little League games. This year that number is expected to top 1.5 million. The parents or coaches live feed in game information into a specific app which transforms the data into a generic story form for publication.
A simple adjustment to the type of application could create various content: earnings reports, business promotion stories, basic police arrest or fire report stories to even matching city council or school board agenda items to inputted votes from members. All these technology relies upon is the input of data sets from a remote location into the publisher's main server. Then the publishing program automatically does the rest.
Lost from the traditional equation of gathering news stories is the reporter. A live, human being who actually interviews a source to solicit the facts about an event or issue. Then the reporter takes that personally gathered information, double checks it against other sources (a balanced story), then puts together the most important information in the first paragraph, with successive explanatory paragraphs and authoritative quotes to create a comprehensive narrative. A computer template does not have the "applied knowledge" or skilled training of a journalist to organize source information into a respectable story, or better, ask follow-up questions or go into another line of inquiry to get the full story.
Computer templates may be fine for the agate type stories such as Little League results or fill-in-the-blank obits. But in the newspaper business, readers used to trust the paper to verify the accuracy of the information before it was printed. In an smartphone app data entry world without the middle man of a reporter or editor, there is no independent verification.
A newspaper outsourcing its reporting is like a human being outsourcing its breathing.
Also in Chicago, the Tribune's net venture, TribLocal, is going into the new frontier. TribLocal was a user provided content scheme to provide web advertisers a more "local" product without paying for staff. However, the content was not the best prose on the planet. Style, stories and the like were a haphazard gateway by committee of unsophisticated press releases and parent boasting of their children's games. It was like moving up the story commentators into the main frame without any guidance. There was no steady work flow from volunteer content providers, who mainly used it to post their organization's press releases and such. A community bulletin board overflowing with post-it notes is not a good web business plan.
On a more controlling atmosphere, AOL Patches have a editor who tries to ring in free freelancers to cover a town, but the merger mania with the HuffPost has created a band of oarsman on a slave ship called the aggregating net provider. HuffPost continues to demand more and more quality content that a single editor or writer can not handle.
Major media conglomerates like the idea of free labor. CNN for years has asked viewers to send in their cellphone video and stories during breaking news events. They use the photographs and video on cable and on their news web pages. Their own viewers are creating free content just for the recognition or possible interview by an anchor during a segment.
The type and quality of user uploaded content varies from story to story. Sometimes the pictures themselves are enough to tell the story. But in some situations, like a lock down situation, the "iReporters" attempts to give coherent information about the breaking event rarely comes across as accurate, authoritative or meaningful. It is not their fault; they are not trained broadcast journalists who can observe events, digest the information, then formulate an intelligent series of factual statements on live television.
So in the market of free or nearly free news content, publishers are trying to find a middle ground between user supplied content and professional gateway controls. Since this is not a traditional newsroom assignment, publishers have begun to outsource tasks. First, it was the editing of stories by staff members. Second, it is outsourcing the collection of story materials from outside the paper's staff.
The Chicago Tribune announced that it will use Journatic to provide TribLocal suburban content. The move, whether it is an investment, merger or outsourcing the TribLocal pages, will result in 20 to 30 current Tribune employees to lose their jobs.
How this new content manager will improve local stories in the regional Tribune editions is not clear. There is a vague notion that the Journatic staff will be better able to focus village and town specific news stories quickly and efficiently. What it may do is to aggregate keywords and location hyperlinks to create computer generated boilerplate stories. That is not the same as assigning an individual reporter to cover a specific local beat. When pressed by the Chicago Reader, a Journatic spokesman admitted that of his new "reporter hires" to support the underlying technology to help with content management, most were located in the Philippines. How a person in Manila is going to cover a school board meeting in DuPage County, Illinois is a mystery.
One thing is clear: the traditional newspaper business is dying on the print-advertising vine. The push into the Internet space has not crossed over advertising profitability because their is so much free (and stolen) news stories floating from site to site. Paywalls have come too late to protect newspapers content. And the pool of potential new readers, the youth, don't seem too engaged in reading a daily newspaper as their parents or grandparents used to do. There are more things at their fingertips like social media, YouTube videos and games to burn away their time than reading about politics, taxes, deficits or dreary unemployment stories.
Publishers are caught in their own vicious circle. They are bleeding red ink, so they cut staff to save money. By terminating reporters and editors, they have less people on staff to gather and report news stories with local impact. As a result of less staff covering items that readers want (high school sports, school news, police/fire reports and obits), readers no longer subscribe to the newspaper. Less subscribers mean less advertisers, which means less news pages. Less news pages means less space for news stories, which means less need for reporters or editors. Less advertising in smaller publications means less revenue, which starts the cycle of firing staff anew.
Now, these starving enterprises are given a golden goose to cook: news story creation without paying a reporter. It sounds brilliant and simple. But instead of reporters or editors, you need to hire a firm filled with computer programmers to create the applications to input the data to be inputted into the lines of code to spit out a computer generated story template suitable for publication. Whether this new process will actually save a publisher any real money is doubtful. A computer program spitting out data does not have the curiosity to ask the key questions: who, what, when, where and especially why?
cyberbarf
SHORT SPEWS BARFETTES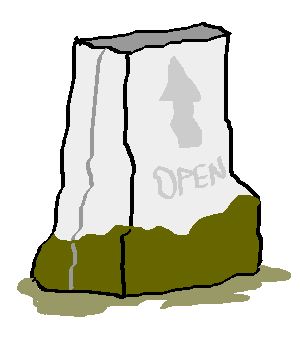 People whose stomachs churn just thinking about going on rollercoasters should avoid owning Apple stock. Since Steve Jobs death, the stock took off with its record earnings well past $630 per share. Then new CEO Tim Cook gave in to stockholder concerns about the nearly $100 billion in cash reserves Apple had amassed, and he gave them a $10.60 annual dividend. Now certain institutional investors could buy and hold a dividend paying growth stock. But then, the electronic traders and hedge fund naysayers have been throwing stones at Apple's glass house during April, causing the stock to make huge double digit falls, nearly 12 percent to around $570 per share. All in a matter of a few weeks.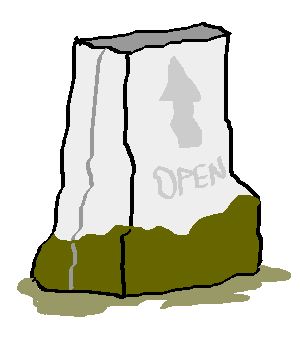 To the dismay of major entertainment content producers like Disney and Warner Brothers studios, the highest court in Australia has ruled that an Internet access provider, iiNet, is not liable for copyright infringement when its users use applications such as BitTorrent to upload and transfer copyrighted materials over the net. The court ruled that since the Internet provider was not actually involved in individual users use of the Internet, it could not be liable for third party actions. The ruling is similar to the old VCR ruling in the United States. Movie and television stations argued that home consumers using VCR machines to record and save shows was copyright infringement so the VCR manufacturers should be liable for creating the devices that were causing the alleged infringement. But the courts then said the manufacturers built legal devices that had legal uses so they could not be held liable for any third party actions remotely associated with their machinery.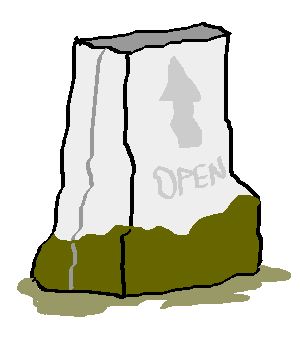 The publishers of the Encyclopedia Britannica reported that since its announcement of the end of its $1,395 printed volume set it has received a record number of orders from the public. Do people want to own the last printed set of encyclopedias like it one of the last sets of the Guttenberg bibles? Were people just unaware that Britannica was still being printed as an authoritative, fact checked and expert written resource, in spite of wikipedia? Maybe people thought it was a bargain - - - it only costs the same of 325 gallons of gasoline. If you got the volumes, you'd never have to drive the kids to the library ever, EVER, again (just think of the gas savings.) Or better yet, if the family comes on hard times, it can use the massive amount of pages as a fuel source for heat. But in most cases, the idea of knowledge as being a valuable asset is a motivating factor to make such an outstanding purchase.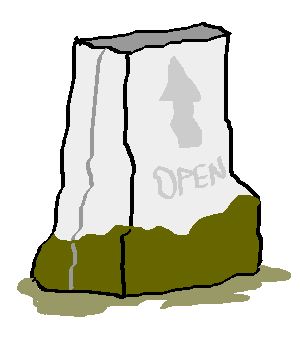 The new Imperial Mayor of Chicago has pushed through an ordinance to install an additional 2,000 speed cameras around schools and parks to "protect the children." Something as simple as reduced speed limits or even speed bumps were not discussed. The cameras are needed for safety; safety that involves a $100 ticket per violation. A class action lawsuit has been filed claiming that the city ordinances allowing for speed camera law enforcement is unconstitutional. Civil libertarians believe that this Big Brother movement by municipalities to record or track people without their knowledge or consent is taking the nation toward the path of Orwellian totalitarism.