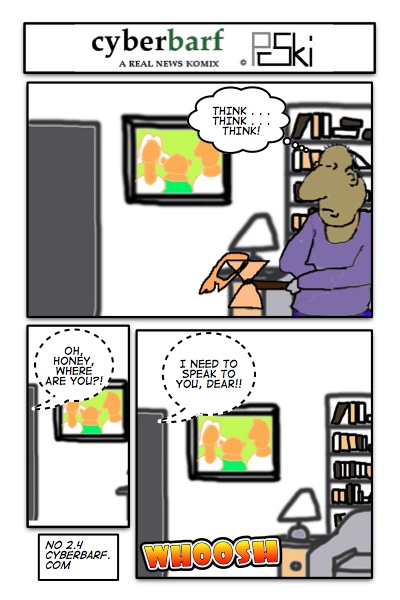 cyberbarf
LIT FOR TWIT BARFERATURE
As we have mentioned before, the whole 140 character messaging limitation of Twitter has fostered the ill of people unable or unwilling to make comprehensive sentences for their text messages. Other critics have thought the issue of the character restriction has spawned a generation of grammerless acron-text smiths who have lost the art of word imagery. But it also made some scholars think they could tame the Twitter message beast by concentrating a story into 140 characters or less. Well, that is a challenge which we decided to take to this page. Instead of merely stringing words together, we decided to blend graphics to the twitterature structure to create the mosaic form of new expression we call BARFERATURE.
Our fifth BARFERATURE story board is called: HORSE RIDER.
An artist paints a strong woman in a bikini on her ride.

A love bandit in free control of her life.

She can't be real.

She has to be real.
cyberbarf
APPLE SAUCE DOWNGRADING UPGRADES
Apple Computer has a habit of making clever devices that the masses seem to be addicted to purchase over and over again. It drove personal computing the masses with its easy to use Macintosh computer line. As both hardware and software developer, Apple has total control in making products work well. In the beginning, Apple pledged to have its computers remain compatible as new models or software upgrades were made in subsequent years. But with changes in chip architecture, memory and storage developments, Apple abandoned one of its original core concepts. Now, major upgrades are no longer necessarily compatible with prior art.
As a result, the simple elegance of some programs have been lost. For example, when Apple debuted iWorks Pages as the successor to Appleworks word processing program, long time users were deeply disappointed by the new system. Pages was a poor lay out program and a weak word processor in comparison to the long time workable features of Appleworks. A word processor heavy business or personal use would be forced to move to the clunky Microsoft Office suite than deal with the downgrade of iWorks.
Since Apple computers work and last, people do not have the burning need to upgrade their systems on a regular basis. Now with the Intel processor, the PowerPC chip architecture is no longer supported by software developers. Those old desktop iMacs and Mac towers are culled for legacy computers, dedicated antiques to preserve a business archive of files and linked programs. With the software now written for the Intel chip, no wonder Apple continues to defy analyst estimates of hardware sales. Apple is forcing people to upgrade their hardware with new software purchases.
The progression of the latest update of software breaks no new ground. It is still a word processing program, a spreadsheet, a paint program or a file database. The massive amount of code strangles the basic operating controls with numerous features that may look good in a bullet point add but have little practical use in the real world. Just with any electronics system, the more features (modes), the more things can go wrong. It may take a user five steps to complete a task that used to take two.
There are two types of consumers. One is the gadget master. He will go after the newest computer device on the market. It is ego driven status buying to keep up with the geek populi. The other is the content consumer. He is happy with his old systems because he has learned to use them, he has a set routine, and everything still works to meet the immediate needs. In his world, change is not favored over habits. He may want to keep current, but he does not want to do high dives into new products.
Even if you want to keep current, you have to be careful in how you upgrade. There are some software that states the system requirement is 10.4.11 or 10.5.3. Under the old way, the system requirement was the minimum OS for the program to run. But in some recent products, a Mac with 10.5 could not run the new software that said it was compatible with 10.4.11 or 10.5.3. Apparently, 10.5 was so different that it took three updates to get it as stable as the old OS. Then some packages do not clearly specify that an Intel processor is needed to run the program no matter what OS is used. This could be considered another example of a downgrade upgrade if one cannot afford to spend $2,000 every two years on a new principal computer.
Then this fall, Steve Jobs announced that Apple would have its new OS, Lion, in the summer of 2011. Based on the finger pointing and stretching interface of the iPhone and iPad, Lion is meant to take the mobile iOS to the desktop platforms. "That's what Lion's about, Mac OS X meets the iPad."
For those who use keyboards, mice and graphic tablets, there had to be a collective groan. Those standard users are accustomed to the fast input of word processing keyboards or graphics from a stylus. But the iPad and iPhone interface does not contain a standard keyboard or a stylus option. Painting with a fat finger on a non-vertical screen is not the same. Children fingerpainting cannot be equated to the hand held brush. Children may begin their artistic careers by fingerpainting, but they grow up to use more exacting, professional tools. Macintosh computers are foremost powerful tools. There is a large possibility that Apple may divide its loyal user base with the Lion OS. Youth may be in merging into their iPhones as their primary means of communication. But many desktop and laptop users are not in love with the mobile iOS (probably restricted by the AT&T service contract barrier to entry). Besides, it would be hard to argue against the fact that the mobile iOS is not as powerful as the robust Leopard OS. And Jobs admitted that finger touch screens do not work in vertical mode (the desktop iMac). So why the sudden change in corporate philosophy?
When the iPad was introduced, Jobs was clear to state that the iPad device was not a laptop. It was not a substitute for a laptop. The iPad was marketed as an intermediate device: an untethered iTouch without the AT&T contract with enough screen real estate to be an e-reader or a youtube/movie viewer. A gadget product has now been successful enough for Apple to re-think its entire application and hardware development cycle. Maybe to corner the app market, Apple pushing its lines toward an iOS system so third party developers can trick out their code to cover all Apple product lines.
The danger is in alienating the content Apple user with the forced, fat finger interface of the mobile phone world. Mobile users have embraced the phone technology. Desktop users may not want to adopt the mobile platform.